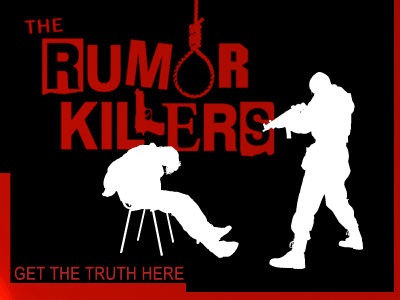 Alan Wake has a release date?
The most mysterious game of this generation — actually scratch that, the most mysterious game ever — yet one of the most anticipated, may actually have a release date? Confused? Yeah, so are we. Let's have a look at the facts, shall we? Alan Wake is a psychological action thriller game set in an open world. The game centres around a horror writer Alan Wake, who has dreams that serve as material for his books. Suddenly these dreams start becoming reality, his fiancée vanishes without a trace, and he starts to suffer fromiInsomnia. Great day for him, huh?
Anyway, no one has heard or seen anything about this game for nearly a year, although from the tech video and screenshots we have seen, the game does look extremely promising. That's probably why it's so highly anticipated — the lack of information about it. Remedy have confirmed that they will release more information soon, but we have yet to see anything. Years in development for the Xbox 360 and PC with Microsoft as its publisher, the game has to be released this year, right? How does March sound to you? To good to be true?
Over on Play.com, an online shopping website, the game is listed with a March 13th release for Xbox 360 and a PC release of June 1st. Its our understanding that Alan Wake will have a simultaneous release on Xbox 360 and PC, and not a two month gap between releases. But lets have a look at the dates, anyway. First up is the 13th of March. With so little of this game seen, and with many sites unable to get hands-on time with this title, March 13th seems a little far-fetched. On the other hand, June 1st does seem the more likely of the two, but with such an anticipated title, Microsoft may want this game released in October or November for greater sales. Releasing this game in June doesn't really make much financial sense. Besides, Amazon.com is showing a completely different release date for Alan Wake: March 30th.
With so little seen of the game, I highly doubt any of these dates are correct. Alan Wake will most likely be Microsoft's big game to show of at this year's E3, so don't expect a release date before that show.
TGR Rating: Rumor Highly Unlikely
"Next gen" Indy game cancelled?
In early 2006, LucasArts announced that they are developing a "next gen" Indiana Jones game for the PlayStation 3 and Xbox 360. Not much has been seen of the game; a few screenshots of Indy fighting on top a tram were released a few years back, but since then the game has pretty much gone into hiding. With its absence from E3, GDC, TGS, and Leipzig, many thought that something might not be right over at LucasArts. With the company laying off staff after Star Wars: The Force Unleashed and Fracture an Indy game was becoming less and less likely to happen. After a long time in the dark, something has popped up regarding this Indy game…and it doesn't seem to be good news.
IGN have it on good grounds — sources from within LucasArts — that the game has been cancelled for both Xbox 360 and Playstation 3. IGN have also learned that the developers of this game have been relocated to other projects within the company. IGN got in contact with LucasArts PR people but they gave there usual "We don't comment on rumours or speculation" rubbish that everyone spits out.
Everything might not be as bad as it seems, though. Joystiq.com contacted LucasArts for a statement and they got back to them, saying, "LucasArts remains absolutely committed to the Indiana Jones franchise. While we are aware that fans have been eagerly awaiting additional information on the upcoming game, they can rest assured that details are forthcoming." That doesn't sound like the game is dead; they would be shooting themselves in the foot by stating that details are forthcoming but then actually going ahead and cancelling the game.
Though it has been sitting there in the dark now for some time, and with the Indy buzz from the 4th film now gone, one might think that LucasArts would pull the plug on the game and invest their money elsewhere. The possibility of a good Indy game that could rival Tomb Raider and Uncharted would be a shame to miss out on, though. Given the fact that LucasArts have said more details will be forthcoming, we are going to Kill this rumor.
TGR Rating: Rumour Killed
Bioshock getting the Mac treatment
Bioshock, arguably one of the best games of 2007, won multiple awards and sold millions on Xbox 360 and PC. The game was also released late last year on the PlayStation 3, and though it didn't sell nearly as well as many thought it would, it still became one of the best shooters on the PS3. It now seems as though Mac users are going to get a piece of the action, too — long overdue action, I might add.
Over at Kotaku, they are reporting that, during the Macworld tech event, the Feral Interactive booth was populated with people wearing shirts with Bioshock's Big Daddy on the back, suggesting that the game will be coming to Mac sometime soon. Macworld magazine writer Chris Holt checked with Feral Interactive reps and they confirmed this to be true. Who are Feral Interactive, you ask? Well they are a Mac porting company and publisher; they buy the rights from companies that publish the games and then port them over to the Mac platform.
Since this is coming from Macworld, it is most likely to be true. Mac gamers will soon be able to play this beast of a shooter. No release date has been given, but expect this to release sometime in the next couple of months.
TGR Rating: Rumor Confirmed
"