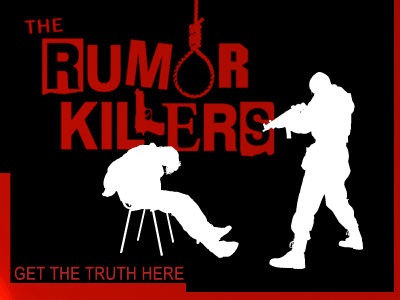 Could the next Grand Theft Auto game be coming out this year?
It hasn't even been a year since the much-anticipated launch of Grand Theft Auto IV, but there are already rumors surrounding the next instalment in this mega franchise. We already know that there will be more GTA this year, with the exclusive The Lost and the Damned DLC releasing mid-February on Xbox Live, but apparently that's not the only 2009 console-based GTA title.
According to US magazine Game Informer, Rockstar North is already hard at work on the next installment of the Grand Theft Auto series and — get this — it will be ready this holiday. Yes, October onwards; is that crazy or what? This is what Game Informer said:
"We're not talking about new DLC or a collection of previously available DLC, we're talking about a full retail game. We expect this title to follow the suit of previous GTAs and use a subtitle such as GTA: San Andreas, etc. Tokyo might be a possible setting for the game, but details are non-existent at this time."
Details "non-existent," you say? Yeah, we caught that one too. Although it does sound crazy that there could be another GTA game already, you have to look at GTA franchise history to understand the situation. Vice City came out one year after GTA 3 to much critical and commercial success, so it's not really surprising to hear this rumor. Grand Theft Auto: Tokyo? Doesn't sound too far off, does it? We have had a New York City clone in Liberty City and we have had London on the PS1, so maybe we do need a different location on the other side of the planet.
Rockstar have commented on the matter with, "We don't comment on rumour and speculation," which isn't a confirmation nor a denial. If there wasn't any ounce of truth in this rumor they would have just come out with a "Yeah right, you really think we are doing that with the DLC too?"-sort of statement. They didn't, and that says something!
This could be the perfect chance for Rockstar to expand on GTA IV, adding the depth and variety that seemed to be missing from that game. Take Two are in need of money again, so this looks more and more likelyto actually happen. It's GTA, so who are we to say no?
TGR Rating: Likely
Kojima's next game to come out this year?
One word perfectly describes Metal Gear Solid creator Hideo Kojima: genius. The legendary developer and founder of Kojima Productions has created some amazing games over the years. Kojima has been in the press a lot recently, with statements such as, "I've thought a lot about how Western games have been winning, looking it from a global perspective, and there are things that I've noticed, I've come to understand that the way we've made games up until now won't translate globally, and I've come to think that I need to make Kojima Productions a team that can compete alongside the rest of the world," and, "Maybe I Should Quit Being Japanese." Whoa!
Well maybe we wont dive into that statement, but rather the next statement that IGN have covered. According to Famitsu magazine, Hideo Kojima supposedly stated that he has a few games in production, one of which he is designing himself. According to him,this game  could be released this year! Of the others, one is supposedly a major production that will be for all markets, but we're interested in the Kojima-developed 2009 release. What could this be?
A new Zone of Enders game is overdue, but let's be honest, that must have been the major production he was talking about. The 2009 game is likely going to be a PlayStation Network release, and probably even part ofXbox Live Arcade, as well. He does wants to make more westernized games, so why not include the console that is doing better in those markets? Kojima's next game ending up on Microsoft's Xbox 360 as well as the PlayStation 3 is not a bad thing. Expect an announcement on a mini-sized Kojima game at this year's E3. We rate a game in 2009 as…
TGR Rating: Highly Likely
Mass Effect 2 staying exclusive to Microsoft?
Mass Effect, BioWare's epic sci-fi RPG is still hailed as one of the best games you can play on the Xbox 360. Beautiful to look at and a pleasure to play, it mixed action with diplomacy and made you think about your actions due to the ripples they may cause further on in the game. We knew it would be a hit, selling millions across the world in 2007 and bringing BioWare critical and commercial success with their first current-gen effort.
But what about Mass Effect 2? It has been confirmed that BioWare are indeed hard at work on the sequel to the million-seller Xbox 360 exclusive. It was first leaked on a website claiming that BioWare project manager Corey Andruko and BioWare lead technical designer Dusty Everman will lead a 60-minute lecture on level design in Mass Effect 2 at this year's GDC. Then came the confirmation from EA themselves that BioWare are indeed working toward Mass Effect 2. But what weren't announced were the platforms, so this is where we come in.
Now we all know there were countless rumors suggesting that EA would have BioWare port Mass Effect to the PlayStation 3 for the extra money, but obviously these rumours did not come true. Now the question is whether or not Mass Effect 2 will come to the PS3 now that EA owns BioWare? It was the EA takeover that got the first game ported to the PC, so the evidence of multi-platform intentions is there. BioWare have always stated that they want the whole trilogy to come out on the Xbox 360, and judging by their past history, they are loyal to MS platforms (KotOR, Jade Empire). They have also been quoted in magazines, stating the game will stay exclusive to the Xbox 360 with a later release on PC, but money talks and so does EA. Microsoft may have a deal in place with EA over the rights to the game, but if talks broke down there is nothing stopping EA from porting the game over to the PS3.
Microsoft need some big exclusives this year to help push the Xbox 360 further apart from the PlayStation 3, so we here at TGR can see them brokering a deal with EA to keep the Mass Effect trilogy on the Xbox 360. With BioWare's admiration for the console, RK rates Mass Effect 2 Xbox 360 exclusivity as…
TGR Rating: Highly Likely
"