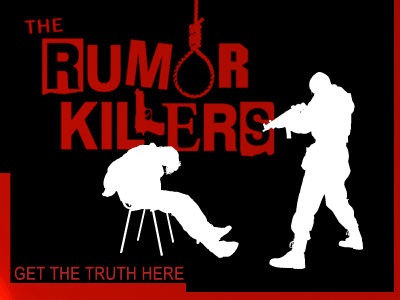 New details on Dead Rising 2
Think back to the early days of the Xbox 360. Now think of one game. Got it? Most of you would probably think of this gem, Dead Rising. Developed by Capcom, Dead Rising had you playing as photojournalist Frank West, who ran around a big shopping mall, slicing and dicing zombies while trying rescue as many people as humanly possible. The game brought much critical and commercial success when launched exclusively on the Xbox 360 back in the early days of the console. This year Capcom announced what was sadly not the long-awaited sequel, but instead a remake of Dead Rising for the Nintendo Wii called Dead Rising: Chop Till You Drop. Now there have been many rumors surrounding this game since Capcom announced their multi-format stance on all their games, mostly about whether or not the game will come to the PS3. Today, though, we are here to talk about the possible first details of Dead Rising 2.
We all know it's coming; it's a given since people still consider the first game one of the best on the 360, and it sold millions around the world. But what we haven't known until now are any details of where the sequel will be set and what the story will be about. In the latest issue of Xbox World 360, they confirm a rumor from a long time ago that the game is in development at Blue Castle Games. More importantly, they are speculating on good sources that the game will take place in the city of sin, Las Vegas! They go on to say that it won't take place in the whole city but will be confined to a big Casino, much like the mall in the original. They confirm obvious fixes (that the save system will be reworked and the small text on non-HD TVs will be sorted out), but sadly, no gameplay details were given. Still, the thought of Dead Rising 2 in Vegas is enough for anyone to get excited about. One last thing, they are stating that the game will be out in 2009. Yes, this year!
No platform-specific support was announced, but it's safe to say the sequel will be on the 360 again, and with Capcom's new stance on multi-platform development, we expect PlayStation 3 owners to get their first taste of zombie genocide. We here at TGR are looking forward to once again taking on thousands of zombies in fun and ridiculous ways.
TGR Rating: Highly likely
Gran Turismo 5 released this year?
The Gran Turismo series is one of the most recognized series in the world, selling millions and millions across the PlayStation and PlayStation 2 generations. Developed by Polyphony Digital, Gran Turismo is considered by many to be the pinnacle of all racing games with its vast features, realistic driving physics, and beautiful graphics that come standard in any of the games. The PlayStation 3 has been out now for just over 2 years and yet it still hasn't had a full Gran Turismo game. Back in early 2008, Sony and Polyphony Digital released Gran Turismo 5 Prologue, a better-than-average demo that gave a taste of what we can expect in the full game. Whether the demo worth paying for is another story, but GT5P sold rather well and gave gamers a good idea of what to look forward to in GT5.
The only question that surrounds GT5 isn't about how good it will be or if it will have certain features, but when will the damn thing be released. In an interview with Spanish website El Financiero, SCEE Vice President James Armstrong said, "For next year, for southern Europe we are developing a new game thriller, in which the player may be designing their own history, and the new version of Gran Turismo, which will release at Christmas." That's great news, until you read this next bit from series designer Kazunori Yamauchi. He says, "To be honest, I haven't given a lot of thought to GT5, so I don't have an answer. And it's too early to talk about GT5 because we still have updates coming out for Prologue. It won't be this year and nothing's scheduled for next. It may be out in 2010, but like I said, we haven't really discussed it yet."
That doesn't sound too good does it? Well, coming from the same site that uncovered a possible release date for Assassins Creed 2, Play.com has Gran Turismo 5 pinned down for a September 25 release. This would be more in line with what the Vice President of SCEE said. That doesn't sound too far-fetched, really. The game has been in development for a long time now, and with the current state of sales for the PlayStation 3, Sony would be pushing for this major release sooner rather than later. However, the series designer would know better about his own game than the VC of SCEE would. A September release seems more likely for Japan than America or Europe, if at all. Looking at all possible angles, 2010 looks like the year we see this baby on the track.We wish it were sooner.
TGR Rating: Unlikely
Has Famitsu accidentally announced Tales of Vesperia?
Tales of Vesperia has single-handedly helped the Xbox 360 in Japan as of late, selling very well in that region. It is considered one of the top games on Xbox 360, offering hours upon hours of entertainment. Developed by Namco's Tales Studio and published by Namco, Tales of Vesperia is an enjoyable and beautiful game. Another reason why Tales of Vesperia has been talked about so much is the fact that the game is an Xbox 360 exclusive. Now, of course, like any third-party exclusive, there are rumors surrounding the game's exclusivity.
Japanese super game magazine Famitsu has apparently announced that Tales of Vesperia, a former Xbox 360 exclusive, would be coming to the PlayStation 3 with added content and features. Of course PlayStation fans were getting excited that one of the best JRPG of this generation is finally making the jump…that is until Kotaku smashed this rumor. Apparently the picture is a fake. How did they prove this? By taking a picture of the real Famitsu magazine, where there is no statement about a Tales game for the PlayStation 3.
Rumor Killed, but don't get your hopes down too much. Namco did state that Eternal Sonata would stay Xbox 360 exclusive, too, but that game is now coming to the PS3, so it's possible that Namco will do the same with Tales of Vesperia. With sales picking up in Japan, and the recent success of White Knight Chronicles, Namco would be stupid not to release ToV on the PS3. For the time being, though, there is only one rating we can give this fake picture.
TGR Rating: Rumor Killed
"