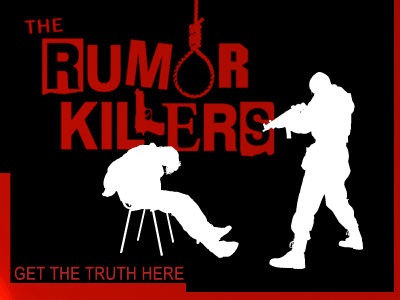 Will Gears of War 3 come to the PlayStation 3?
The Gears of War franchise, since the launch of the first game in 2006, has become a pivotal part of Microsoft's strategy, dare I say as much as Halo at this point. With only two games so far, the series has gone on to sell over 10 million units worldwide on the Xbox 360, and has picked up countless awards throughout the years. It's spawned comic books and is going to be made into a movie and it has given the Xbox 360 a new hero to go along with Master Chief. It's the game that knocked Halo 2 off the top of the most-played Live charts and put up a good fight against Halo 3, too. Both games have showcased the power of the 360 with Gears 2 being arguably one of the bes- looking games so far this gen. After all of this, could the next Gears be headed to the PS3?!
If you haven't noticed, the New York Comic Con played host to many companies showing off their games to comic and gaming enthusiasts over this past weekend. On hand at this year's Comic Con was Gears of War 2 writer, Joshua Ortega. As well as accidentally confirming single player downloadable content for Gears of War 2, he also goes on to say that the series is planned for a 10-year life cycle. Now we wouldn't think anything of that at all, but gamingfront.net goes one further and tosses up the idea of Gears of War 3 coming to the PS3. They base their assumption on the 10-year life cycle planned for the series, which coincides with the PS3's planned 10-year cycle. We disagree; just because the game has a 10-year life cycle doesn't mean it's going to jump ship and come on the PS3. Many games have long life cycles, look at Metal Gear. Joshua Ortega probably means Epic will keep the series alive for 10 years, be it on the 360 or its successor.
Microsoft will do everything in its power to keep the franchise exclusive to them. Epic have created a killer app that could rival the Halo universe in years to come, with the potential to impact sales in much the same way as that franchise has. MS published the first two games in the series, and considering the close relationship between Epic and MS we expect them to publish later games, too. Based on the dodgy information and the high esteem MS holds for this game there is only one rating that
Heavy Rain pouring in June?
Much has been said about the power of the PlayStation 3. Games like Uncharted and Metal Gear Solid 4 have showed off what the console can do while games like Killzone 2 and Uncharted 2 show what the console is capable of in the future. There is one game, however, that really pushes the PlayStation 3. That game is Quantic Dream's Heavy Rain. Shown in an on-stage demo at Sony's Leipzig press conference last year, it wowed the audience in attendance and wowed gamers watching across the world. The amount of detail seen in this demo was incredible, the graphics were out of this world, and the atmosphere was outstanding. It was a visual treat. Another thing the demo showed off, besides graphics and gameplay details, was that the game would be a 2009 release. No further details were given, but TGR might have uncovered a mistake by a retailer giving us a possible release date.
According to Play.com, Heavy Rain could be seeing a European release of July 31st. It would fall well for Sony if this was the case, with Killzone 2 releasing in a couple of weeks and Uncharted 2 finishing it off the year during the holiday season. The only problem is that apart from that impressive demo last year, nothing else has been heard or seen of Heavy Rain since, something that is quite worrying for those hoping that it delivers on the 2009 release schedule. The only thing going for this rumor is the fact that it does fall on a Friday — European release day.
Judging from the date and the fact that we haven't seen much of it since last year, though, a July release may be more of a dream than a reality at this point. Things may change, but we put our money on a late September/October release to coincide with a 2009 Christmas push. For this, we rate this rumor…
New Mass Effect DLC coming soon?
Mass Effect is an awesome RPG, developed by RPG gods Bioware. The game had you explore different worlds, interacting with different people in a way never seen before. The game sold really well and is touted as one of the best games on the Xbox 360. Bioware has since been bought by EA, and ever since that acquisition there have been many rumors surrounding the title, including this one about the second round of downloadable content coming to the Xbox 360, and maybe the PC.
If you all remember, the first DLC was Bring Down the Sky, and was released a few months after the initial launch with much success. Being one of the top downloads on Live in that year, it added up to 3 hours more gameplay to the original game with an added species as your enemy. We haven't heard or seen anything as of late about new DLC…until now, that is. According CinemaBlend.com, BioWare community manager Jay Watamaniuk apparently said at this past weeks Comic Con in New York that a new episode of Mass Effect DLC is on the way. The last time we heard anything new on a possible second DLC was way back in August of last year, when BioWare CEO Greg Zeschuck said they were looking at possibly bringing more DLC to the game.
We certainly hope this is true, and with this information coming from someone within BioWare, we have very high hopes that in the near future we could be seeing more Mass Effect DLC. Maybe we'll hear more at this years GDC, where BioWare will be talking about Mass Effect 2? Would certainly fit the bill.