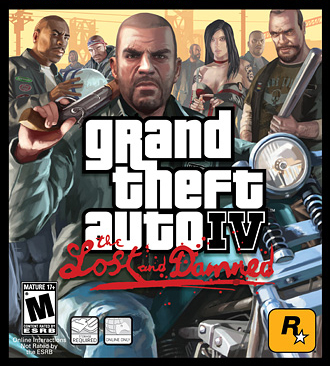 Today on TGR…
Top 10 Exhilarating Video Game Songs
If you consider yourself a video game music hauteur, check out our list of the top ten exhilarating video game songs to see if you agree.
GTA 4 The Lost and Damned trailer offers Niko cameoRockstar released a trailer today for their upcoming Grand Theft Auto 4 DLC The Lost and Damned. Aside from explosions, shouting and guns, the trailer also shows a quick glimpse of Niko Bellic, the main character from the original game.
The DLC will be available on the Xbox 360 February 17 for 1600 MS points ($20). Less than one week until we can figure out if Johnny also has an annoying cousin with a cellphone.
Midway files for Chapter 11 bankruptcy
The ailing economy has dealt a fatality to the house that Mortal Kombat built. Midway is now unable to pay all their debts, despite renegotiating that debt a mere month ago.
LA Times offers the following explanation of the situation, if you're in to that sort of thing:
Sumner Redstone, chairman of CBS Corp. and Viacom Inc., sold his 87 percent stake in video-game maker Midway for $100,000 to investor Mark Thomas on Dec. 2 to help restructure debts that threaten his family business. Redstone's National Amusements Inc. is owed $20.1 million, court papers show.
The 30 largest consolidated creditors without collateral backing their claims are owed a total of $256.2 million, court papers show. Wells Fargo Bank NA, as indenture trustee for noteholders, is listed as the largest unsecured creditor. The amount due under the notes is $150 million, according to court papers.
Guitar Hero World Tour DLC Acoustic Track pack for Xbox 360 and PlayStation 3
The Acoustic Track Pack for Guitar Hero World Tour is now available on the Xbox 360 and PlayStation 3. The track includes the following tracks:
Incubus – Drive
The Shins – New Slang
Ryan Adams – Wonderwall
These tracks cost 160 points / $2 a piece, or 440 points / $5.50 for the whole pack. Just make sure to look really intense while you play them, that's the acoustic way.
Guitar Hero Metallica pre-order bonuses detailed
In case you haven't pre-ordered the game yet and are on the lookout for some free crap, this might get you out of the house. Pre-order the game at the following places, and get the associated bonus:
GameStop – exclusive second kick pedal
Hollywood Video / Gamecrazy – a pair of official Guitar Hero Metallica drum sticks
Best Buy – tattoo sleeves (while supplies last)
Minesweeper Flags now on Xbox Live ArcadeJust in case the Windows version of Minesweeper just wasn't doing it for you, Minesweeper Flags is now available on the Xbox Live Arcade for 400 MS points ($5).
The game is, well, exactly like Minesweeper, except in 3D and somehow multiplayer. Unfortunately, it will be much harder to play this version at the office while your boss isn't looking.