In our ever-expanding world of virtual media, keeping track of downloaded music, TV shows and movies is becoming easier all the time. Of course, our only true limitation on our portable devices is space. While the iPhone allows you to store anywhere from 8 to 16GB of media on your device, once you've delicately decided that you absolutely must have seasons 1 through 3 of Arrested Development on you at all times, you'll quickly find yourself with much less space to store the new Weezer album you bought last week. That's where OrbLive comes in.
I'll say it right now; I bought my iPhone for OrbLive. Seriously. My decision to get a 3G iPhone when they came out had a lot to do with the promise of the newly announced App Store (admittedly, it had more to do with the fact that my phone was stolen a few days before its release), but back before the days of 3G, the company Orb developed an application for jailbroken iPhones that allowed for something spectacular: pure, raw streaming of every piece of digital media on your home computer, right to the palm of your hands.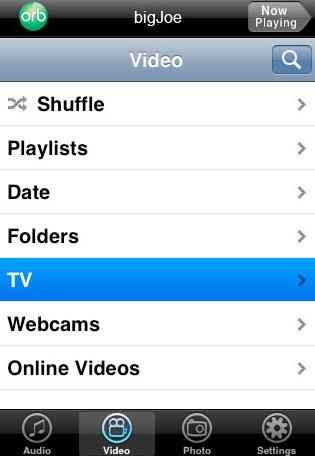 Orb has been around for a long time, and I've been a user since the days of old. The absolutely free PC service allows for anyone with an internet connection to easily set up an automatic media server on their PC, which streams any and every bit of media across the tubes. Just about any computer or high-end device with an internet connection around the world would be able to stream whatever they wanted, right from your PC, with the proper username and password, of course. For example, say you had The Dark Knight ripped onto your PC, and you visited your friend Paul for some late-night co-op gaming. After crushing the Gears 2 campaign, you and Paul decide to watch The Dark Knight, but silly Paul didn't buy it yet! So, like the sly devil you are, grab a Wiimote from his desk, turn on the Wii, navigate to the Internet Channel, and hit up Orb.com. After logging in, you choose The Dark Knight from the long list of movies on the screen, and BOOM, movie night is saved. Yeah, that's Orb.
Of course, OrbLive takes this idea to a new and portable level. As long as your computer is running and has the Orb server started, you'll be able to log on anywhere you can get a cell phone or WiFi signal and instantly stream your favorite music, videos and even photos. If you're sporting a high-speed WiFi connection, the quality will be just like you're watching it at home. Of course, if you're out camping with only 3 bars of EDGE network, you can still watch that Guitar Hero episode of South Park, it'll just be in a much lower quality format. If you have a TV tuner card installed on your PC, you can watch live television anywhere you go.
OrbLive doesn't come without its flaws, though. The Orb server software suffers from infrequent, yet heavily annoying crashes every so often, making it impossible to stream anything. (Of course, if you have a Remote Desktop application on your iPhone, you can always restart the program right from your device.) Also, if you're on the road, streaming videos can stutter, as the strength of your tower signal varies continuously. And as expected, prolonged use results in a very suicidal battery life, so be sure to take that car charger with you.
Even with the flaws it does have, OrbLive is an absolutely phenomenal way to take every piece of media on your computer with you wherever you go. If you're the type of person who has a few 500GB hard drives filled to capacity with episodes of Are You Afraid of The Dark and The Office, this is absolutely the program for you. At a price tag of fewer than 10 bucks with absolutely no fees after that, it's entirely worth it.
"