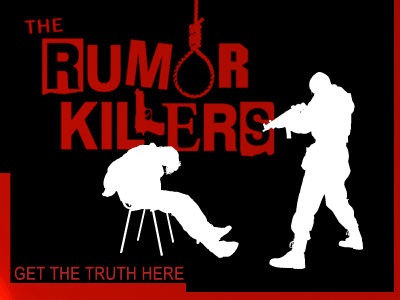 Rare cooking up two killer titles for this year?
So far, we have seen what Sony has planned for the PlayStation 3. Upcoming games include Uncharted 2, MAG, and God of War 3, and with the recent release of Killzone 2, the publisher has really upped its game this year. On the other hand,
we only know of a few exclusives for Microsoft and the Xbox 360. Halo Wars has just released around the world, as has the exclusive GTA IV DLC on Xbox Live, but besides that and the Halo 3 expansion, Halo 3: ODST, not much is known regarding future exclusive games until now. Do you remember a few editions back? We discussed the rumour that Microsoft has two secret games in the works and we had a hunch that one of them could be a certain Killer Instinct 3? Well our instinct suggests that we could have been right on the money.
V4vg.com published a rumor stating that Rare will be showing off two "AAA" titles for release this year very soon. Apparently the Microsoft-owned company has been working on these titles for the last couple of years and are finally ready to be shown off to the rest of the gaming world. The first of the two is tipped to be a full-fledged sequel to Perfect Dark, likely to be Microsoft's big holiday game.
The second game is being touted as an online brawler. You can take one guess as to what this might be, especially after its numerous appearances in previous Rumor Killers and in TGR's  "Wishing on a Game" feature to it. That's right, it's none other than Killer Instinct 3. You bet your bottom dollar it's coming. Every time we mention this game, more and more evidence points towards a revival for the much-loved fighting game.
People have claimed Rare has lost its touch? Well I think they are mad; Viva Pinata, Kameo and Viva Pinata 2 were great games in their own right but if there is any criticism it's the fact that they have mostly concentrated on child-like games. With Perfect Dark 2 and Killer Instinct 3, Rare has two mature games that show that they can still create "AAA" titles that mature gamers want to play. Besides, Microsoft need some good exclusives and what better than these two? This is the year of Rare; this is the year of Killer Instinct 3.
TGR Rating: Highly Likely
Midway selling their biggest asset?
So far this year, the year of the recession, many game companies have struggled with their finances. We have heard of studios laying off staff due to the recession; many have even gone bust and closed their doors. The worst hits have mostly been low- to mid-tier companies, but recently a major publisher has gone into administration, and that company holds to the rights to one of the biggest fighting franchises the gaming world has ever seen. Yes, Midway could be selling off one of its biggest assets, Mortal Kombat, in order to stabilize the books.
Recent court documents have been published regarding the company's fight for survival, and within these documents is very intriguing information that concerns the future of Mortal Kombat, a goal listed as "execution of an asset purchase
agreement for the sale of Midway's Mortal Kombat franchise assets." Are they stark bonking mad?
Why on earth would the decision-makers at Midway want to sell off the only franchise that will make them money? One website claims that for executives to get their bonuses it's optional to sell off Mortal Kombat, but they do need to submit a Plan of Reorganization for the company. In fact they get more money not selling Mortal Kombat and submitting this Plan of Reorganization,  rather than actually selling Mortal Kombat. This would work out much better for Midway as they would be able to stabilize their books and also keep their biggest asset in the process. We here feel that selling MK is the very last resort, but could you imagine if Capcom came in and bought it? Mortal Kombat vs. Street Fighter? I wouldn't mind that and I'm sure you wouldn't either. We have the following rating based on sense; if not they are bloody stupid.
TGR Rating: Highly Unlikely
Could Capcom be cooking up a Resident Evil 2 remake?
Capcom has truly embraced this generation of consoles so far. Dead Rising was awesome, Lost Planet was decent, Devil May Cry 4 was awesome, Street Fighter II Turbo HD Remix was an instant classic, Street Fighter IV is beyond incredible, and with Resident Evil 5 on its way in the next couple of weeks, Capcom has re-cemented itself as one of the top dogs in the industry. With the tons of excellent games the company has published over the last couple of years, one would think they would be slowing in development, but instead they seem to be ramping up. So could there be a surprise remake of a classic game on the cards?
During a Q&A at the Resident Evil 5 Wondercon panel, Capcom staff members were asked by a Resi fan about the chances of seeing a Resident Evil 2 remake, to which he got this surprising answer: "Stay tuned, we absolutely understands that these are classic games…. Some announcements, that you will be very interested in [are on the way]."
Holy hell, that wasn't the sort of answer we were expecting! Although it doesn't confirm a remake of Resident Evil 2, it does confirm that classic Capcom titles could be in the cards for remakes. Dino Crisis, Power Stone, or even Marvel vs Capcom are possibilities. The only question is what console would this remake appear on? We have seen Capcom do remake of Resident Evil 4 on the Wii, and being the cheapest of the three to develop on there is a greater chance of it landing there than on the others. We hope this won't be the case since we feel a fully updated remake of any of the games mentioned above would be awesome on the Xbox 360 or PS3. Come on Capcom; fulfill our remake needs!
TGR Rating: Likely
"