It seems to be a slower day than normal in the video game world, but that hasn't stopped TGR from bringing you……
The Schwag Review: Metal Gear Solid Edition
TGR brings you the weekly look at stylish video game schwag, and this time it looks like Metal Gear Solid Trinkets are up on the reviewing block.
Warhammer Online Losing 63 Servers
It looks like Warhammer is cutting back, and closing 63 servers. BUT WHY? Well, TGR has the scoop.
Blizzards Talks to TGR About Diablo III Rumors
As for the rest of the web, we rounded up the most important stories, and here they are…..
The Nintendo DS has sold 100 million
Well, it looks like Nintendo has been stomping the competition again. As most of you know, Sony announced they had sold 50 million PSP's worldwide, and it looks like Nintendo wanted to shut that news out of people's minds.
Nintendo came back, and announced this morning that it had sold 100 million DS systems worldwide. With the release of the DSi, the new installment of the DS, Nintendo announced that it had reached the 100 million units on March 6th, 2009.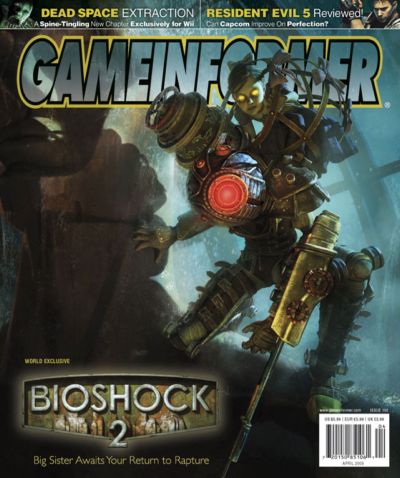 It's OUT! Fable III is being developed.
Don't you just hate it when you have one of the best secrets, then you have a "brain fart" and announce it on twitter. Me too, but Jonathan Ross, british television and radio personality, did just that.
No one knew about Fable III until Jonathan Ross decided to twitt it up on twitter last night. Jonathan Ross simply put, "Goodnight all. Must go to bed. Got asked to do voice in Fable 3 tonight. Subarashi. Oyasuminasia. Woos out." Well the next morning, Ross woke up, and must have just sat in bed and thought, "OOPS!" because he announced via twitter that he had to apologize to Peter Molyneux, the big man at Lionhead.
But the good to come out of this is, we now know Fable III is in development. WOO HOO!
First ever "Big Sister" Revealed
Yes, folks. There are some new characters in BioShock 2, and they are appropriately named Big Sisters. Well, the Big Sister has shown up on the new issue of Game Informer (April Issue.) There will be a 10 page spread on BioShock 2.
The Big Sister looks similar to the Big Daddy, but a lot skinnier. From the cover, it looks like it's the same situation as the first BioShock. The little sister will follow around the big sister. I wish that was as cute as it should be. And from the looks of the big sister, she looks pretty tough. Heres to another "wet myself in fear" experience.
No More Pirates in Mexico
Law enforcement in New Mexico is tired of crazy ole pirates. Of course, these pirates are more ruthless than the ones with parrots. These pirates have been plundering video games and selling them on the black market, but the law enforcement has put a big dent in their plans in Mexico city.
The New Mexico law enforcement raided the city, and took quite a few pirated games. All told they took 38,000 pirated games, cd/dvd burners, and a ton of packaging material from a popular shopping district in the Tepito area of the city.
Looks like pirates in Mexico might want to start plundering elsewhere.
Call of Duty 4 and Super Mario Galaxy Lead BAFTA winners
The British Academy of Film and Television Arts, BAFTA, recently had their video game award ceremony in London. Call of Duty 4 dominated, and a little game called Super Mario Galaxy also made a whirlwind.
Call of Duty 4 won for best gameplay, best story and character of 2008. Super Mario Galaxy, on the other hand, won best game. You may be thinking to yourself Super Mario Galaxy, that's old school, but BAFTA allows the late months of the previous year to be in the awards as well. Plus, it's only fair that Super Mario Galaxy wins another award.
"It's a me, Mario." He always gets into the awards with that. He's good.
"