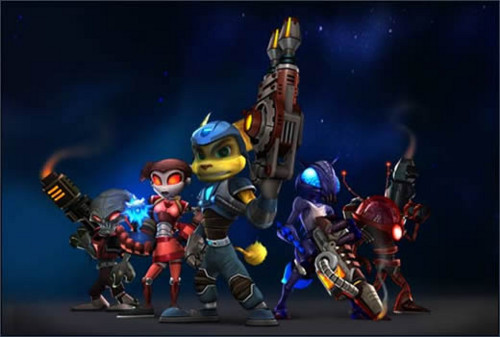 Today in the wonderful gaming world of TGR…
Nintendo Wouldn't Be Nintendo Without…
A look into one of the biggest franchises that Nintendo wouldn't be the same without.
GameStop Posts Record Sales
It seems GameStop is doing everything right in a struggling economy right now. In short, they are making a ton of money.
Rumor Killers: Mass Effect 2 PS3, Ace Combat PS3, & a new Ratchet & Clank game
TGR brings you the rumors of the week and crushes or confirms them.
GDC 2009: World of Warcraft's Director Talks Flaws in WoW Gameplay
Jeffrey Kaplan, WoW lead designer, talks about some flaws in the popular PC game.
In other news…
Eidos Shareholders say "Yes"
The news of Square Enix trying to acquire Eidos Interactive is nothing new, but shareholders today have voted "yes" to the Square Enix acquisition.
The news of Square Enix acquiring Eidos Interactive was big news last month, and there was talk of a shareholders meeting this month. The meeting has happened, and over 85 percent of shareholders voted for the Square Enix acquisition of Eidos. It looks like Square Enix is very close in having control of Eidos, not to mention, Tomb Raider.
Left 4 Dead Sells over 2.5 Million
Valve revealed at a GDC presentation that Left 4 Dead has sold 2.5 retail copies. This figure is a combination of the sales of both Xbox 360 and PC versions.
The game is doing very well. It was released in November, and has already achieved 2.5 million. But that isn't all. Valve didn't include digital distribution copies of the game, which probably puts the game far above 2.5 million.
Left 4 Dead will also be coming out with another edition of the game on April 21st. It is called the Critic's Choice Edition. More sales please?
For more information, check out Blend Games.
With the recent bashing that took place with EA's Spore DRM, the people from the Sims team are staying away from that plan. The company has decided to go back to the disc based, serial number method, which has kept PC gamers content for a while now.
Rod Humble, Executive Vice President of EA's The Sims Label, said that the company has heard the fan's requests and thought this was a good solution for the DRM problems.
Well, Duke has been part of a long time controvery and conversation on if he really is coming back to a video game. It seems that he is, or so says the urinal.
Chances are, if you are a guy, you might see the new Duke Nukem ads. The new ads are being seen in urinals, and feature the phrase, "YOU CALL THAT AIM?", with the Duke Nukem website listed on it as well. The website is calling for auditions for someone to be the "next" Duke Nukem.
I know what you are thinking, but honestly, there is no better way to promote Duke Nukem.
For more information, check out www.dukeisback.com.
"