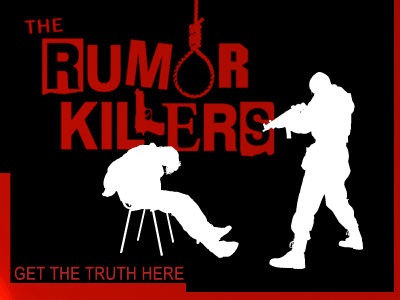 The Game Reviews would like you to get in on the Rumor Killers act. If you have a rumor that you want discussed or even Killed, drop us your information in our forums here and we will do our very best to give it a the appropriate verdict. If you haven't got a rumor, but instead want to discuss the latest Rumor Killers, then you are more than welcome to do so in the same forum. Thanks for reading.
Kojima Productions developing Zone of the Enders 3?
Do you remember the Zone of the Enders series? 'Course you do, it's Hideo Kojima's other game that doesn't involve Metal Gear Solid, although it does have close ties to Metal Gear with the development staff and such. Zone of the Enders is an all-out Mech combat game. So far both games in the series were on the PlayStation 2, with the first game doing a Crackdown on us (or should I say Crackdown did a ZotE on us?), including a playable demo of Metal Gear Solid 2 bundled with the game. Many people bought the game with that in mind and ended up liking it very much. It spawned a sequel in 2003 but has gone dormant for the past 6 years… until now!
During the latest Metal Gear Solid Integral Podcast, the crew at Kojima Productions talk about the Zone of the Enders franchise and how the series is popular amongst the diehard Kojima fans. The comments said afterward give a slight glimmer of hope that they may very well consider developing the third of the series. "How many people really want a Zone of the Enders sequel?" asked the team, putting the emphasis on casual gamers more than anything as they don't need to ask that question to the hardcore gamers. "If there's so many people wanting to see Zone of the Enders, why not put the priority on top, a little further up, you know, but we just want to know," they added, concluding with "Make sure you write your comments and we'll check your comments out."
There you have it, they practically asked you if you want a third game and if so, comment in the comments section below. This certainly means that Konami and more importantly Kojima are considering reviving the series with a third installment. If this does happen then we can practically confirm a PlayStation 3 version as it started out on the PS2 and and Kojima loves the PlayStation brand, but will it come to the Xbox 360 and/or the Nintendo Wii? That question is for readers to decide, so go make your voice heard over at the Konami website. Go! What are you waiting for?!?!
TGR Rating: Likely
LA Noire now coming to the Xbox 360?
LA Noire is just as mysterious as Alan Wake, meaning no one knows what the hell is going with it other than it is in development and it is going to release, well, some time this generation. What we know so far is that it's being developed by Team Bondi and published by Rockstar. It's set in the 1940s and has you going around a near-identical representation of Los Angeles during that period solving murders. Corruption, drugs and jazz all follow you on your mission,which sounds good to me, but we haven't seen or heard anything on this for a long time now. We only know that SCEA is fully funding the game with exclusivity confirmed on the PlayStation 3, and even this was thrown into question in 2007 when Take Two implied that the game would also be heading to the Xbox 360 by stating that the game is coming to next generation systems. This has left a question mark over the exclusivity of LA Noire, and with that in mind there could very well be more evidence here that the game is coming to the 360.
Over on Team Bondi's official website they have posted a few job openings for expanding their team. These opportunities include 3D car modelers and layout artists, a senior and junior level designer, and a senior gameplay programmer to name just a few. One could say that this is just Team Bondi ramping up production with a 2009 release, but other websites have interpreted this as expanding their team due to the workload of developing for two systems. Of
course this is pure speculation at best, but if you put two and two together, Take Two's words and Team Bondi hiring more staff does seem to indicate a possible 360 version, which begs the question, has SCEA backed out of the project?
We can't presume anything these days but if they have backed out then a reason why would be very interesting. It does seem more and more likely that a 360 version is coming, otherwise why would Take Two take away the PlayStation 3 exclusivity label and instead put "Next Generation Consoles" in its place? We think LA Noire could possibly make its way to the 360, but when this would happen is a different question. We will drop Sony a line regarding this and see if they are still funding LA Noire. Until then…

TGR Rating: Likely
More Marvel Vs Capcom 2 evidence pops up.
Wow you must be thinking, TheGameReviews.com must really like Marvel Vs Capcom 2, as this is the third time it's been in Rumor Killers. You're right, we are big fans of this 2D fighter, and we can't just ignore the fact that it's all but confirmed to be coming to Xbox 360 and PlayStation 3 fairly soon. In the last Rumor Killers we talked about how the unannounced game got rated on the ESRB website for XBLA and PSN. This time around we have fresh details and some investigation work done by our very own team here at TheGameReviews.com.
First up are achievements. What do achievements have to do with this, you ask? Well achievements just happen to have popped up over on xbox360achievements.org regarding said game — 200 points-worth to be exact — which point towards an XBLA release. Looking through the achievements, the requirements look very legit, so that's another tick in the box. The next tick in the box comes in the form of an online retailer ShopTo.net taking pre-orders for a Marvel Vs Capcom Tournament Edition Arcade stick for the Xbox 360, which has since been removed, further supporting the hypothesis that ShopTo.net jumped the gun and let the cat out of the bag way too early. Now the final and more significant tick in the box comes from some investigation from our very own team here at TheGameReviews.com. We have learned that a teaser site has gone live with the address www.tu4ar.com which we have interpreted as "Take you for a ride." The site has a countdown of 6 days remaining with a giant 2 behind it.
Now we have gone further with this by investigating the URL of the site and look at what we found: while it loads, the website transfers data from another domain — http://dev02.capcomusa.net/. More digging reveals the most important find of them all, another URL. http://dev02.capcomusa.net/mvc2gmt. Notice the mvc2 at the end of the address? Marvel Vs Capcom 2, baby!
We have basically confirmed the rumor ourselves with some investigation, and with CAPTIVATE'09, Capcom's gamer day, taking place in a weeks time, we expect the announcement to take place then. Actually, the timer will count down to zero then, so expect a pre-event announcement next week. Will we see it MvC2 with HD sprites? We are not sure, but one thing is for certain, this game is real and it's coming sooner than you think.
TGR Rating: Rumor Confirmed
"