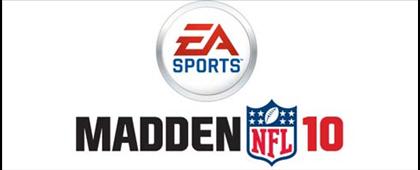 Some things just never change. Two plus two will always equal four, Brett Favre will always be on the verge of comeback, and America will always love football. One thing that will be changing this year is Madden 10, as this highly successful football series is back and fighting for every yard. The team at EA Tiburon is keen on switching things up, making the game feel realer and grittier than ever.
Madden 10 has been streamlined to make it simpler to use and feel less like a video game. The broadcast presentation has been upped and taken to new levels, with more variance in the pregame cut scenes and less unnecessary information cluttering the screen. The game has a full photorealistic depth of field, which has added a new level of graphical detail unlike any seen before. This can be seen best through replays, as details will blur as you change your focus.
The graphics are just the icing on the cake, as the entire game strives to feel more like actual football. Referees have been added to the field, and a live chain gang will measure close plays to add suspense. Thankfully, you won't ever have to worry about a crazed ref impeding your progress as bumping into them will not slow you down.
Players can also feel the pressure of an impending sack when in the pocket. While this may sound quite subtle, it is a rather large change in direction for a game that has always made it tough to judge pressure. Anyone who has played Madden frequently knows that it normally devolves into a QB running out of the pocket and either hitting his receiver or getting sacked for a ridiculous loss. You rarely see this large amount of movement in the NFL, and Madden hopes to reassure players that the pocket is meant to protect the quarterback.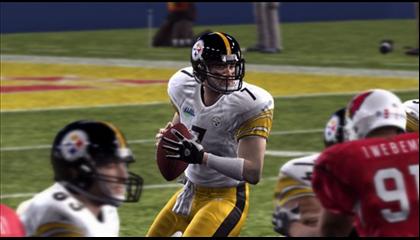 Another interesting addition to the quarterback is an all new level of detail. Each QB will have a unique stance and delivery, which will both affect release time. Quarterbacks will no longer automatically tuck the ball and accept the sack, as players can attempt to shake it off or even throw the ball mid-hit. The ball may not go where intended if thrown, but there is an opportunity for you to get that necessary completion or throw an easy floater for an interception.
When EA used the tagline "Fight for Every Yard," they meant it. For the first time in Madden, massive pile ups and gang tackles can occur. Not only that, but these gang tackles still allow for movement. Should a few of the big bruisers from the line get in on the action, the running back might be able to get those extra few yards or even break out for a huge gain. Should a fumble occur and two players dive on the ball, a quick time event minigame will pop up on screen to decide who gets it. Gamers can also switch players mid-tackle as the AI will pick up the abandoned person instantly.
One issue with Madden has always been coverage routes on defense. Since the majority of players don't play in the NFL every Sunday, it's pretty easy for them to make a simple mistake that results in a quick six when playing as a corner or safety. Madden 10 has added in defensive assist, in which a player can hold the A button to allow the computer to control the player and then jump in when the ball is thrown to make a play on it. This should allow less experienced players to see aspects of the game outside of the blitz.
If there is one thing that EA Tiburon has always been good about, it's taking back missteps and listening to its fans. Three previous features that have upset some of its audience–Madden IQ, weapons and rewind–have been downplayed in this newest version. Madden IQ has been tweaked to be more effective, while the weapons concept added a few years back has basically been removed. Rewind will still be in the game, but it will no longer be part of the default set up.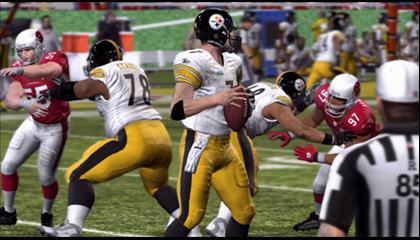 Another issue that has always separated Madden from real NFL football was the player stats. Nearly every player was relatively close to each other, even if they were backups. In Madden 10, some players have seen huge decreases in their stats to allow real superstars to feel better than average Joes. This makes the decision on whether to play when injured even harder to make, as backups are often well below their starting counterparts. Injuries will have a progression as well, as a bruised rib will be followed by a broken rib and playing hurt will make you more susceptible to re-injury. Another change is that speed is no longer the only important stat on the field. Big bruising running backs will be more lethal and can break smaller player's tackles more often, just like in real life. Strength and other attributes have been scaled up in importance.
As always, each team's roster has been updated and will continue to be made current throughout the year. The dev team assured me they had Brett Favre ready and waiting should they need to add him to the game. Playbooks have also been updated, and formations such as the wildcat have been added to every team that ran it last year.
It is clear on paper some big changes are happening, but would it be noticeable on the digital gridiron? During my short play session with the game, I saw nearly every one of these aspects come into effect as the computer pummeled my existence with a quick lead at the half. Either I'm well out of practice, or the computer AI has also been revamped on the higher difficulties to provide more of a challenge.
Madden 10 will hit stores August 14th on nearly every current-gen console and handheld, and we expect a demo to launch some time before then.
"