After a ten year hiatus, Guybrush Threepwood is back in Telltale Games' Tales of Monkey Island: Launch of the Screaming Narwhal. The first in a series of five episodes, Launch of the Screaming Narwhal finds the mighty pirate in a familiar scenario, once again having to save the woman he loves from his arch nemesis, the demon pirate LeChuck.
Over the game's three to four hours, players match wits with a mad doctor, contend with a hideous pox, and escape from certain amputation. As a whole, puzzles don't stray from the classic point-and-click style, solved by observation and item combination. A built-in hint system facilitates those who get stuck, providing both visual (instructions showing how to begin a certain task) and auditory (suggestions from Guybrush) clues.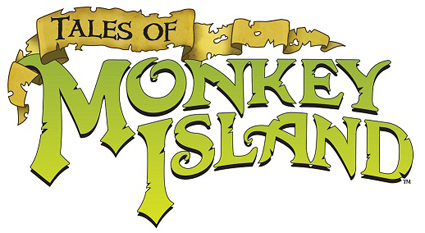 Controls are primarily point and click, but take some getting used to. Instead of moving the mouse in the direction of your character, players have to hold the left mouse button, and drag an on-screen pointer to move. It adds a bit of a learning curve to an otherwise familiar scheme, but WASD keyboard navigation can also be used.
Visually, Launch of the Screaming Narwhal is bright and colorful, meshing well with the game's Caribbean island setting. Ominous green clouds circle about the island, the water shimmers, and LeChuck looks as menacing as ever – all in crisp, larger than life 3D. In addition to sharp graphics, the in-game audio is fantastic, thanks to Michael Land's lively score and the return of series regulars such as Dominic Armato as Guybrush Treepwood, and Alexandra Boyd as Elaine.
No pirate themed adventure would be complete without an assortment of grog-swilling scallywags, the likes of which this game has in spades. Standouts include the experiment-crazed Marquis de Singe, future first mate Reginald Van Winslow, and the diseased pirate Hemlock McGee.
Fans of Curse of Monkey Island may miss the super-difficult mega monkey mode, but its absence is forgivable. Instead of mega monkey, players now have an ongoing treasure hunt micro-game to add longevity. The treasure hunt consists of following maps of increasing difficulty to locate wind idols. Idols can be claimed for additional map pieces and unlockables – ranging from backgrounds, to avatars, to telltale discount codes – at http://www.monkeyislandtreasures.com. A word of advice; avoid the treasure hunt until you've finished the episode, it will make the wait until the next episode more bearable.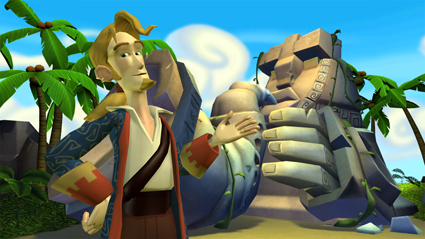 With a host of clever in-jokes to previous Monkey Island games, enough puzzles to challenge all but the most skilled adventurer, and even a treasure hunt, Launch of the Screaming Narwhal is a fantastic start to the Tales of Monkey Island pentology. It doesn't surpass the original Monkey Island titles, but it's worthy of the Monkey Island namesake.
"