Immersion. That word seemed to sum up the concept that the
Need for Speed: Shift
reps at a recent Austin press event wanted to hammer into the heads of consumers. From my time spent with the game, Slightly Mad Studios seems well on their way to accomplishing that goal.
Much of the hype surrounding NFS: Shift centers around the cockpit mode, which was easily the most fun of any of the views. There is a ridiculous amount of detail from car to car, and the 180-degree analog view–which allows you to see from a driver's perspective–is incredible, but the physics and minor touches stood out the most. There really seems to be a feeling of inertia within the drivers seat, jerking a player around in a way that hasn't been done this well before. Crashes add another element–one that I became familiar with–as the colors temporarily drained from the screen and a haze came over your vision. While these may not seem revolutionary, all of these small touches made the cockpit mode the most compelling perspective I raced from overall. Wth all of that said, this is obviously a very beautiful looking game. The cars, skies, crash damage, and vistas all look great, with my only request being for a a night racing. They only had dawn, dusk, and midday on display.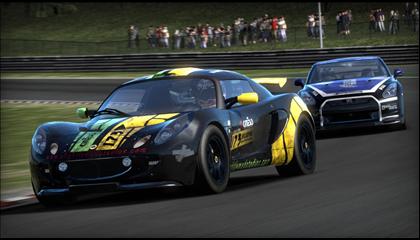 The progression system has changed up a bit this year, focusing on building a reputation. According to producer Marc De Vellis, the
NFSS
Driver Profile tracks how a player races and assigns points towards either the precise or aggressive ends of the reputation scale. While neither gives any advantages in terms of experience, this rep will affect how other cars react to the player. The AI is no longer programmed to be on-rails, instead being dynamic from race to race. Other drivers will race with a degree of respect if you are precise, or hold grudges and use cheap tactics in you are aggressive. Another unpredictability that comes from the new off-rails approach is that the AI is prone to making mistakes. Now, in addition to being wary of drivers with an axe to grind, players also must occasionally contend with an unexpected CPU error on the track.
One way to boost experience is to drive in the zone. Getting in the zone requires driving in so-called "perfect sectors" to earn stars and boost progression. With experience, one can gain money for cars and badges, which are rewards for accomplishing certain tasks throughout the game. The badges are earned across different modes and progress from Minor to Master, and can all be shown online or off.
Slightly Mad Studios seems to be on the right track towards turning this series back around after a less than stellar showing last year. Shift focuses on some very compelling ideas, and gamers who are eager to hit the track should head down to their local game retailer today to see what the latest Need for Speed has to offer. Check out my interview with producer Marc De Vellis below.
"