Disclaimer: Rumor Killers is a speculative opinion piece and is by no means intended to disclose as fact whether a rumor is true or false – even though the Rumor Killers team are usually right (usually…)
Guitar Hero: Red Hot Chili Peppers?
We've seen the arrival of many Guitar Hero games in recent years. They've focused on the likes of Metallica, Van Halen, Aerosmith and that Rock Band game about that little Liverpudlian band from the 60s. So how about Guitar Hero: Red Hot Chili Peppers? Well according to a survey that Kotaku received recently, this looks to be the future for Guitar Hero, whether you like it or not.
In the aforementioned survey Guitar Hero: Red Hot Chili Peppers has been pitched as a Beatles-esque collection offering the band's greatest hits as well as "interviews, retrospectives, concert footage and other commentary" of the "legendary" band. It also promises guest songs chosen by the band, much like previous Guitar Hero titles have offered. Hopefully they'd be a bit more appropriate than the god-awful guest tracks thrown into the Van Halen game.
So how likely is it? Pretty likely, I'd say, considering Activision's previous record. Yes, it's a cheap shot, but we all know how much Activision loves to milk a franchise. Guitar Hero is just full of metaphorical teats.
The only real fly in the ointment is that it was only six months ago that Dan Rosensweig, CEO of the Guitar Hero side of Activision, announced that there would be fewer unique titles in 2010 than in previous years. Then again the suggestion in the survey is that it'd be a little while yet as it promises an upcoming studio album to be released in 2011, so it still all adds up. Guitar Hero: Van Halen was announced well in advance after all.
Whether or not the public wants yet another Guitar Hero title is another matter, of course. The franchise does seem to be increasingly diluted so surely there's a certain amount of consumer fatigue here. Then again, a year ago the franchise reached $2 billion in sales which is impressive going and something that no doubt Activision will want to continue to build upon. According to Activision, this makes Guitar Hero only the third gaming franchise to ever reach that mark, after Mario and Madden. Bearing in mind this statistic was released last year when the series only had seven titles under its belt and was only four years old, this is pretty impressive going.
There's no smoke without fire and Activision is clearly strongly considering a Red Hot Chili Peppers Guitar Hero game. But there's that little niggle in the back of my head. It is just a survey. The fact that Activision is considering it doesn't make it a certainty. Plus the Red Hot Chilli Peppers haven't confirmed anything either. Even if it does come to light, it'll be a long while yet if the survey is anything to go by, so I need more details to be sure. For now, and until there's more evidence, I'm going to have to say false.
Jen's Verdict: False
Plants vs. Zombies coming to 360 on a disc?
Ahh, Plants vs. Zombies. It's captured many a heart on the PC and iPhone thanks to its simplistic yet ridiculously addictive mechanics. Now it looks like the cutesy tower defense game could be coming to the Xbox 360 soon, at least according to GameFly.
GameFly has posted that Plants vs. Zombies is available to rent on the Xbox 360 from September 16 this year. This is news to mostly everyone considering nothing has been announced formally regards Plants vs. Zombies coming to the Xbox 360. Although, there was a small announcement at the Casual Connect conference last July. EuroGamer and WorthPlaying reported back then that PopCap's Garth Chouteau had confirmed the plan for an Xbox 360 release but didn't release any further details. Presumably development was put on hold so that the iPhone conversion could be released first, so now that's out the way is it time for a console version?
It seems a little odd that GameFly of all places would break such a story. For one thing, I'd be very surprised to see Plants vs. Zombies as a retail release. Simply put, it's not a large enough game to be worth it. While the PC is used to having budget releases, the Xbox 360 doesn't tend to, putting Plants vs. Zombies in an awkward spot at retail. It seems much more likely that the game would come to the Xbox Live Marketplace instead as suggested by the previous announcement at Casual Connect. If this is the case it makes the GameFly entry even stranger considering it's impossible to rent digital downloads.
It seems much more likely that GameFly has stuck it on their site as a possibility. A quick browse of their future releases list has revealed a few other titles with release dates yet to be confirmed. For example, there's Def Jam Rapstar being listed as coming out on September 30 despite no official confirmation.
It's been seen before by other retailers being a little too keen and I suspect that unfortunately this is the case here. That's not to say that Plants vs. Zombies won't be coming to the Xbox 360 at some point, but it just seems extremely unlikely for it to have a retail release.
Jen's Verdict: False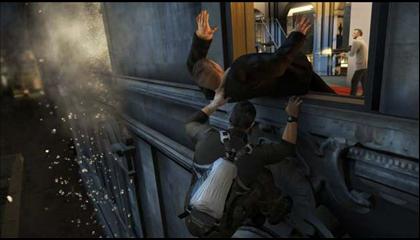 Splinter Cell: Conviction to get paid DLC?
Isn't the free Splinter Cell: Conviction downloadable content brilliant? Sure, it mostly consists of new weapons and skins rather than anything bulkier, but for free it's great to see some extra support given to a game after its release. So, how about some paid DLC too? That's the latest rumor surfacing about the ridiculously successful sneak-em-up.
Ubisoft's Li Kuo tweeted on Monday: "some killer DLC is almost done – details later. Meantime keep getting ur free stuff every Thurs".
Could this not only be some new DLC, but crucially paid and hence chunkier DLC than the free stuff?
Kuo makes a strong point that players should keep getting their free DLC. This certainly suggests that maybe the new content won't be free. If it's taking a while to develop then maybe it's a bit more substantial than latest offerings such as extra weapons. But what could it be?
New Deniable Ops maps seem plausible as it's already been announced as arriving 13 May. Then again, why would Kuo have not mentioned it was those? The real hope is that it could be an extra multiplayer type in the form of Spies versus Mercenaries as used previously in the series. This would certainly tie in with the concept of "killer DLC" as Spies versus Mercenaries was a big hit in previous Splinter Cell games and would no doubt be warmly welcomed.
There's obviously some form of DLC on the way for Splinter Cell: Conviction, and that's fantastic news for players after more content. However, there's so much speculation as to what it could be that it's hard to say with any certainty what's round the corner. My gut instinct is that it's going to be something big, something like a new game type or at least a significant map pack. But, I'll admit, it is pure guesswork on my part. As it stands I can say that the DLC is certainly true but what the content is, who knows yet. Either way, it's great to see a game continue to be supported in such a way.
Jen's Verdict: True