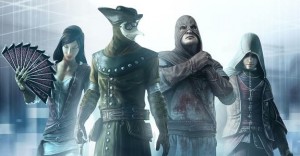 Motley Crew's hairspray days were definitely over.
I feel a bit shattered. Which is better than feeling my life is over, a state I was profoundly submerged in a few days ago as I realised these news. Looking to pre-order my own copy of Brotherhood, I noticed something was not quite right. It wasn't the price and neither was it the fact that Ezio looks suspiciously young on the cover (assassins obviously age well). Ubisoft announced the release date earlier on in the year as 19th of November, which I wrongly assumed to be, well, the time the game will be available to purchase. Apparently, my logic is flawed; the overall release date is not the same as the pc release, which has to be announced separately (why, I still do not know).
    Though Brotherhood is still available to pre-order (which gives you the creepy jester advantage in multiplayer and some exclusive content), its PC compatible version will not be out until the 26th of March of next year. On the contrary, console users get to slit a few throats from the latter half of next month onwards and will annoy us with their cheerfulness for the next 5 months as the version we're awaiting remains unavailable. Which alternatively gives us more time to whine about the DRM and dramatically storm out of gaming vendors as our impatience will reach its crescendo next year's March.
Catgamer is a columnist and blogger. See her articles on http://catgamer.wordpress.com/