Parks Associates: Nearly two-thirds of U.S. broadband households with a next-gen game console have connected it to Internet
Multimedia content, such as Netflix streaming services, and popular games with online components, such as Call of Duty and Madden NFL, are driving households to connect their game consoles and creating a new foundation for future growth in online video, according to international research firm Parks Associates. The firm's new report Connected Game Console Update finds 64% of U.S. broadband households with an Internet-connectable game console have it hooked to the Internet, a major increase from 2007, when only 25% had their next-gen console connected.
"PlayStation 3 and Xbox 360 have higher connectivity rates among the current generation of consoles, showing the power of multimedia offerings and popular game franchises in getting gamers online," said Pietro Macchiarella, Research Analyst, Parks Associates. "Despite the Wii's built-in wireless capabilities, it has been less successful in getting users online due to less compelling online games and multimedia content. However, with its large installed base, it still is a significant player in this market."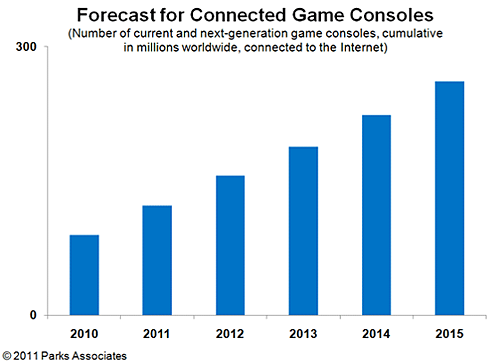 Parks Associates forecasts households will connect more than 260 million game consoles worldwide to the Internet by 2015. Broadband connectivity enables new business models for game consoles and positions them as hubs for all household entertainment services, according to Macchiarella. Both Microsoft and Sony are now leading providers of premium Internet video content and derive a large share of their gaming revenues from their digital video outlets.
"Location and high penetration of game consoles make them ideal devices for distributing digital content," he said. "Our Digital Media Evolution II found 65% of U.S. broadband households with a game console have it in their living rooms, where they loathe adding another black box. Therefore, consoles are the perfect Trojan horses in the competition for content distribution. There have been recent speculations Microsoft wants to create a new TV service on Xbox 360 by aggregating content from multiple sources. While these are still rumors, the reality is that the aggregation of premium content on consoles has already been happening for some time and is posing a larger threat to TV service providers."
Parks Associates' Connected Game Console Update focuses on several key growth areas in the connected console space, including online gaming, content distribution, subscriptions and microtransactions, virtual worlds and avatars, and Gaming 2.0, a new online gaming category that includes cloud-based gaming, user-generated content, gamer social networks, and single-player games requiring online connectivity to play. For more information, visit www.parksassociates.com or contact sales@parksassociates.com, 972-490-1113.
About Parks Associates
Parks Associates is an internationally recognized market research and consulting company specializing in emerging consumer technology products and services. Founded in 1986, Parks Associates creates research capital for companies ranging from Fortune 500 to small start-ups through market reports, primary studies, consumer research, custom research, workshops, executive conferences, and annual service subscriptions.
The company's expertise includes new media, digital entertainment and gaming, home networks, Internet and television services, digital health, mobile applications and services, consumer electronics, energy management, and home control systems and security.
Each year, Parks Associates hosts executive thought leadership conferences CONNECTIONS™, with support from the Consumer Electronics Association (CEA)®, and CONNECTIONS™ Europe. In addition, Parks Associates produces the online publication Industry Insights in conjunction with the CONNECTIONS™ Conference series.