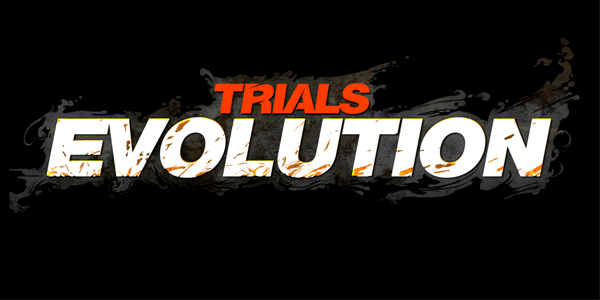 Have you ever had the desire to ride a trial bike across a war zone with bombs exploding al around you? Yes? Well now's your chance, TRIALS EVOLUTION on XBLA by UBISOFT and REDLYNX does just that, with knobs on.
The original TRIALS HD that came out in 2009 was a massive hit, and is one of the biggest selling games on XBLA, so TRIALS EVOLUTION is really going to have to shine, if it wants to do better than its predecessor and guess what? It does big time!
On release this game has made over a million pounds in 24 hours, and I can see why, this has all the hallmarks of a classic game, and it will be up there for arcade game of the year again, I am sure.
TRIALS EVOLUTION is a motorcycle stunt game that is like no other, the physics engine used by the developers creates a feeling of realism, that can be frustrating at times, but exhilarating and very challenging.
The objective is to complete the course in the best time, with few faults, which sounds straight forward enough, until you start playing it, and play it you will! The thing I did find annoying, and I am sure I am not the only one, is that it gets so damned difficult, this could result in many gamers (unless you are real hard core) just knocking it on the head , after trying for the 80th time to complete a course.
Mind you this does not take away the enjoyment I experienced with this XBLA release (for a while anyway) you race through the levels unlocking more bikes, and earning money, to buy what I can only describe as limited customisation items for your rider, this element of TRIALS EVOLUTION is the least thought through, and there should have been more variety, there are a number of "license tests" as you proceed, which basically instructs you how to initiate new moves, preparing you for the next (even more difficult) level.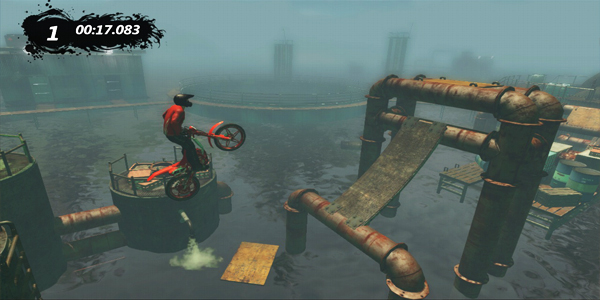 Gaining access to these next levels requires you to earn a certain amount of bronze, silver and gold medals, which means going back to previous levels to attain a better score.
The levels are so much fun to play and visually stunning with either warzones ,wooded areas, sewers and many other visually entertaining 2D/3D environments, it isn`t a chore to have to go back to them as long as it doesn`t go on forever.
TRIALS EVOLUTION is very addictive and can lead to many hours of console time being used, so be warned, the great thing is it isn`t hard to get the hang of it, the controls are very straight forward and simple, the objectives are clear, all you have to do is complete the course without falling off and in good time.
The soundtrack is "rocking`" and OK for a while, I did tire of it before long though, and turned it off and put on my own music.
The multiplayer element enables on-line and local play with up to 4 players which are all on a single screen making for more chaos.
The addition of a level building tool is a brilliant idea, being able to build your own course and allow other riders to try and beat it is going to make this game even more popular on –line.
Summary
TRIALS EVOLUTION is by far the best game to come out on XBLA this year, and is well worth the 1200 Microsoft points, this game shows that you don`t need to spend millions on a massive blockbuster, all you need is a great idea, and some imaginative developing,
I give TRIALS EVOLUTION 9 out of 10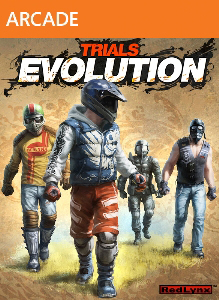 Trials Evolution
Publisher: Microsoft
Developer: Redlynx/Ubisoft
Genre: Racing
Release Date: 18th April 2012
Age Rating: 18
www.redlynx.com/trials-evolution