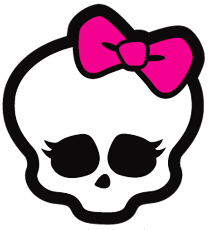 Mattel and Little Orbit announced yesterday that the scary cool characters of Monster High™ are racing to the Wii and Nintendo DS™ this holiday season in the brand new video game Monster High™ Skultimate Roller Maze™. Based on the brand that has become a worldwide phenomenon, players will pick a favorite Monster High™ character and assemble a team of friends and fiends to skate through the crypts of Monster High™. Gamers will collect power-ups, avoid monstrous obstacles, scream past the competition and use each character's special ability to win the race and bring home the victory!
"The Monster High universe developed by Mattel is perfect for an amazing video game experience," stated Matt Scott, president of Little Orbit. "We are very excited to be bringing the freaky-fabulous and beloved characters of Monster High to fans in a fun-filled racing game."
Staying true to the Monster High™ mantra of "Be Yourself. Be Unique. Be a Monster™," players will choose from a roster of the perfectly-imperfect Monster High™ student body and compete in the most amazing sport at Monster High™ Skultimate Roller Maze™. The universal truths of teamwork and celebrating differences are woven into the game as players race through multiple treacherous courses, discover deviously hidden items and extend the play through multiple gameplay modes. With selectable difficulty settings and unlockable characters, Monster High™ Skultimate Roller Maze™ game will appeal to fans of all ages and skill levels. Monster High™ Skultimate Roller Maze™ is scheduled to arrive in stores during the 2012 holiday season for the Wii and Nintendo DS™.
Official Website:
http://www.monsterhigh.com
Like us and follow our progress at:
http://www.facebook.com/littleorbitgames
About Little Orbit
Little Orbit is a worldwide video game publisher formed in January 2010 with a focus on licensed-based entertainment products. The company's emphasis is on working with popular creators to extend their vision into games through transmedia storytelling and engaging content for all gaming platforms. Little Orbit has a unique history assisting major entertainment companies to leverage their brands through emerging game channels to help grow and engage consumers. Founded by industry veterans and key development, sales and marketing personnel, Little Orbit is focused on three primary channels of distribution including traditional game retail, non-traditional retail channels, and digital download over the various platform networks.
© 2012 Little Orbit.
MONSTER HIGH and associated trademarks and trade dress are owned by, and used under license from, Mattel, Inc. ©2012 Mattel, Inc. All Rights Reserved.
Wii and Nintendo DS are trademarks of Nintendo.