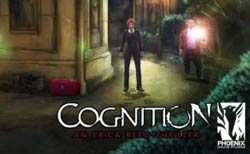 Twain Harte, CA – July 31, 2012 – Phoenix Online Studios, a rising new indie developer, is thrilled to announce that its chilling adventure title Cognition: An Erica Reed Thriller will be coming soon to digital download platforms with the help of Reverb Publishing. Cognition joins the smash-hit Dungeon Defenders, as well as dozens more, in Reverb Publishing's growing list of independently-developed video games that fit with Reverb's model of fostering talent and helping small teams and their projects succeed.
"Cognition is a smart, narrative-driven game that both fits in nicely and yet stands apart in our library of published titles," said Ted Lange, executive producer of Reverb Publishing. "The art is truly outstanding and evocative of the game's gritty atmosphere. It's very exciting to see old-school point-and-click games like this come back in full force, and Cognition is a stellar example to set."
Cognition is a thought-provoking mystery following Erica Reed, a Boston-based FBI agent, haunted by the unsolved case of a serial killer who took her brother's life. Taking a turn for the strange, Erica investigates with the ability of post-cognition, sensing an object's past with a mere touch. What unravels is a much greater, much more complex and enigmatic mystery, as it becomes clear that someone knows her secret.
Cognition joins Reverb Publishing's growing roster of titles, which includes the massively-successful Dungeon Defenders, the recently-released Jeremy McGrath's Offroad and JAM Live Music Arcade, as well as the upcoming Sanctum 2, Primal Carnage, Beatbuddy, Black Knight Sword and much more. For more information on Reverb Publishing and its line-up of titles, please visit us at www.reverbpublishing.com. For more information about Phoenix Online Studios and Cognition, please visit http://www.postudios.com/company/ and http://www.postudios.com/cognition/.
###
ABOUT PHOENIX ONLINE STUDIOS
Phoenix Online Studios is a game development company dedicated to making engaging, compelling, cutting edge and generally awesome adventure games. With a devoted team of individuals from all over the globe, Phoenix Online Studios is a passionate developer in pursuit of creating engaging games with strong characters and intriguing storylines. Their upcoming game, Cognition: An Erica Reed Thriller is one of the most anticipated adventure games of 2012. They are also the creators of The Silver Lining, a non-commercial game based on and inspired by the King's Quest series.
ABOUT REVERB PUBLISHING
Founded in 2010, Reverb Publishing offers digital publishing to independent game developers on PlayStation Network, Xbox LIVE Arcade, Wiiware, PC, iOS and Droid, by combining production and business development support paired with the proven public relations and marketing agency expertise from its parent company, Reverb Communications. Reverb Publishing's unique business model is form fitted for studios, ensuring that they receive the majority of the game's revenue and maintain ownership of their titles while Reverb handles all the non-developmental tasks including production support, navigating QA, and preparing for product submission.
The PR veterans at Reverb Communications have worked on recognizable brands like Guitar Hero, Rock Band, The Beatles: Rock Band, Dance Central, Star Trek Online, as well as stellar digital titles like Battle Slots, Army of Darkness, BloodRayne: Betrayal, Kung Fu LIVE and the critically-acclaimed Dungeon Defenders.
For more information about Reverb Publishing, please visit www.reverbpublishing.com.