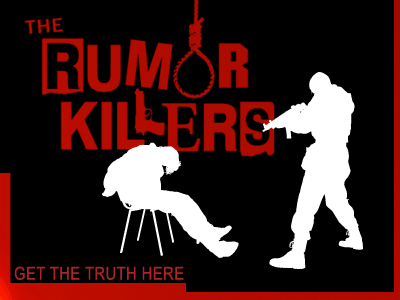 Is Nintendo Planning to Launch a New DS?
Every so often a story breaks on a Friday or Saturday that just sets the message boards and forums abuzz with talk until someone can come into the office Monday morning and sort it all out. Such was the case this weekend, as Japanese news source Nikkei Net broke a story about a brand new Nintendo DS redesign.
The gaming blogs pounced, quickly latching onto the story and reporting on all the new capabilities said to be built into the new model, including a camera and music playback. Speculation ran wild that Nintendo was worried about the iPhone's intrusion into the handheld market and Nintendo was trying to quickly reassert its dominance with a newer, fancier DS. Turns out there was nothing to get excited about after all.
While Nintendo's initial reactions were little more than a stern no comment, the company has since added that they have no idea who Nekkei's original source might be, as the newspaper never talked to Nintendo about the DS, redesigned or otherwise. Nintendo has released the following statement on the issue:
"The Nikkei newspaper wrote a recent story about a DS solely based upon their own research and speculation, without interviewing Nintendo. While Nintendo is always working on new hardware, we have not made any announcement about a DS and we cannot comment on the Nikkei story."
Further investigation shows that while Nekkei's story is printed in a very matter-of-fact manner, there are no sources quoted in the original article. While it would appear impossible, it just may be the case that Nekkei made the whole thing up, highly unexpected for a publication such as theirs.
So that leaves us standing here wondering what exactly happened. All we know for sure is that even if Nintendo is planning to redesign the DS (which we firmly believe they are), this latest story is nothing more than conjecture with no source to back it. At this point, even if a new DS did emerge with a camera and music playback, it would be more coincidence than proof of Nekkei's new-gathering prowess. Sounds like this rumor's been shot in the head.
TGR Verdict: Rumor Killed
An Early Release for LittleBigPlanet?
Earlier this week, we reported on a rumor that Sony's hotly anticipated LittleBigPlanet was going to leapfrog its original release date by two weeks and make its big debut on Oct. 7. The reason for this speculation came in the form of a PlayStation Underground newsletter that cited the date as the official release of the game, and it seemed quite odd for Sony to have such a glaring typo on one of their own official documents. Turns out even the big dogs make mistakes.
In response to the rumor, Sony has flatly denied that the game is being released early, chalking up the contradiction to someone making a boo-boo at the typewriter and causing all our hearts to catch in our throats for a moment. LBP is still scheduled for an Oct. 21 release as always, so that is the soonest you can partake in the adventures of Sackboy.
Well, this rumor is dead and buried, but I'm sad to see it go. LBP is already expected to be one of the biggest games to hit the PS3 yet, and the idea of it coming out sooner than expected is truly welcome. Oh well, I guess keeping things the way they are maintains the balance of the universe and gives all those poor game store clerks a few more weeks of peace and quiet before the PS3 owners emerge from their holes and descend to get their hands on the game they've all been yearning for since the system was launched. Better stock up on Bactene.
TGR Verdict: Rumor Killed
Have Call of Duty: World at War Perks Been Leaked?
Call of Duty 4 was a game beloved by almost everyone, and part of the reason was due to the absolutely sterling multi-player experience it offered. And one of the bright spots of this multi-player was the perk system, which allowed veteran players the opportunity to modify their basic character with any number of beneficial extras in order to create the perfect killing machine. It would appear Treyarch has decided they would be remiss if they abandoned this model, and it seems as though the developer is bringing the perks back for another go.
Here's the breakdown of what type of bang you'll get for your buck:
Perk 1:

Special Grenades x3
Satchel Charge x2
M9A1 Bazooka x2
Bomb Squad
Bouncing Betty x2 (similar to claymores)
Bandolier
Primary Grenades x2
M2 Flamethrower

Perk 2:

Stopping Power
Fireworks (explosives cause more damage)
Flak Jacket (decreases damage taken by explosives)
Gas Mask
Juggernaut
Camouflage
Sleight of Hand
Shades (decreases intensity of signal flares)
Double Tap
Overkill

Perk 3:

Deep Impact
Extreme Conditioning
Steady Aim
Toss Back (resets fuse on tossing back enemy grenade)
Second Chance (ability to revive allies)
Martyrdom
Fireproof
Dead Silence
Iron Lungs
Reconnaissance (shows artillery and tanks on map)

Vehicle Perk:

Water Cooler
Greased Bearings
Ordnance Training
Leadfoot
Coaxial Machine Gun
Some of these are retreads from Modern Warfare, but no one ever said you couldn't "borrow" from a classic. We haven't seen an official confirmation from Treyarch yet, but the prevailing notion is that this is either the exact list from the final build or at least pretty darn close. So while we can't confirm this rumor, we're willing to say that if this is almost assuredly the real deal.
TGR Verdict: Very Likely
"