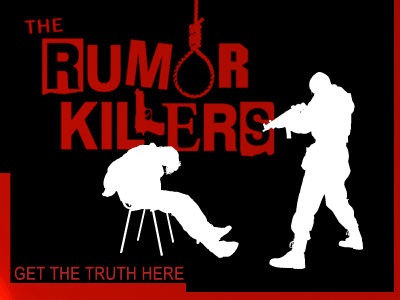 Welcome to a special edition of TGR's Rumor Killers. In this edition we are not looking at multiple rumors, but focusing on one game specifically. That game is Assassins Creed 2.
Love it or hate, Ubisoft's Assassins Creed was a commercial success, selling millions of copies on Microsoft's Xbox 360 and Sony's PlayStation 3 since it was released back in November 2007. The game has you playing as Altair, an assassin from the "Assassins Brotherhood" during the time of the Third Crusade in the Holy Land. With the game being an open world, you have the choice of where to go and how to complete your missions. The ability to stalk your target from above, moving from building to building while waiting for the perfect moment to jump and thrust your blade into the target was one of many standout moments that the game offers. Still, it did have its problems, the biggest of all being how the missions could become repetitive towards the end of the game. Some reviewers even claimed they would have given the game a lower score had they actually played the game all the way through.
Despite its problems, the game still played well and sold better than Ubisoft expected, so it comes as no surprise that there have been whispers that a sequel is in the works. A few months back, a Prince of Persia developer, David Wilkinson, leaked some new information on the yet unannounced sequel. When quizzed on what Assassin's Creed's animation lead was up to he said, "He's busy making Altair even more beautiful. Last thing I saw him do was getting Altair to swim." So it looks like we will be able to swim in Assassin's Creed 2, and it looks like Altair is indeed still a part of the game's story.
But it's a new piece of evidence that has us excited — one pointing to a confirmation and possible release date for Assassin's Creed 2. UK website Play.com has Assassins Creed 2 listed as a December 4th release, for both the Xbox 360 and PlayStation 3. Now if there is any ounce of truth behind this, it accounts for the European release, leaving the American release up in the air. More than likely, though, both versions of the game will come out around the same period. Unlike Amazon, Play.com doesn't usually add games to their database until they have confirmation from the publisher, which adds more fuel to the fire. Maybe they know something more than the rest of us and have jumped the gun. The release date seems legit since it was around that time that the first game was released, though it could be bumped to the end of November due to Christmas sales.
Ubisoft has yet to respond to our inquiry about this find, but rest assured that as soon as we hear something, we will give you an update and if you are lucky, a confirmation that Assassins Creed 2 will be coming this Christmas. Given the leaked information about the as of yet unannounced title, and a possible release date from a usually reliable source, there is only one TGR rating we can give this game.
TGR Rating: Rumor Highly Likely
UPDATE: Ubisoft still remains tight-lipped on the subject, but Play.com has since changed the title's release date to say, "Date to be confirmed."
"