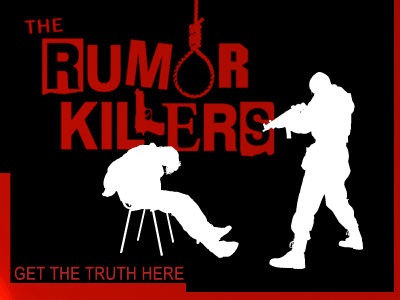 First off TheGameReviews.com would like to say a big thank you to everyone that's helped make Rumor Killers a big success. Without you guys, we wouldn't be where we are today. With that in mind, we would like you, our readers, to get in on the action. If you have a rumor that you want discussed or even "killed," drop your information in our forums. We will do our very best to investigate and judge these rumors for you. Additionally, if you don't have a rumor, but instead want to discuss the latest Rumor Killers, go ahead and chat in the same place. And finally, thanks again for reading.
Could Lionhead be working on a 360 Fable MMO?
The original Fable sold over 2.5 million units on the original Xbox, and won several awards on the way as well. Fable 2, released last October, surpassed the original in every way, selling close to 3 million copies worldwide and enhancing Fable's already great gameplay. Most great series have rumors concerning their future, and Fable is no exception.
Lionhead boss and gaming guru Peter Molyneux dropped interesting hints during an interview with Eurogamer.com at GDC 2009. From the interview, it seems Fable has a massive future – massively online, that is. When asked about the future of Fable, Peter responded with "Whatever happens in the future of Fable, I don't want you to think you know exactly what features are going to be in there," Molyneux said. "Don't think about this as an RPG franchise – think about it as the world of Albion, whether it's more action or RPG or MMO or some new genre – that's what we have to do."
He concluded by saying "I think it's not good enough just to say, 'OK, we'll do another Fable.' Because in the end you're just driving yourself off the cliff." Developers understand that churning out the same game over and over would bore customers. A series must be kept fresh, and an MMO would certainly change things up. Molyneux's reputation as a developer could also support this idea. The world of Albion is a vast place – one in which quests could keep getting added. All that said, Microsoft has already canceled a few first party MMOs on the 360, so giving the green light to a Fable MMO may be a stumbling block, despite Fable being an established franchise.
Truth be told, we can not see Fable becoming an MMO anytime soon. This is more likely on the next Xbox, but definitely not on the 360. Fable 3 will come out a long time before a Fable MMO. As awesome as the idea sounds, a Fable MMO won't be coming any time soon.
TGR Rating: Rumor Killed
Could Crysis 2 come to home consoles next year?
Another day, and another Crysis rumor – but this time it's not regarding a port of the original game to home consoles. Today we're looking at Crysis 2 and how it could release on Xbox 360 and PlayStation 3 next year. Crysis was the PC's premier FPS last year. It pushed the PC's graphical boundaries to limit. Only a hand full of graphics cards were able to run the damn thing on very high settings. With the current state of the economic market, and that fact that PC piracy is as high as ever, many thought – including myself – that Crytek would eventually port Crysis to consoles.
CryTek showed off their new engine, CryEngine 3, at last week's GDC, and it made quite a splash. What's so big about this you ask? It was running on Xbox 360 and PS3 – while retaining all those awesome Crysis visuals. Of course, comparisons were made between the two consoles. The 360 won in some areas while the PS3 in others, but they both looked more or less the same. I am not here to talk about that, but that burning question that BlendGames.com put forward – was Crysis 2 shown at GDC?
CryTek has a history of showing their future games through tech demos. This occurred with Crysis while demonstrating CryEngine 2. Crysis wasn't demoed at GDC, although the locations looked similar. This begs the question – did they show an early version of Crysis 2? I can't say with any certainty that it was or wasn't, but the fact remains; the sequel to one of the PC's best games will be coming to Xbox 360 and PS3. Unless your name is Blizzard and you have an MMO by the name of World of Warcraft, it's very hard to make a good profit on just PC only games due to the insane amount of piracy that surrounds that platform. In order to sell millions of legit copies, consoles are the way to go. With over 50 million hardware units sold between the big two, CryTek can no longer ignore the potential income they could receive by bringing releasing their games on home consoles. With the CryEngine 3 looking spectacular on both, console releases will soon be a reality.
TGR Rating: Highly likely
Could the Lord of the Rings Online grace Microsoft's platform?
So far, 360 and MMOs don't mix, besides Final Fantasy XI that is. Microsoft has cancelled a few first party MMOs because they couldn't see any potential growth on the system. However, SOE (Sony Online Entertainment) is developing a few interesting MMOs for the PlayStation 3 including The Agency and DC Universe Online. Perhaps this competition has encouraged Microsoft to foster some MMOs of their own. In fact, some of the most exciting MMOs in development are coming to the 360: RealTime Worlds' APB, Funcom's Age of Conan, and Cryptic's Champions Online.
On Tuesday we brought you the rumor of World of Warcraft on 360. Today we have already discussed the possibilities of a Fable MMO, and now we have yet another rumor concerning a 360 MMO – Turbine's Lord of the Rings: Online. According to Destructoid.com, a reliable source has spilled the beans saying that Lord of the Rings: Online is coming to the Xbox 360. The source goes on to say that Turbine has hit a stumbling block, not on development, but in a disagreement with Microsoft on the free-to-play model – something Turbine feels strongly about for the console version of the game. All hope is not lost, as apparently Microsoft is close to finalizing an MMO model for Xbox Live.
Desctructoid.com got in contact with Turbine to see if there was any truth in this rumor, but they neither confirmed nor denied, suggesting that this rumor could be true. The source also claimed that the game is near complete, suggesting that when Microsoft gets their model finalized the game could ship quickly. Oddly enough, Turbine stated that this was "factually incorrect." Hold on, you don't deny or confirm this rumor, but say that the game isn't complete? This seems to be a confirmation, although a roundabout one. The biggest question remaining is whether gold members have to pay another fee on top of Xbox Live to play this MMO. We hope for the future of MMO gaming on the 360 that we won't have to play another fee – otherwise I can see gamers giving this a miss.
TGR Rating: Rumor Confirmed
"