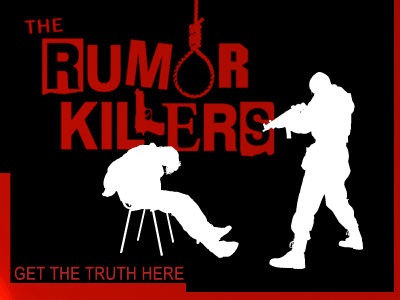 First off TheGameReviews.com would like to give a big thank you to everyone who has helped make Rumor Killers a big success. If it wasn't for you readers we wouldn't be where we are today, so with that in mind we would like you to get in on the act. If you have a rumor that you want discussed or even Killed, drop us your information in our forums here and we will do our very best to give it a the appropriate verdict. If you haven't got a rumor, but instead want to discuss the latest Rumor Killers, then you are more than welcome to do so in the same forum. Thanks for reading.
Are the leaked screenshots of Sony's MAG fake or real?
During Sony's E3 press conference in 2008, Sony revealed a brand new PlayStation 3 exclusive, MAG: Massive Action Game. Developed by Zipper Interactive of SOCOM fame, MAG promises 256-player online battles divided up into 8 different squads battling it out for supremacy over vast battle fields. On paper, this could be the game to end all online games; 256 players online is just insane and I would love to see how they can pull this kind of game off. Since the reveal, details have been nonexistent, the only trailer being the teaser shown at E3. With the game due out sometime this year, many fans have been wondering if MAG would actually be coming out this year at all, but some very impressive leaked screenshots have given hope to PS fans that this game will make it in time. But are these screenshots real? Or are they fake?
Over on Destructoid, they have published a rumor containing a batch of supposed MAG screenshots that have been leaked onto Flickr. From what I can tell, some of these screens include art concepts of characters, and others are top-down shots of different map locations, but the most interesting of the lot are the few that show actual gameplay. So if these are real what do they tell us? Well for starters the game is a FPS unlike Zipper's previous outings, which used third-person perspectives. Secondly and probably most importantly for some, the game looks bloody awesome, especially when you consider that it will support up to 256 players online. The screens themselves look too good to be fake; the amount of detail in some of them is incredible and they way the maps seem are laid out also point toward these screens being real.
Sony has been very quiet on MAG ever since the announcement last year, leaving many wondering if the game was having some development problems, but if these screenshots do turn out to be true — and by our recognition, they seem to be — then gamers' faith will be restored. Zipper has a lot to live up to with the features that are promised in this game, but if any Sony studio can do it then it is most definitely the studio that brought us all but one of the SOCOM games thoughout the PlayStation era. This one, ladies and gentlemen, is one to look out for. Expect an explosion of fresh details at E3 this year.
TGR Rating: Very Likely
Will the MK team finish off Midway?
When you think of Midway you think of one game: Mortal Kombat. Considered one of the premier fighters on the market, Mortal Kombat has taken on some of the biggest fighters out there from other companies including Street Fighter, Tekken, and Dead or Alive to name but a few. It's a testament to the franchise that it is still going strong and that people still want Mortal Kombat. The latest installment into the franchise, MK vs DC, has sold just under 2 million copies worldwide. So everything should be rosy, no? Hell no! As we all know, Midway is in financial trouble. When the court documents were released during the company's chapter 11 filing we learned that they have already asked Ubisoft to come in and help ease the financial burden of publishing The Wheelman. In the same documents, we learned that the company was thinking of selling off the Mortal Kombat franchise, their biggest asset, to help avert the financial crisis. If all that wasn't enough, something much worse could happen. The MK team could pull of a fatality that would finish Midway off for good.
According to sources that have contacted gaming blog Kotaku, members of the MK team are in active talks with other publishers to leave Midway and to form their very own studio. According to the source, senior members of the team are handling the negotiations with a handful of unnamed publishers. They are seeking a way out, motivated by lack of payment in bonuses based on meeting MK vs DC sales targets. The source of this information supposedly comes from within Midway itself. Other factors contributing to the MK team's actions include becoming increasingly "frustrated" with the handling of Midway's bankruptcy filing as well as irritation from being in a position of delivering million selling games on a tight schedule while other projects languish in development.
If this is true then you can't help but feel the pain that the MK team must be going through. Midway did comment on the rumor, saying that the team is "in good shape" and stressed that they are "not refusing to pay out those bonuses" that are owed. If the MK team does go, then we hope that they buy the Mortal Kombat franchise from Midway. Why? Simple, when you have a team that's dedicated to such a series it can only benefit the game. They have created MK from the ground up; the characters, the story, the locations, everything was done by the MK team and that brutal bit of magic that lays within MK comes from the MK team. Losing that team would mean the end of one of the best fighting games to grace arcades and home consoles. Let me add this: if they do leave, if they keep Mortal Kombat, and they do find a new publisher then I hope it is Capcom. Why? Mortal Kombat Vs Street Fighter! Yeah baby, BRING IT!!!!!!!
TGR Rating: Likely
Is the short video of Halo 3: ODST a fake?
So far this generation, Halo 3 has been the biggest console-exclusive game. It broke records, it caused mass hysteria upon launch, and it made millions of kids around the world skip school just to play it. To most it's the king of console FPS games,and to others it's overrated. Although released in September 2007, Halo 3 is still selling strong, with more and more 360 newcomers buying the game to see what all that bloody fuss was about nearly two years ago. A lot has happened since that day, though. Bungie has since gone independent, leaving Microsoft Game Studios to survive on non-Halo products, but as a parting gift they have decided to do one last Halo game, the Halo 3: ODST expansion. Now since its revealing last year, not much is known other than it's going to be squad-based and will not include Master Chief.
Although not much else known, it seems that it has already begun beta testing. How do we know this? A certain video has been leaked onto YouTube, showcasing what looks like the main menu screen of Halo 3: ODST. There was however a funny comment left by Bungie before the screen loaded up that could lead us to think that this video is actually legit. This isn't online multiplayer beta but instead a campaign beta, so how this got out in the open is beyond me. The main menu certainly looks like previous Halo games, including Halo 3 and the recently released Halo Wars, so again that adds more points towards the legit side of things. However, we have been fooled before by these sorts of things so we can't take anything for granted. The only question mark that's hanging over this is, 'why haven't they shown us any footage of gameplay?' I mean if you are going to leak this video then at least show us something worthwhile, no?
It's very hard to judge these types of things; on one hand you have a video that seems legit in layout, look, and sound, but on the other hand you have a lack of gameplay footage. It looks legit but it doesn't show us anything concrete. I am truly undecided on this one and that is why I have gone with…
TGR Rating: Undecided
"