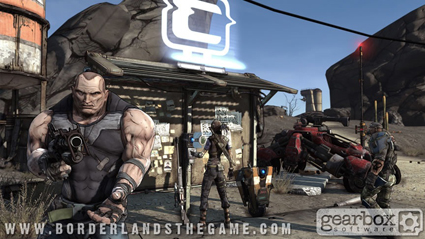 Image courtesy of www.borderlandsthegame.com
Few things can get a gamer's mouth salivating like a fat, laden, glimmering treasure chest full of loot. Gamers have happily spent thousands of hours for the pursuit of loot in Nethack, Diablo, and World of Warcraft. Gearbox's Borderlands, due out October 20 for Xbox 360, PS3, and PC, will attempt to combine the addictiveness of looting with RPG elements from Diablo, and the tactile Quake thrill of filling a chump's face full of buckshot.
"No one's really done it well in a first-person shooter before, so that was our challenge, and that's our mission," Gearbox Software President Randy Pitchford said.
This mission was undertaken for a love of the classic Diablo game play loop – kill stuff, get loot, kill stuff better. That love means that "you'll definitely see a lot of influences in Borderlands from that kind of gameplay," as Pitchord explained.
"I and many people at Gearbox have loved that loop and been addicted to it. There's been a lot of folks that have done it, and even done it well – Blizzard of course is at the peak," Pitchford stated. "I think my first experience with that was Hack, Nethack. I put thousands of hours in Nethack."
So what exactly does that mean? Other games have tried to combine the loot-driven hack and slash game play with first person shooting and not met success – Hellgate: London most recently. What does Gearbox offer to differentiate it?
"Borderlands blends the visceral, immersive action of first person shooting with the choice, growth and discovery of role playing games," Pitchford explained. "Basically, in Borderlands you explore this amazing world from the eyes of a hero that you choose and develop and grow in a fun quest that will involve you getting tons of power and loot!"
Gearbox isn't resting solely on leveling and loot to sell the game, though.
"On the character side? We're going crazy there. We were feeling that Borderlands was light on character, and when we realized that we needed to invest more time in the game design and the crafting of the game itself, the creative team went back and said 'this is an opportunity,'" Pitchford recalled.
With a release date rapidly approaching, just how close is Gearbox to achieving the their goal of combining loot driven hack-n-slash with charismatic first person shooting?
"We definitely have it, but at the same time we're building it all from scratch. We're definitely 1.0, but it's there. It's so awesome. I'm really hoping that people like it so that we can keep building on it," Pitchford excitedly proclaimed.
Borderlands may even introduce the joys of loot to players that have sworn off RPGs.
"That's kind of what we're counting on – people that like action games that just haven't let themselves experience that loop yet," Pitchford said. "Borderlands might be the game that brings them there."
A big thanks goes out from the whole TGR staff to Gearbox President Randy Pitchford for talking with us, and Jim Redner from the Redner Group for coordinating the interview. Borderlands is slated to ship for the PlayStation 3, Xbox 360, and Windows PC on October 20, 2009.
"