Where have all the Christmas games gone? They've all hopped off to enjoy the lucrative springtime calendar. Whilst gamers everywhere are left salivating for 2009's altogether slimmer seasonal pickings, headlined by juggernauts like Modern Warfare 2 and Assassin's Creed 2, developers everywhere are packing up and shipping off to the greener pastures of early 2010. It's no bad thing, either.
This isn't news to Capcom. Actually, the Japanese publisher has been in on the game for some time. Released in March this year, Resident Evil 5 sold 1.52 million units in its first month, the best launch numbers the popular zombie-stomping series has seen to date, and in a month where game sales were down 17% from the year before. The venerable Street Fighter IV sold just under a million copies in February, an impressive figure for an increasingly niche genre. Casting our minds back a further year, Devil May Cry 4's lukewarm reception didn't stop it shifting over half a million units in February 2008, and even 360-exclusive snore-fest Lost Planet managed to flog 330,000 units in January 2007. These numbers pale in comparison to the likes of Call of Duty 4 (2m units in November 2007 and lifetime sales of 7.7m) and Wii Fit (678k in its first month and lifetimes sales of 9.3m). Nonetheless, the figures are still solid and certainly respectable considering Capcom's games aren't quite as favored by the mass market, and I doubt Capcom was anything but chuffed.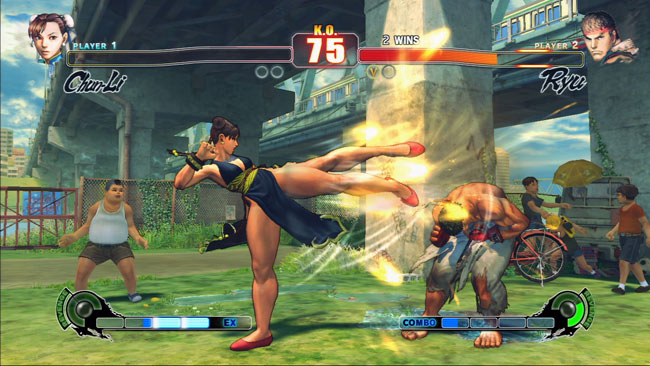 Street Fighter IV was more successful than expected for a game from a niche genre
Undoubtedly the industry was forced to take action after the cautionary aftermath of 2008's overloaded holiday season. Notable titles like Dead Space (263k), Tomb Raider: Underworld (246k) and Prince of Persia (483k) performed far below expectations despite favorable reviews and fervent advertising campaigns. Moving titles like these into the less crowded part of the year allows publishers to tighten to tighten the purse strings of advertising, yet more effectively promote their upcoming titles.
Sales charts for the past few holiday seasons read like a gentleman's club for the highest-profile releases, with customary appearances from plastic band software and Wii Play. Since 2006, most of the few, seasonal success stories have come from Wii software. Midway's Carnival Games has proven prosperous: despite not finding its way into any of the Top 20 NPD lists, it's frequently been'inculded in retail bundles, so it's subsequently enjoyed high lifetime sales of 1.84m, a lofty number that's all the sweeter for its low development costs. Success stories like Carnival Games have, perhaps ironically, led to a glut of bargain-priced family software for the Wii.
Back in the here and now, and the shoddy economic conditions of 2009 aren't helping matters. Hardware sales have been down for most of the year, albeit with the the PS3 Slim's release and the 360's price cut helping to turn the tide. With companies doing their best to offset costs at every opportunity, spreading their catalog out across the year is a golden opportunity to try something new.
*all figures from NPD data, with multiple console figures collated when possible, and are specific to the USA.
Publishers realizing their calendars have more than three pages isn't just a fantastic thing for them, but it's a fantastic thing for gamers too. The industry is now big enough to support itself without relying on the frenzied panic buying of lazy family members in the Christmas season. Surprisingly, this is not a new opinion; industry analysts have been declaring this for the past few years. If a steady stream of games can be released all year round, then gamers can be playing quality titles every month of the year. It's a no-brainer, when you think about it.
Summer, for instance, tends to be a bad time for new releases. For the past two years, Microsoft's Summer of Arcade campaigns have provided some hugely varied and enjoyable downloadable titles for the Xbox 360. The season still has a habit of lacking a big-budget, bombastic summer bestseller, but this year saw the release of Batman: Arkham Asylum, which has been enjoying high chart positions over the last month and sales of over one million units. Eidos will no doubt be celebrating the unexpected critical and commercial success courtesy of a generally unknown developer, not to mention from a title which would have likely floundered in a more aggressive Christmas environment. Pitted against the industry's biggest blockbuster sequels, I doubt even Batman could find a way of competing with Soap McTavish.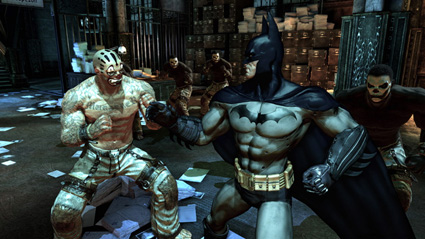 How would Batman have fared against Modern Warfare 2?
Furthermore, a couple of years before saw the August release of BioShock, selling close to 500k copies in its first two weeks. It wouldn't have been likely to finish well in a fight with September's gargantuan Halo 3, which after moving 3.3m units in September alone would become the best selling game of 2007. August has always provided a strong home for the enduring Madden franchise, too, with Madden 10 moving a whopping 1.9m units across five different platforms. It's all proof that there's money been spent all year round, and it's only now that most publishers are starting to realize it.
The issue is also likely influenced by the recent trend of evergreen games that sell consistently for extended periods of time. Call of Duty 4 has entrenched itself in the charts for the best part of two years, while Wii Fit stocks were completely exhausted over the 2008 Christmas period despite being released months before. With more and more games attracting this kind of demand, there's no reason to load all the new releases into affluent holiday periods. Whilst games still tend to enjoy their strongest sales at launch, releasing games in Q1 has seen Capcom enjoying a stream of continual sales throughout the year. Street Fighter IV has just passed the 2.5m mark, and Resident Evil 5 is close to breaking 5m copies sold. If 2008 was any indication, releasing a game in September or October means that there will absolutely always be something bigger, better and more badass around the corner that will sell 1.56m copies in its first month. Sometimes you just can't compete.
Capcom has probably been wondering why it's taken all the other publishers so long to cotton on. For the consumer, the only downside of all this is that the upcoming Christmas looks comparatively sparse, with the likes of God of War III, StarCraft II, Dante's Inferno, BioShock 2, Dark Void, Bayonetta, Blur and Splinter Cell: Conviction all on the horizon. But, and let's be honest, who hasn't got a couple of titles from 2008's Christmas period sitting untouched on their shelf? Now's the perfect opportunity to finish those. It might also be the last year it happens.
"