Disclaimer: Rumor Killers is a speculative opinion piece and is by no means intended to disclose as fact whether a rumor is true or false – even though the Rumor Killers team are usually right (usually…)
New SSX on the way?
According to the latest issue of Official Playstation Magazine, it looks like there's some hope for snowboarding fans desperate for their next generation SSX fix.
For the uninformed, the SSX was a popular series of snowboarding games published by EA in the early 00s. They were popular thanks to their keen combination of arcade racing and trick-based showmanship. SSX Tricky and SSX 3 were the best of the bunch, both acquiring average review scores of over 90% on the Playstation 2, Xbox and Gamecube. They were perfect games to play for hours on end in single player, while still being terrific fun in multiplayer. With the SSX series being both critically and commercially successful on the last generation of consoles, it seems a little strange that, besides the Wii's SSX Blur, there's been no sign of a new SSX for any of the other current generation machines. That is until now, of course, with OPM suggesting that Criterion is currently developing a new SSX game alongside the already confirmed new Need for Speed game.
There are few details beyond suggestion that a game is currently in development, presumably for the PS3 rather than PSP, but the rumor is looking pretty solid. There was previously a glimmer of hope when Criterion's Twitter account stated "Crash FM off-air today. DJ Atomika is off riding the Peak 3 Jam" – DJ Atomika being the SSX announcer as well as the Burnout Paradise guide. Back in September 2009, EA Montreal's Alain Tascan admitted to GI.biz that SSX may be revived, providing the demand was there.
Considering the last 'full' SSX game, SSX on Tour, won a number of awards as well as many positive reviews, it's certainly looking good for the series. SSX Blur, the only game to appear on a current generation console, suffered from some mixed reviews, but surely this just makes it perfect timing for Criterion to revamp the franchise.
Then again, it was only 18 months ago that EA's Peter Moore suggested to ESPN that there would be no more SSX games with a shift in focus towards sports games not just for the "hardcore" gamer. Still, 18 months in gaming is a long time so maybe EA Sports has come to its senses and realized that demand is still there. It certainly seems that way with a lot of love still there for the franchise, this clearly evident when just a small hint of a new SSX game in Burnout Paradise's demo provoked much excitement amongst fans. The clue was unveiled via Mac Fraser of SSX3 fame showing up to say that "the snow on the mountain is falling and should be ready to ride by Winter". Winter has come and gone with no sign of a new SSX game, but maybe the cryptic message meant this coming winter instead.
Criterion enjoyed huge success with the Burnout series of games,which offer the sort of gameplay that extreme sports loving fans should adore: high speed action. Whether a new SSX game could offer the open world gameplay that we've seen in Burnout Paradise, who knows, but it would certainly be something special. A world in which players could snowboard across various areas to participate in a variety of challenges sounds like a game that will be a hit. Besides the snowboarding fans, a new SSX game could well appeal to Burnout Paradise fans of which there are certainly many thanks to over 2.5 million sales, plentiful DLC releases and its re-release in Ultimate Box form.
Snowboarding itself has fared reasonably well recently as a game genre with the likes of Amped 3, Stoked and Shaun White Snowboarding receiving reasonable reviews and sales figures – excellent sales in Shaun White's case. It's just a shame that the quality hasn't been as consistent as the SSX series once offered, again making this an ideal moment for Criterion to revamp the genre.
Considering the evidence available here, I think it's pretty likely that we'll see a new SSX game in the near future. It seems particularly unlikely for OPM to get this wrong and surely it's about time we saw another snowboarding game. Throw in the cryptic tweet and it seems nearly certain to come to fruition. Even better, it has the potential to be something truly great if Criterion is behind its development.
Expect an official announcement around E3 time and the game itself no earlier than the end of 2010.
Jen's verdict: True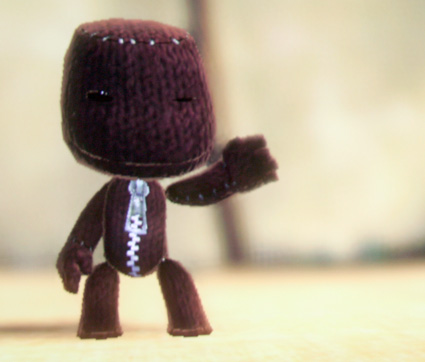 LittleBigPlanet 2?
Wasn't LittleBigPlanet just brilliant? It was ridiculously cute as well as innovative in its approach to platforming, plus it was damn fun too. So how would you like to see a sequel? Thanks to the OPM once more, there's a rumor of a full sequel on the way sooner than you think. No details have been revealed yet, so just how likely is it to happen? It all depends on who you believe.
Even back in 2008, just after LittleBigPlanet's release, a BBC article was proclaiming that a sequel would be on its way along with plenty of merchandise such as comics and action figures. The action figures have appeared on the scene with some particularly cute examples of little Sackboy – you can even knit your own Sackboy!
But where's the sequel? According to developer Media Molecule last June, there would be no sequel. Level Designer Danny Leaver explained that they would "never want to do that" and that it would be the "most counterproductive thing you could do". Producer Martin Lynagh went on to cite that the DLC packs and regular weekly updates represented "the way it's going to continue", rather than a full blown retail sequel. So has there been a change of heart?
While the user created levels have gone from strength to strength, with Sony announcing that a level has been published roughly every 21 seconds since its launch, the DLC and updates haven't gone quite as well. With most of the DLC comprising costume packs to tie in with other big Sony releases like Metal Gear Solid 4 and Resistance 2, the limitless options aren't quite there. Throw in so many updates that a new purchase of LittleBigPlanet can't actually be played for nearly 2 hours after patching begins, and things aren't looking so rosy.
Who could blame Media Molecule if it did decide to develop a full-blown sequel? After all, the love for Sackboy is certainly there with both commercial and critical success, particularly the latter with a Metacritic score of 95. The PSP version, although not as successful, has still done well with an average score of 87 so surely the potential for success is there. The LittleBigPlanet community is booming with well over 1 million user created levels.
Then again, perhaps that's exactly why a sequel shouldn't happen. It does have the potential to divide the community which is never good to see and has been a problem for platform-like games such as Left4Dead in the past.
I loved LittleBigPlanet. It was fresh, it was fun and it reminded me just how enjoyable it is to be part of an online community full of imaginative ideas. It's been nearly 18 months now since the original came out so now seems like a decent time for a sequel. Unlike the controversy surrounding Left4Dead's sequel, enough time has passed for the community to fully take advantage of everything that LittleBigPlanet had to offer the first time round. I'd love to see just what new innovative features could be added in a sequel rather than more basic DLC packages.
Regardless of whether a sequel should happen, it's looking quite likely that it will happen. No self-respecting developer or publisher would ignore such a successful IP and with a new release schedule ready to be announced in time for E3, surely this is the perfect time for such a game to appear on the horizon. Watch this space Sackboy fans.
Jen's verdict: True