My first experience with Castlevania was the N64 game, which, endowed with some monstrous controls and lousy 3D camera angles, sadly turned me away from the series for way too long. That said, I've recently gotten into this long-running franchise and I've decided to share my joy with you in this week's Bargain Bin. The adventures might be cheap, but the games are all of excellent quality, so grab your cross and whip and come on in for a little gothic fun!
Castlevania X: The Dracula X Chronicles (PSP)
I know, I know, who plays a PSP anymore, right? Well, you should! Especially when it has quality stuff like this on it! Castlevania X is a remake of Rondo of Blood, a rare Castlevania game that originally never made it out of Japan. It's updated here and ready to play in sublime glory with new graphics, an enhanced soundtrack and all the same lovely trappings that make the Castlevania games so much fun.
Better yet, Castlevania X goes the extra mile to pack in the value. While Rondo of Blood is the main game, by completing it you can unlock both the original version of the game, and Symphony of the Night, which is a sequel to the main game. Three (well, sort of three) great Castlevania games for this price is a deal in every sense of the world, and if you're a fan of the series who happens to own a PSP, you should already have this game.
Amazon (Note: Used Amazon.com prices are subject to change)
New – $29.79
Used – $14.99
Gamestop
Used-17.99
Castlevania: Portrait of Ruin (DS)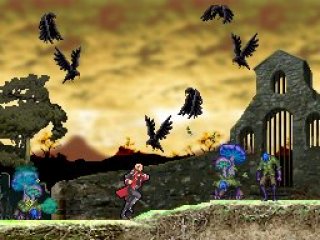 Between the recent release of Order of Ecclesia and the relative availability of Dawn of Sorrow, Portrait of Ruin is hardly the only Castlevania game available on the DS, and by most gamers' standards is the most inferior of the three. But as any frequent reader of the Bargain Bin should know by now, sometimes the utmost quality isn't the first thing on our list of priorities.
That isn't even saying that Portrait of Ruin is a bad game. It got relatively good reviews, features many of the same fine qualities of the rest of the series, and is the cheapest of the three DS releases. It also has a number of things that make it unique. Portrait of Ruin is the first game in the series to allow the player to switch between its two main protagonists, Jonathan Morris and Charlotte Orlean, at will. Both have their own strengths and weaknesses, and it makes the game a little more interesting to have different abilities to play with.
That said, the game does suffer from some uninspired level design, and it doesn't do much to separate itself from the games that came before it. For fans of the series, however, this is a solid buy and will offer hours of entertainment, albeit the same sort that you've probably been playing for years.
Amazon (Note: Used Amzon.com prices are subject to change)
Used – $20.99
Castlevania: Symphony of the Night (XBLA, PSN)
You really won't haven't any need for this if you buy Castlevania X. But if you don't have a PSP (or if you do and just don't want Castlevania X for some odd reason), this is a good alternative. Symphony of the Night is a great game, and for ten bucks you can have it on either your PS3 or Xbox 360. It's a good deal for fans of the series, or if you're a newcomer like myself — this is is my first Castlevania game since the N64 one — it's a cheap initiation.
The game features great retro gameplay, nice classic visuals, and a fantastic soundtrack that is actually fun to listen to on its own (check out the Video Games Live Castlevania montage). It's a good game at an unbeatable price. Symphony the Night is just plain cool.
Castlevania (NES)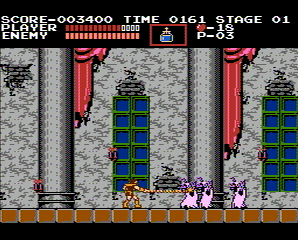 This is pointless, right? Who among the scant few modern gamers who even has an NES anymore has kept it in working order? Well, me! When I saw this on Amazon I knew I had to post here. If you're a collector and don't have a copy, or if you're a fan and have the necessary hardware, pick it up. A GBA re-release exists, but honestly, the feel of those old rectangular controllers in your hands is just too much fun to be replicated. You might have thought you appreciated that HDTV when you plugged your 360 or PS3 in, but I dare you not to smile at the thought of plugging an NES into that thing. You'll feel a bit ridiculous, but it's oh so cool.
Amazon (Note: Used Amazon.com prices are subject to change)
Used – $6.10
Shopping Advice
In case you haven't heard, Circuit City is going bankrupt. Not a big deal for most of us — Best Buy is still hanging around — but what it does mean is deals. If there are any electronic gizmos or games you might want in the near future, it's a good time to swing buy your local foreclosure sale and check out what's available.