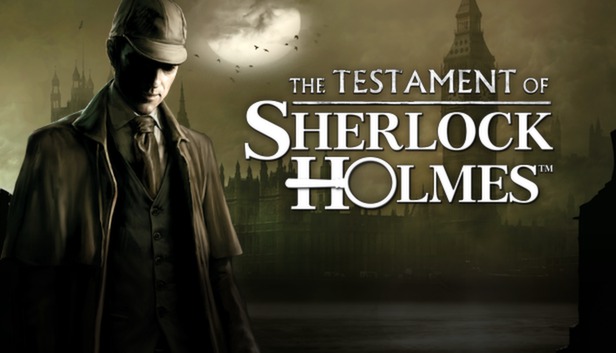 PARIS – December 21, 2011 – The Testament of Sherlock Holmes, the new investigation video game developed for PlayStation® 3, Xbox 360® and PC by Frogwares, today unveiled a new video teaser, exploring a bit more the character of Sherlock Holmes and the dark ambiance of the game.
Forget everything you thought you knew and discover a Sherlock Holmes darker than ever. The detective's reputation on the verge of being ruined, the admiration of Doctor Watson toward him is starting to fade and change into hatred as he witnesses his friend committing reprehensible acts. The video offers a beautiful sneak peak at the game, its dark ambiance, and its strong story centered on a controversial hero with obscure motives. This is an exalting investigation that players will have to lead, playing as both Holmes and Watson, while they will be trying to discover the reasons behind the strange doings of Sherlock himself.
You are Sherlock Holmes, and this is your investigation. Unfold an incredible conspiracy on PS3, Xbox 360® and PC early 2012!
– Watch the video
– Download the video (81.1MB)
– Visit the official website of Sherlock Holmes
About The Testament of Sherlock Holmes
Sherlock Holmes causes a stir! For over ten years, millions of players have donned the hat and magnifying glass of the world's greatest detective, in a dozen games for PC and handheld systems. This year, Sherlock Holmes makes a triumphant return in his very first adventure specially designed for the PlayStation® 3 and Xbox 360® game consoles! All the mystery and intrigue will also be available on PC.
1898, London. All the evidence of police investigation points at Sherlock Holmes as the main suspect in a case involving theft, fraud and double-crossings. Unable to prove his own innocence, Holmes is rapidly losing London's trust as doubt spreads through the city like wildfire. Even Doctor Watson's faith in his friend begins to waver, as the famous detective flees Scotland Yard and raises further suspicion; prowling around at night, destruction of evidence… would Holmes go so far as to commit murder?
A mainstay genre of console games, The New Adventures of Sherlock Holmes is playable with a gamepad in a third person view, with controls thought and specially developed with consoles in mind. The new game engine was also specially built to display complex scenes and high-resolution textures. The game features lush, captivating environments and truly raises the bar for console adventure games.
The complex and decidedly-mature storyline surrounds a particularly tricky investigation, in which each and every puzzle will challenge both insight and wits! As Sherlock Holmes, you will use the detective's full repertoire: handle and inspect clues, reenact crimes and use the game's new deduction system to draw your own conclusions. Choose your questioning approach to catch characters off guard and gather valuable information. Players are facing an open investigation, and must decide which leads to follow and which to ignore.
You are Sherlock Holmes, and this is your investigation. Live a thrilling adventure and foil an incredible conspiracy on Xbox 360, PS3 and PC early 2012.
About Focus Home Interactive
Founded in 1996, Focus Home Interactive is an independent French publisher based near Paris, France. Known for the quality, diversity and originality of its catalogue, Focus has published and distributed original titles that have become benchmark titles worldwide — such as Blood Bowl, Sherlock Holmes, TrackMania, Runaway and also Cities XL and Cycling Manager.
In 2011, Focus will publish important games such as A Game Of Thrones – Genesis, a strategy game adapted from the bestseller novels "Game Of Thrones" by George R.R. Martin, The Next BIG Thing, a great adventure game by the creators of Runaway, The New Adventures of Sherlock Holmes, Confrontation and also the official video game of Le Tour de France.
www.focus-home.com
About Frogwares
Created in 2000, Frogwares is an independent development studio specialized in adventure video games and located in Ukraine. Thanks to a talented team of 45 artists and programmers, Frogwares realizes quality games to please adventure fans and has alternated the production of games based upon inquiry and discovery, with high licenses such as the award-winning Sherlock Holmes, Jules Verne and now Dracula. The graphic quality, the technical innovation and the incredible ability to create environments and atmospheres are the spearheads their titles.
www.frogwares.com