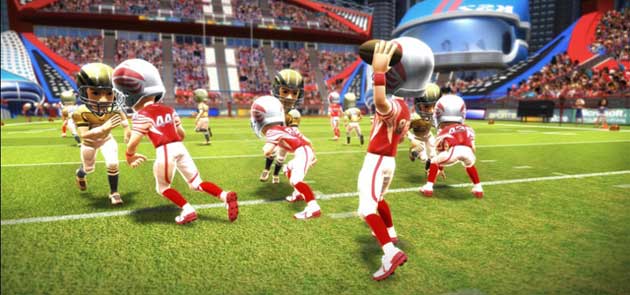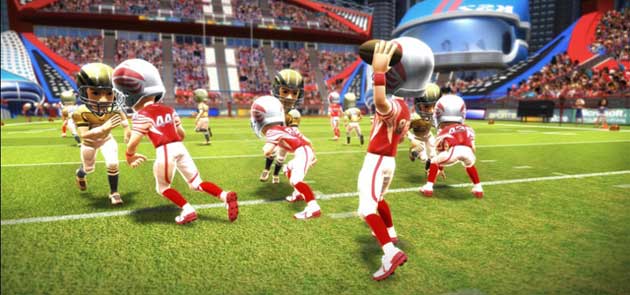 Ok it's time for KINECT SPORTS 2, another round of interactive games from MICROSOFT. Now if you have already tried Season 1 then you will be aware as to what is coming. Yes another session of games that have already been played to death on other consoles, but this time with the freedom of the KINECT. In fact this is the biggest seller so far on the KINECT this year and has many things to offer.
To be honest, I thought the first outing was not too bad, better than most of its genre. There were moments of brilliance and frustration (especially when your avatar wouldn't do as he was told)all in all a harmless enough fun package .
Now with the introduction of KINECT SPORTS SEASON 2, it's pretty much the same thing only this time we have the added pleasure of playing colonial favorites like BASEBALL (American version of our rounder's) and AMERICAN FOOTBALL (rugby with crash helmets ).
FOOTBALL as our colonial cousins like to call it, (they should have called it CARRYBALL as I don't see much kicking going on) if you are not familiar with the game, it is somewhat similar to our rugby except with crash helmets. It is played by over developed athletes which seems to involve a great deal of stopping and starting. The player actually plays as either the quarterback or a receiver which means plenty of running on the spot; the other option involves basically throwing the ball. Mind you I did enjoy it for a while but the novelty soon wore off.
The BASEBALL is fun, and way better than any other version on other consoles. There's no greater feeling than scoring a home run plus you can even run and slide to the next base. There is the option to catch balls and pitch (you can even throw curves) as well as using either right or left hands, so pretty interactive all round. The only problem I had with it is you need lots of room to play against someone else, as catching the ball can usually end up with someone getting smacked in the groin or face!
With the introduction of DARTS (minus the beer bellies and pints of lager) I did find it just as dull as the real game (better than most but not very accurate at times). At least there aren't sharp objects bouncing off the wires and taking the eyes out of unsuspecting players. There is even a online darts championship starting on Xbox live.
TENNIS is of course another old favorite, and again much better than the Wii's version. You only have two sets though and it would have been nice to have had the choice of more. It was all over before I knew it; mind you it is great fun lunging around the living room diving for that unreachable shot.
The best one of all has to be the SKIING, especially in multi-play!! It's not easy and of course lots of fun! You have to be really accurate with your jumps to get it right and the control is pretty spot on… one false move and your down!
The usual inclusion of GOLF of course completes the setup. You have the choice of 3,6 or 9 holes (18 available in multi-play). If you want to practice your golf buy a proper golfing game, this is just for fun, and enjoyable, especially the putting. I do like the voice activation parts like changing clubs etc.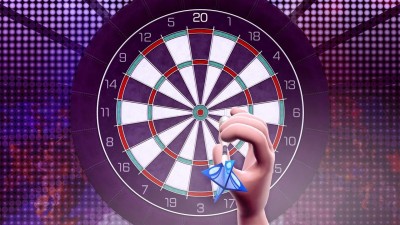 Summary
Of course if you are new to the KINECT or interactive gaming full stop then by all means buy this game, and the first one as well. It is great for having friends around or family entertainment, which is what I think the game was designed for. If you play solo, then don't buy this unless you have friends on-line who you want to compete against. Don't get me wrong, like most things doing it on your own can be fun, but it sure is better with two or more. I will give it 8.5 out of 10 as it is a fun no nonsense game. Just the DARTS I thought, let it down a bit.
Kinect Sports Season 2
Sports/Action
Publisher: Microsoft
Developer: Rare/Bigpark Inc.
Release date: 28/10/2011
Age rating: 3