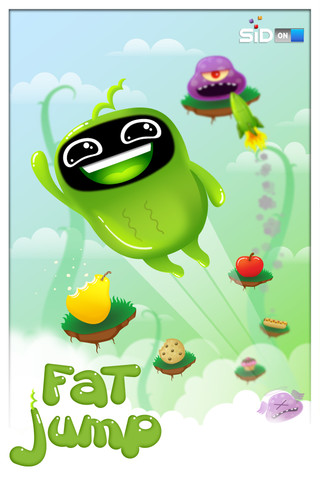 Fat Jump, an iPhone and iPad game on the App Store, is a fun twist to the ever so popular games Doodle Jump and Mega Jump.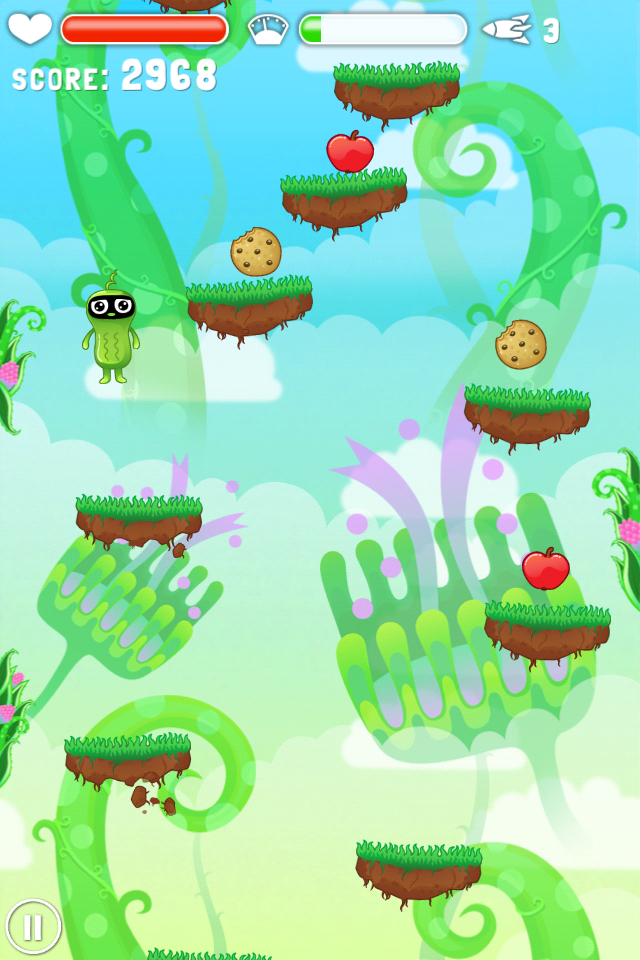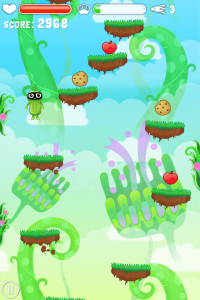 In Fat Jump, you play as a little green cucumber character trying to get his food back from the monsters who stole it from his own refridgerator. The green hero needs to jump on platforms like Doodle Jump, but needs to eat healthly food in order to stay lean and mean to keep jumping to get his food. Avoiding sweet junk foods is essential, because if you eat too many cookies or cupcakes instead or apples or pears, you will get to fat and be weighed down when trying to climb your way to your healthy food. Once he gets too fat he can't jump to the next platform, and jump too many times on the same platform and it disappears causing your cucumber to fall to his death.
The player can use springs to jump higher, propellers and wings to fly faster, and rockets to shoot evil monsters that cross your path on your way to tasty defeat. Collecting gold coins is an important part of the game, like Mega Jump, because these coins can be used to buy upgrades, such as propeller/wings distance boosts, life upgrades, more rockets, etc. from the ingame store to increase your already amazing score, and can also be used to buy new levels. With nice graphics and sounds to entertain you, this game is amazing on both the iPhone and the iPad. The humor and fun experienced from this game is perfect for any Doodle/Mega Jump fan, and is perfect for children and adults alike. Connect with Facebook, Twitter, or Game Center to earn some quick achievements, compare scores with your friends on the scoreboards and compete to be the #1 Fat Jumper in the World. Overall, for just a dollar, this game receives a big fat thumbs up from yours truly.
See the trailer for Fat Jump at:
http://www.youtube.com/watch?v=Nf0qVoSIQsc&feature=youtu.be
Remember to check out and subscribe to my YouTube channel (JimmerCrackCorn) and to follow me on Twitter (abumpus5)