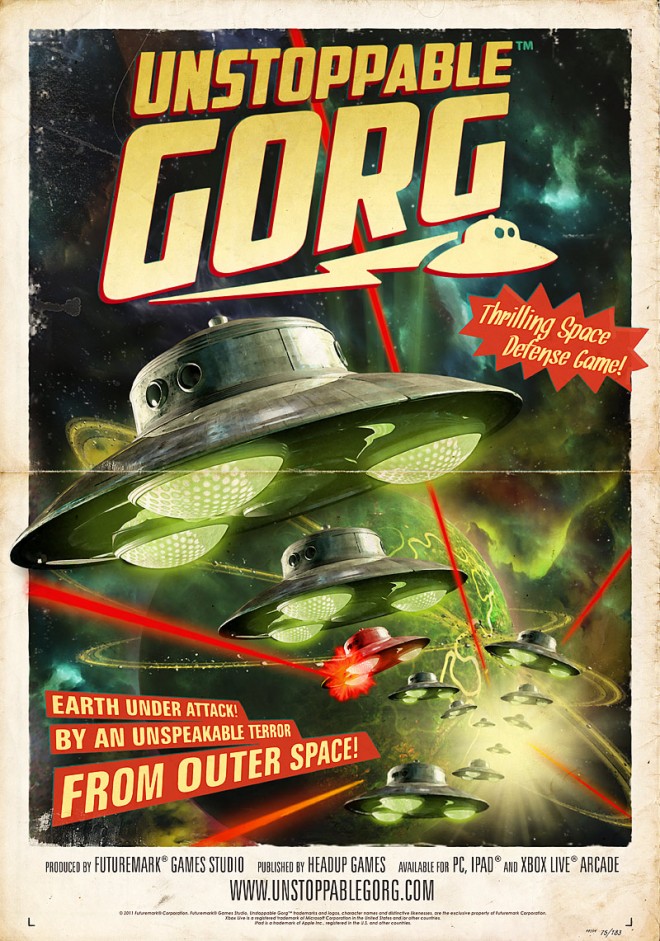 The Unstoppable Gorg is a game defined by its great graphics, creative theme, and versatility in its game modes. The game is a fun Tower Defense game with a space/sci-fi movie theme, and is filled with humor and fun perfect for anyone who plays the game. Unstoppable Gorg comes complete with three game modes. The main mode – the Story mode – gradually gets more difficult as the game progresses. New alien spacecraft are introduced with each new mission. But for your benefit, the earth's scientists gradually produce new forms of defences and satellites with which you can prevent the aliens from destroying your bases. The first few chapters are certainly quite simple, but serve as an introduction to the game and the controls. On each of the 21 chapters, players are given the task of defending Earth from the ever increasing hordes of space creatures. Early on, players only have a small number of defensive satellites to choose from as well as a Research satellite (which enables defensive upgrades) and a Money generator satellite (which enables more defensive satellites to be used). As you progress, the new defensive satellites are added to the mix to help combat the variations of enemy waves. And each of the satellites can be upgraded a number of times so that they are either more powerful or work faster.
The game has an interesting twist to it, which seperates it from other Tower Defense games. Its main difference from the average TD game is the use of orbits – which allows you to rotate the positions of your satellites. This is particularly important because it is common to have changing paths from the aliens. This results in extra strategy, as all objects in the orbit move together, and so you have to think about how to optimize their positions to handle two or more simultaneous waves. Overall, the game is perfect for the fans of the Tower Defense genre, and it is perfect for space fans around the world.
The game is $10 on Steam, and it is highly recommended that you buy the game to play for yourself.
Remember to check out and subscribe to my YouTube channel ( http://www.youtube.com/user/JimmerCrackCorn ) and follow @abumpus5 and @TheGameReviews on Twitter.