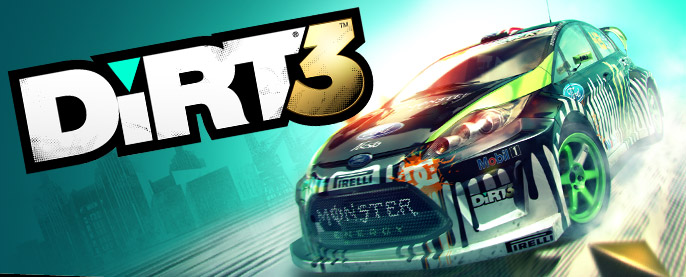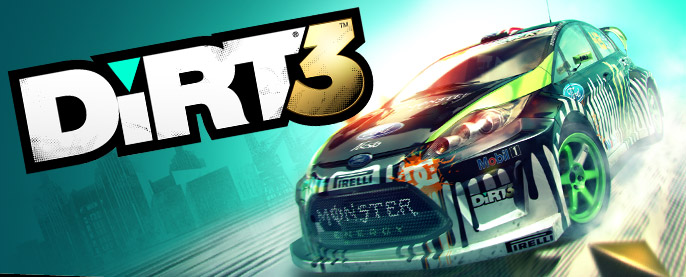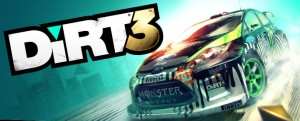 Rally driving, it sure is a mental sport, hammering down country lanes at breakneck speed scary but exhilarating stuff. I don`t know about you folks, but I have always fancied the idea of being a rally driver. I don't mind the driving but never been one for wearing a rally jacket.
Much more appealing than F1, there's no Jenson's or Lewis's, mainly guys with blonde hair known as Jürgen , Stigg, Colin or Paddy and all the best ones of course are from areas where there are lots of forests, usually Scandinavia , Scotland or Ireland. You don`t see these guys advertising shampoo! In fact most of them have "faces for radio" and they just get on with what they are good at which is driving like complete lunatics (but in a controlled and meaningful way).
When the people at CODEMASTERS sent me over a copy of DIRT 3 I of course couldn`t wait to try it out, and I wasn`t disappointed neither. Now FORZA 4 is a great game, but if you really want to get down and dirty then this is the game for you and it sure isn`t easy. I spent the first few hours crashing into trees, and coming last in every race until I started to get a feel for the game.
To be honest the game can be difficult because of the different road surfaces. You can easily spin out, the settings can be set to all kinds of modes. You can even set it to do virtually all the steering, braking and accelerating which is a bit on the boring side. I found having the brake assist and the ABS on for a while until I got the hang of things was helpful, but to really appreciate the experience you need to be fully in control.(if that's possible with this game)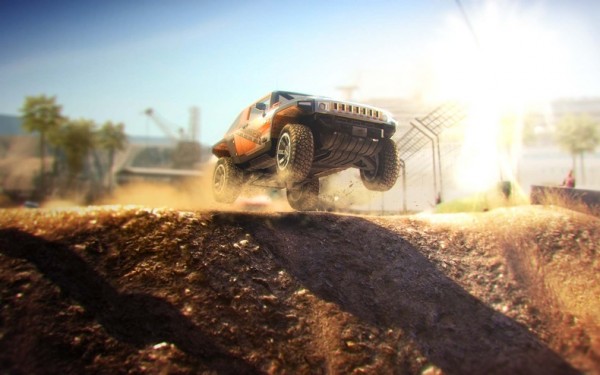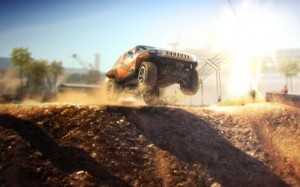 Having not driven a real rally car, I cannot compare it to the real thing obviously. But let's face it, how many of us actually have or are likely to drive one. So I would say it is pretty much on the money for exhilaration, I don`t really care if it is or isn`t like the real thing, it certainly blows my skirt up and that's what matters.
I played DIRT 3 using the new MICROSOFT SPEED WHEEL and the new THRUSTMASTER 458 steering wheel. Actually the SPEEDWHEEL did a nice job, but there was a certain lack of control that became somewhat off putting. As for the THRUSTMASTER (sounds like a sex toy) wheel, this is where the game really came to life! Not because of the quality of the wheel, but the fact that it actually gave the game that real feel that these games are all about.
CODEMASTERS have always been the masters of the rally game in my opinion with the old COLIN MACRAE series of games that brought a whole new world of realism to our consoles, and this outing is no different . The attention to detail is quite extraordinary and the track list brings us back to the roots of rallying good old forest tracks where you race at over a 100 mph, your co-driver wishing he had put on his brown trousers before you started. This is a whole new level of driving, and there is no time to reach for your coffee mug whilst hammering through a pine forest, this game demands your unbridled attention and is totally unforgiving if you lapse. The added focus on timed runs make for an adrenalin fuelled rush as you pit your skills against the clock around a twisting and rugged rally circuit. This is the games primary objective and is certainly invigorating. You must gain reputation points to attract the attention of sponsors which opens up new vehicles.
The introduction of GYMKHANA mode which is basically an obstacle course where you have to perform various tricks to earn points. Other party modes like hitting wooden targets, spreading a zombie plague and capture the flag add to the variety of the experience, you simply can`t beat doing a few doughnuts and outrageous jumps (just don`t try this at home folks)
The other new feature is HARDCORE mode which is basically means you have no assists at all (one for the purists here). Now there is the option to load your replay clips on to YOUTUBE, which appears to be the latest craze if you want to. Don't ask me why as I couldn`t think of anything more uninteresting as watching someone else playing a game.
Summary
Ok I know this game didn`t get a great reception when it came out mainly about the YOUTUBE social networking interactivity, which is fair enough if you are into that kind of thing. But if it's just a great adrenalin rush and serious challenge you want then look no further, because this is the best there is! DIRT 3 is extremely challenging and well designed. If you look at it from that point of view, then it certainly is worth the money. I give it 9 out of 10.
Dirt 3
Publisher: Codemasters
Developer: Codemasters
Genre: Racing/simulation
Release date: May 24th, 2011
Xbox 360
Playstation 3
Wii U
PC
Age rating: 12