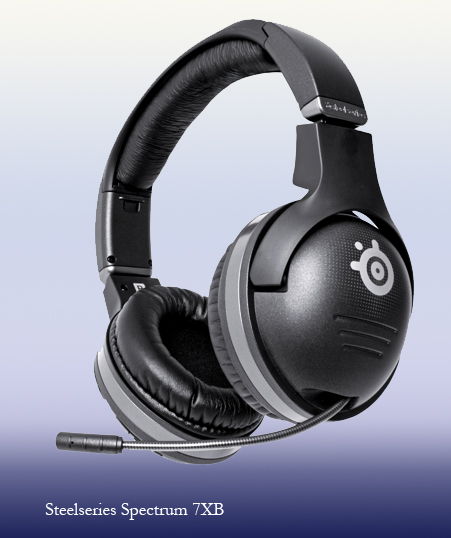 We all know the scenario; you're sitting there totally immersed in the latest shoot 'em up, music cranked up, bullets whizzing past your head, explosions echo all around you as you make that final assault to get to the next level, when out of the blue a voice interrupts your killing spree with those words that all gamers dread, "Can You Turn It Down Please?"
Noooooooooooooo!!! The words bounce around your head like a squash ball, you're devastated yet you know compliance is the only way to avoid conflict.
So what do you do? Apart from either leaving, and setting up home somewhere with your beloved console, or covering the walls of the spare room with egg box cartons for sound proofing (does that actually work?),your options are pretty limited. Of course you can turn the volume down, but where's the fun in that? Or indeed play the game with no volume (very lame).
There are plenty of young gamers out there who like to spend hours locked away in their little caves playing COD on Xbox Live©, talking with their mates, and what option do they have? Not every kid has a 7.1 surround sound in their room, it's usually whatever sound they can get from the portable they have. Even if they do have a decent sound system, then mum and dad are never too pleased about the sound of screaming and gunfire coming from your room at two in the morning.
Well there is a better answer of course… that is to buy yourself some head phones. What better way to immerse yourself totally in the game, then you only have to suffer the evil glares from your partner as they sit in frustrated silence watching you gyrate around, wrapped up in your own little fantasy world.
When you look around, there is a baffling amount of different headsets, ranging from really cheap and nasty ones to expensive state of the art, all the bells and whistles ones. So what do you go for? Well I have managed to come up with a selection. Yes I know there will be gamers who will not agree with my choices, but hey it's a free country (so I hear) and we are all entitled to our opinions. I have tried to make the choices realistic and affordable as there is no point recommending a £300 (~$475 USD) headset if your average gamer doesn't want to or can't afford to buy them.
Here are four to choose from, two wired and two wireless:
TURTLE BEACH XL1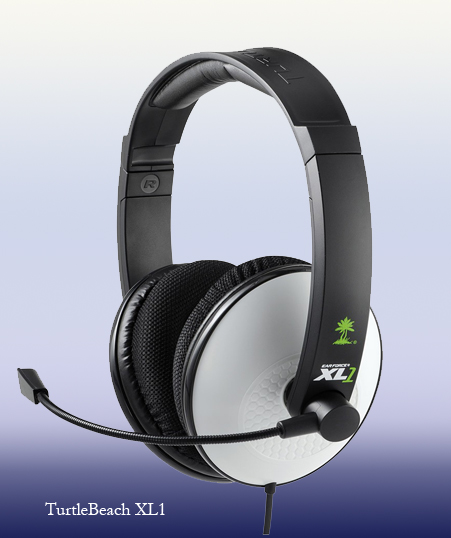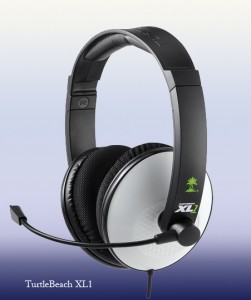 Right first out of the starting gate is the TURTLE BEACH XL1 headset supplied by http://www.turtlebeach.com/uk and www.lygoworld.com . This is a pretty good headset for the money. Ok, don't expect wireless technology and the like, after all it costs £39.99 ( $39 or less in the USA), but it is a nice bit of kit. The TURTLE BEACH XL1 headset itself is light, the fabric earpieces are very comfortable, and the headband is unobtrusive. I wore them for a few hours and hardly noticed them (apart from occasionally tripping over the lead when the phone rang).
The 50 mm speakers really pump out the sound and can cope with the biggest explosions. In fact you cannot realistically sustain that amount of prolonged noise without going mad, so at a reasonable level these headphones do a sterling job. External noise can be kept to a minimum providing you show some restraint on the volume, so the other half will be happy.
The TURTLE BEACH XL1 comes with nearly 5 Metres of lead, long enough for any one I reckon, and it hooks up to my Xbox© without any problems. The only problem is you can't walk and talk with them realistically, because of the lead and you do have to carry your Xbox 360© controller around with you, but let's face it that's only a minor issue really.
The separate microphone and game volume controls are a nice touch, and can be handy if you just want to chat on Xbox Live©. The sound is crisp and clear at both ends. You can turn off the microphone if you are not using it, and the voice monitoring stops you from shouting.
I did think that not being able to control the amount of bass/treble would be a problem, not with these headphones. They have a built in bass boost feature that kicks in at the right time, without bursting my eardrums. I thought the sound was balanced just right, ok there was a slight distortion when the game became too noisy, but hardly noticeable and it didn't spoil my enjoyment.
And you can use them for the TV or pc if you have the right connectors (mine was £1.20 from a well-known website named after a South American river) you just can't use the microphone though, that's for the XBOX© 360 only.
These are of course entry level headphones so don't expect loads of fancy tech, the kind of stuff you find on more expensive headsets, but don't expect them to be rubbish either. The TURTLE BEACH XL1 headset is a quality item, and you do get a lot for your money. If this is their entry level, then the top of the range must be an experience to behold (maybe I will review them one day).
50mm diameter speakers with neodymium magnets
Speaker Frequency Response: 20Hz – 20kHz, >120dB SPL @ 1kHz
Condenser Microphone Frequency Response: 50Hz – 15kHz
Cable length: 4.87m
Weight: 6181g
Fixed bass boost
Xbox connectors
USB power connector
Dimensions: H 13mm, W 58 mm, D 27 mm
Price £39.99 (~$39 or less in the USA)
Available from: http://www.turtlebeach.com/uk and www.lygoworld.com
PLANTRONICS GAMECOM X40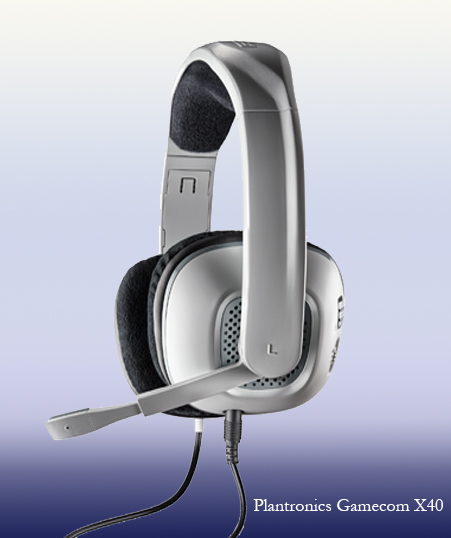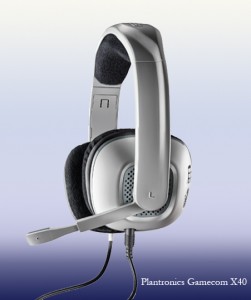 Next on my list are a set of slightly more expensive (at some stores) but good quality headphones, the PLANTRONICS GAMECOM X40 headset from http://www.plantronics.com/uk/ These are another fine well-made headset, and they sit comfortably on the head with individual controls for sound and microphone on the earpieces. The soft fabric earpieces are very comfortable. Although they are heavier than the XL1's, the padding compensates nicely.
The sound from the 40 mm speakers is very well balanced, unfortunately again there is no bass and treble controls. But they handle sound really well and I heard no real distortion at high volume, so that's a bonus. I did think the sound was little too trebly for me, but for the price ranging from £31.99 to £49.99 (~$45 – $50 in USA) depending on where you look, they're not top of the range. Mind you they certainly aren't rubbish either, this is another entry level headset and you do get great build quality and a pretty good sound out of them. Perhaps not as elegant as the XL1's, but they feel reassuringly tough.
The microphone tucks away nicely out of view and performs well, I found I could talk freely and clearly on Xbox Live©, which after all is a major selling point of these headsets. There is nice 4 metre cable with the usual connectors and a USB for the mic, which is pretty standard these days. The one downside I found is they don't appear to come in any colour apart from white. I know it's got nothing to do with performance, but some gamers prefer a different colour and it would be a nice option. External noise was minimal if you keep it to reasonable level.
I tried the GAMESCOM X40 headset with NEVERDEAD from KONAMI and it worked beautifully. I heard every gunshot and background noise, in fact they picked up noises that my surround sound and gaming chair didn't. All in all a nice experience, they might not be as good as the TURTLE BEACH X1's in sound quality, but they certainly felt tougher and solid build wise.
40 mm speakers
Hide away microphone boom
Easy to use on ear volume controls
4 metre cable
Price:£31.99 to £49.99 (January 2012) depending on retailer (~$45 – $50 in USA)
Noise canceling circuit
Mute button
Available from: http://www.plantronics.com/hk/product/gamecom-x40
GAMECOM X95 WIRELESS HEADSET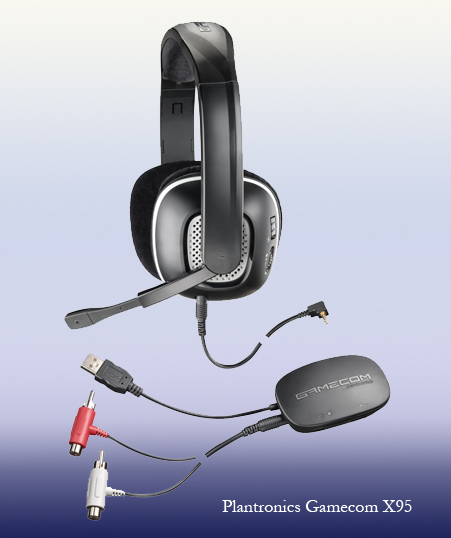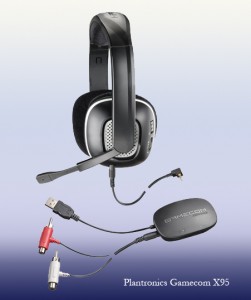 Next we crank it up a notch with the GAMECOM X95 WIRELESS HEADSET, again from http://www.plantronics.com/uk/ . These are basically the same as the X40 HEADSET, but without the wire and these do come in black. With light but sturdy design, it can easily feel like you are not wearing them after a while. As a nice plus, there is no background hissing (like in some wireless headsets). Set up is quick and straight forward, you just press the button on the headset, then the one on the transmitter and they connect instantly. There is a volume control on the transmitter as well as on the headset itself. The batteries fit inside one of the ear pieces which are accessed by a twist of the speaker which reveals a hidden compartment where two AAA batteries will fit. The RCA connectors for the transmitter can be used with other X 95 headsets at the same time, in case you want to sit in a room with another gamer.
As for the battery life I managed to get around 8 hours out of them which is pretty good really. Rechargeable batteries will probably be a good idea if you are going to use these daily. Like the X40's, the volume and voice controls are mounted in the earpieces which makes for easy adjustment when you're in the thick of it and you want to communicate with fellow team mates. There is no auto adjust of voice volume when other players speak like you find in higher end sets, but to be honest, if you are that serious about your gaming you wouldn't be looking at these.
For under a £100 (in fact under £50 at some stores) you are getting a well-made product that does the job well, with good battery life and pretty decent sound, comfort and durability these are a bit of a bargain. Make sure you look around as prices vary considerably.
40 mm speakers
Hide away microphone boom
Easy to use on ear volume controls
Price:£44.99 to £84.99 (January 2012) depending on retailer (~$70 – $120 in USA)
Noise canceling circuit
Mute button
Available from: http://www.plantronics.com/hk/product/gamecom-x40
SPECTRUM 7XB WIRELESS HEADSET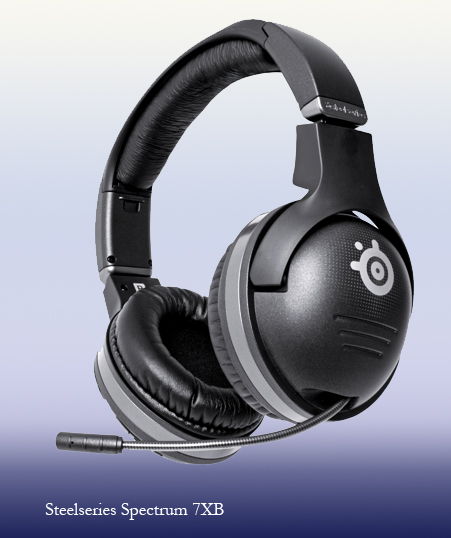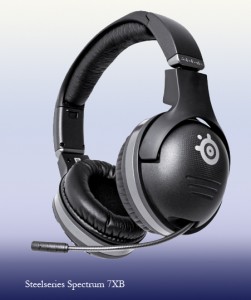 Finally we have the most expensive of the four, THE STEEL SERIES SPECTRUM 7XB WIRELESS HEADSET, from http://steelseries.com . For the price of around £94.97, these are an exceptional piece of kit. The amount of options on these headphones is great! I mean it can disassemble in to 4 pieces for easy travel, the microphone is retractable, and the ear cushions are interchangeable. These are the kind of options I would expect on a far more expensive head set.
The sound is pretty full on from the 50mm drivers, the only thing I found weird was the noise cancellation… it was so good it felt like I had a space helmet on! Mind you the actual sound quality was just right.
According to STEEL SERIES, the 7XB was developed by gamers for gamers and it does look like they have put a great deal of effort into getting it right. The 7XB's are light enough not to notice them after a while, the only thing I didn't like is they are bit on the tight side, but I am sure with use that will go. There is no bass treble adjustment, but there is the EXACTSND option, which is a set of pre-programmed settings that at the press of a button you can choose from 3 different sound scapes.
The microphone slides into one of the earpieces so they look like a normal set of headphones. Listening to music is also good with these, I walked about my house with them on for a couple of hours without any sound distortion or cut off no matter where I was, upstairs or downstairs (didn't try the garden as its too cold outside).
Xbox Live© use is excellent, the clearest of all the headsets so far! The volume control is on the plug that attaches to the controller, which is good for turning up the voice volume on the fly. There is a LIVEMIX button on the headset which improves the balance and the mixing whilst playing on Xbox Live©, and it does work well.
Of course you can connect up to 4 STEELSERIES SPECTRUM 7XB headsets at once, if you choose to for a totally immersive experience for you and your mates.
Steel series Spectrum 7XB Headset
Advanced sound
Interchangeable ear cushions
Intelligent wireless
Five powerful buttons
Retractable microphone
9 meter transmitter distance
LIVEMIX
EXACTSND
Weight: 261.5g
Price: From £94.97 (varies on retailer) ($135 and up in USA)
Available from http://steelseries.com/
Summary
All the headsets I tested for this review functioned well for their price. Of course the STEELSERIES SPECTRUM 7XB is the best headset out of all of them, then again it is the most expensive. If you are serious about your gaming, then these are for you, cheap enough but great quality. The best for quality and price is the X95's. They aren't top end, but for around fifty notes you can't go wrong.But if it's a real bargain you want without having to fork out for batteries, then go for the TURTLE BEACH XL1's. On the other hand if it's just a headset you want that is better than the standard Xbox© one, then any of the others fit the bill.