From NYC to São Paulo: Behind the Scenes of Max Payne 3's Voiceover, Mo-Cap & Scanning Sessions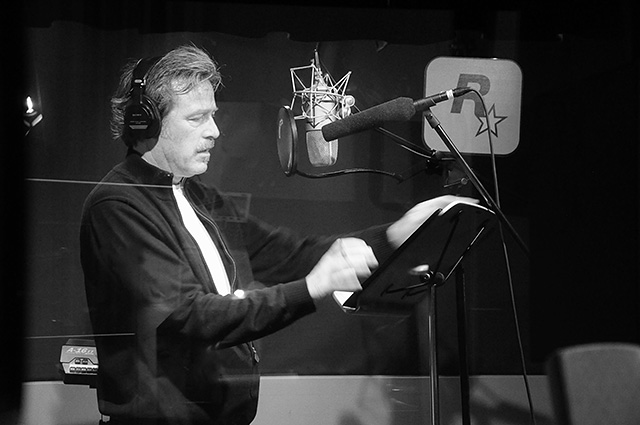 The inimitable James McCaffrey voicing dialogue in our Rockstar NYC recording studio.
Max Payne 3 was a truly cross-continental production.
From New York City to São Paulo the casting, voiceover recording, body and facial scanning and performance capture of Max Payne 3 was in itself an epic-scale production and adventure, spanning across continents and with a dynamic cast of hundreds.
Seeking out local talent to bring an unprecedented level of authenticity to the game the process started with the addition of Portuguese novela star Benedita Pereira who plays the Portugal-born Fabiana Branco. While the game's principal stars are portrayed by actors recorded and motion captured at our NY homebase (including James McCaffrey returning as the voice and face of Max Payne ), the many Brazilian supporting roles – from paramilitary soldiers to Branco office employees to favela residents and more – the Rockstar Studios team made several production trips to the heart of São Paulo for a series of intensive dedicated recording and body scanning sessions.
The team enlisted the help of local Brazilian reality TV star and tattoo artist, Zumba Treze who voices a commanding UFE officer in the game – as well as up-and-coming São Paulo rapper (and affiliate of Emicida's Laborátorio Fantasma label) Tiago RedNiggaz who voices a character in the favela levels. Brazilian Ju-Jitsu world champion Paulo Guimaraes, appears as both a sniper and as a bearded foot-soldier out to take Max down; the towering Daniel Borges, who competes in vicious Vale Tudo (Portuguese for 'anything goes') bouts and shared his personal tactics for busting skulls appears as a rifle-wielding commando; and the beautiful Sarah Ferreira, a Miss São Paulo pageant contestant appears as a dancer in the game.
Conducted at the renowned Locall Studio in the Vila Ribeiro De Barros region of São Paulo, two studio spaces were required for this leg of production – one for wardrobe where actors would change into various costumes to suit each character and the other containing the large amount of advanced scanning equipment the development team took south.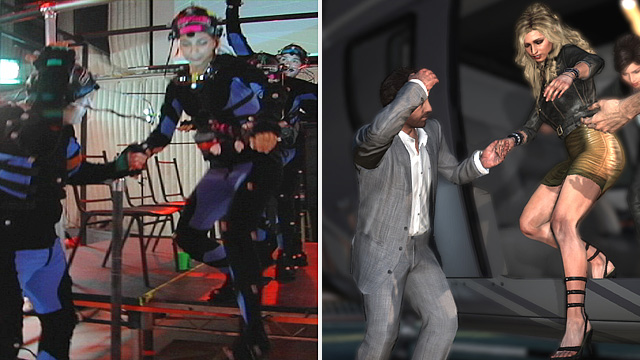 Left: McCaffrey and actress Benedita Pereira in motion-capture suits performing at the Rockstar Long Island studio; Right: The finished product with Max assisting Fabiana Branco out of the family helicopter for an ill-fated night of reveling at Club Moderno.
Read more on the mo-cap and scanning sessions at http://www.rockstargames.com/newswire/article/34991/from-nyc-to-so-paulo-behind-the-scenes-of-max-payne-3s-voiceover.html