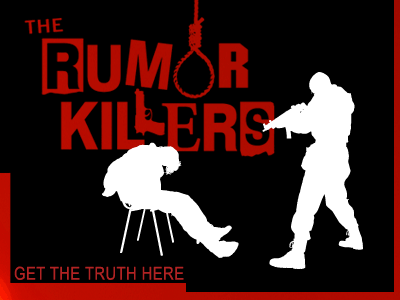 Is Google Trying to Acquire Valve?
Chances are, if you've even touched a computer in the past decade, you're somewhat familiar with Google. The Internet giant started small, simply offering a search engine, but has now expanded into email, web browsers, and is even planning a foray into the world of cell phones. Should we be adding 'video games' to the list?
Earlier this week, The Inquirer reported that, according to "well-placed sources," Google was in talks to acquire Valve, largely for control over Steam, the Internet's premiere location for digital downloads. Valve boss Gabe Newell has already stated that his company is open to the idea of an acquisition if the right offer came along, and there are few companies out there with deeper pockets than Google. Therefore, the whole thing seemed quite plausible.
Turns out this is one deal that just wasn't in the cards, as both Google and Valve have denied that any deal is in the works. According to the movers and shakers, the two sides haven't been in any sort of merger talks, and there is no deal coming down the pipeline. End of story.
This was one of those short-lived rumors, with both involved parties completely shooting it down within a couple days of its arrival. Sounds like not only is no deal happening, but the two companies aren't even interested in each other. So in short, if Google wants to make games, it looks like they're going to have to do it on their own.
TGR Verdict: Rumor Killed
Buy Your Tickets for "Mass Effect the Movie"?
Back when it came out, one of the terms used to describe Mass Effect was "space opera." The game featured an epic storyline with plenty of twists and turns, more befitting a Hollywood blockbuster than a video game. As it turns out, Mass Effect may just be a Hollywood blockbuster after all, as it looks like a trip to the silver screen may just be in order.
According to reports originally attributed to Variety, former Marvel boss Avi Arad has optioned the film rights for Mass Effect, which is the first step in turning such a property into a movie. This isn't Arad's first foray into game-related movies, as he is already working on a film adaptation of Lost Planet. Personally, when I think of a Lost Planet movie, I envision "Starship Troopers" with snow, but that's why Arad is making the movie and not me.
While Arad does apparently now own movie rights to Mass Effect, it's still a long shot that such a film will ever be made. Considering that right now the movie has no script, no director and no actors, and that hundreds of movie ideas are pitched every year and very few of them actually turn out, the odds of seeing Commander Shepard and crew at your local multiplex are still pretty slim. Also, given the history of video game movies, do we even really want this to happen?
TGR Verdict: Unlikely
Guitar Hero: Hendrix in the Works? Flaming Guitar Included?
It's no secret that Activision loves milking the Guitar Hero franchise. Those fake plastic instruments and scrolling note charts have made the publisher a boatload of money, and they aren't about to stop making content while consumers are still walking around with cash in their pockets. Therefore, it really shouldn't come as much of a surprise that rumors are swirling that the publisher is hard at work on a Jimi Hendrix-themed Guitar Hero game.
Perhaps the greatest thing about this rumor is the source. This particular juicy tidbit comes not from some "industry insider" or loose-lipped developer, but rather from Slash. The former Guns n' Roses guitarist and current member of Velvet Revolver may have inadvertently let the cat out of the bag when he stated the following:
"Having the Aerosmith guys do it was very cool 'cause Aerosmith's one of the bands I was heavily influenced by. And Metallica's doing it, that's great. Those are two ones that I think gives it some credibility. And they're doing a Hendrix one, which is great."
Slash was pretty heavily involved in the creation of Guitar Hero 3, so it really wouldn't be a surprise if he happens to have inside information on the future of the franchise. Also, considering both Hendrix's presence in the series (his music has appeared in previous games, and two more of his songs as well as a likeness of him are going to show up in Guitar Hero: World Tour), and Activision CEO Bobby Kotick's plans to further expand the Guitar Hero empire (he wants to double the current number of games on the market), means that there just might be some meat to this one. Besides, who is more deserving of a Guitar Hero game than Hendrix? Normally, I'm opposed to this one-off approach of giving individual bands a game, because I think it just nickel-and-dimes gamers, but at least with Hendrix, you're reliving the career of one of the greats. Considering Hendrix's influence in modern guitar rock, and Activision's determination to bleed this franchise dry, this is one rumor that seems entirely possible.
TGR Verdict: Very Likely
"