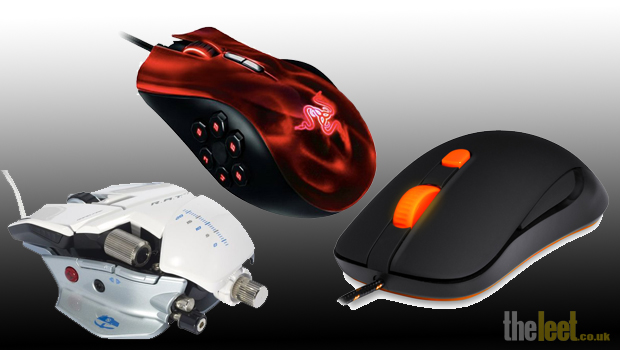 I am assuming that anyone who reads this section knows what a gaming mouse is. For those who don't, then it is the next step up for PC gamers. Point and click games are fine with your standard mouse, but when you take your on-line gaming seriously, it's time to up the ante and tool up. I have had a good look around and have come up with three mice that are all different, yet offer varying degrees of functionality and are reasonably priced.
###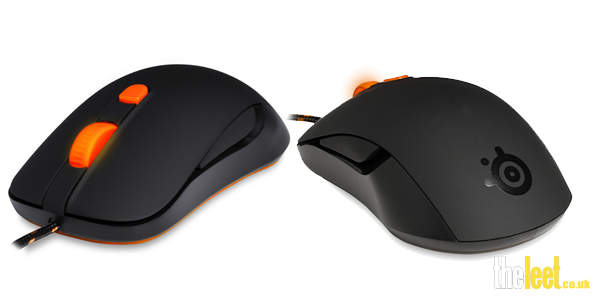 To start with we have the cheapest of the three, the SteelSeries Kana. Nnow this mouse has been advertised as designed by gamers for gamers and apparently this is true, yet rather limited. It does have extra buttons on the side which are usefu,l and it does feel comfortable to hold. Yet the Kana has cheap look about it. OK its fine if you want a mouse that's slightly better than the basic model you have probably been using, and it does come in matte black (and white) with orange light up buttons. Design wise it does look nice but nothing specia. There is reasonably thick cable with a USB connection,and the mouse itself is pretty responsive with the 2 side buttons being very useful for rapid fire functions. The Kana itself is light, weighing in at 72.0 grams (2.54 oz.). It isn't a bad mouse, just not a great one. OK for a casual gamer who wants to upgrade from a standard mouse.
Height: 37.0 mm (1.46 inches)
Width: 64.0 mm (2.52 inches)
Depth: 124.0 mm (4.88 inches)
USB 2.0
6 Buttons
Price: £34.99 ( ~ $50 USD)
www.steelseries.com (http://steelseries.com/us/products/mice/steelseries-kana)
###
Next on the list is something a little more special. The Razer Naga Hex gaming mouse is something to behold! You know you're in business when you get your hand on one of these, with 6 MOBA/RPG optimized mechanical thumb buttons, and 11 programmable hyper response buttons. This is no ordinary gaming mouse!
With the Razer Synapse 2.0 software you can program each button to your individual needs, so there's no more blaming the mouse for that missed shot when playing Call of Duty online. The Razer Naga Hex gaming mouse comes with interchangeable thumb rests to suit different thumb and grip set ups. At first glance this doesn't look all that special… that is until you plug it in. It feels so comfortable to hold, and with the optional light up razer logo, looks the business when its sitting there daring you to use it, glowing like something from the depths of hell.
Razer hasn't scrimped on the cabling either, with a gold plated USB connector for optimum connectivity and nice braided cable.
The brilliant thing about this mouse is the Synapse 2.0 cloud system. Once registered, you can configure your mouse the way you want it. Then if you go somewhere else and you want to use it on another computer, all you have to do is log into your Synapse account on-line and the settings are there ready for you, with no need to set up.
As a gaming mouse the Razer Naga Hex gaming mouse is exceptional. If you're into games like World of Warcraft, then this is for you. The ability of this mouse to allocate functions to each button isideal for casting spells on the fly without looking at the keyboard. Yet it can be used as conventional mouse without any problems. This is a great all round gaming mouse! OK perhaps leaning more towards RPG gaming, yet also works well with FPS games.
Height: 46.0 mm ( 1.81 inches)
Width: 70.0 mm ( 2.76 inches)
Length: 116 mm (4.57 inches)
6 programmable MOBA/RPG buttons
11 Programmable Hyper response buttons
Razer Synapse 2.0
USB (gold plated)
Price: £69.99 (~$80 USD)
www.razerzone.com (http://www.razerzone.com/gaming-mice/razer-naga-hex/)
###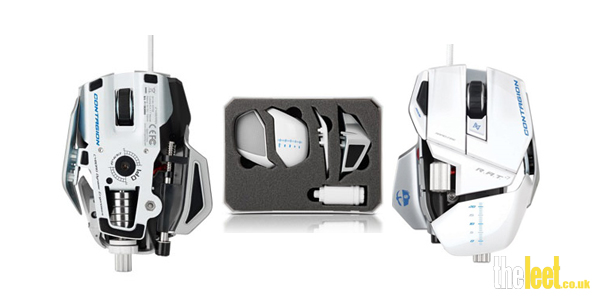 Finally we have perhaps the most radical gaming mouse out there, the Mad Catz R.A.T. 7 Contagion Gaming mouse. This looks like it should be in a modern art gallery somewhere with its outlandish styling. Yet it works beautifully, with its solid aluminium chassis it has that usual Mad Catz tough durable feel about it which we have all become accustomed too.
Mad Catz R.A.T. 7 Contagion Gaming mouse is so customisable, literally you can take the thing to bits and tinker with it. Attached to the rear of the mouse is a tool that you can use to adjust the side grip for all those big handed gamers out there, and it is used for undoing the interchangeable side grips, which come in a nice box. This mouse comes with 6 programmable buttons and 2 scroll wheels, one standard wheel and a side scrolling one. I honestly found no use for the side scroller, yet I am sure it is useful for maybe changing weapons on the fly in a FPS. A nice touch is the side buttons, especially the precision one, as this is great for aiming or sniping. The package includes software, which allows endless customising and macro options that can be saved as a profile, and a nice, thick braided USB cable for a faster connection.
Mad Catz R.A.T. 7 Contagion Gaming mouse once it is set up is comfortable, very responsive and feels very solid. You do get a lot of mouse for your money
Summary
All 3 of these gaming mice are great value for money, whether you want an entry level one like the Steel Series Kana or something more specialised like the Razer Naga Hex. Or perhaps you want to go mad and go for the outlandish yet revolutionary Mad Catz R.A.T. 7! They all performed well and greatly improve gameplay. So if you're thinking of throwing away that £3.99 mouse you've been using for the past 5 years and want to make that next step into the world of gaming mice, then I would recommend any of these.