It's a beautiful day, and TGR readies for battle as we publish…
Bargain Bin: Collector's Edition
TGR brings you the cheapest way to get a great video game collection. Stew Shearer shows us how to buy the best quality collections in a cheaper way.

Noby Noby Boy Video Game Review
Woah, Noby Noby Boy video game review. That says it all right there. TGR gets the final verdict on the video game, or virtual toy, or whatever it is…
Interview: The Chronicles of Riddick: Assault on Dark Athena
That's right! Riddick is back, and TGR got a chance to talk with Ian Stevens, Head of Game Production at Tigon Studios.

Ghostbusters Hands-On Preview
Who ya going call? Well, actually, you'll probably call Joe DeLia because he has the info on Ghostbusters: The Video game for the Xbox 360.

Prototype Hands-On Preview
A new superhero and he doesn't have to play the role model card. Violence and destruction of bad, bad criminals. Don't believe me? Well, you'll have to see in TGR's preview of Prototype.

Chess Pro iPhone Game Review
Are you a fan of chess? Have you always thought it would be awesome on the iPhone? Well, do we have some news for you!
Utah house bill restricting game retailers passed.
A bill restricting the sale of Mature games to minors has passed in Utah, and TGR has the details.
Activision Blizzard is on a shopping trip
Activision Blizzard is on a shopping trip for game developers, and they are one of the only ones in this economic climate.
Ubisoft Cancels World in Conflict: Soviet Assault
Ubisoft has cancelled World in Conflict: Soviet Assault, and TGR wants to know why.
Elsewhere in the internet…
THQ Lays Off 86 Employees
After huge losses, THQ has decided to start laying off employees working at the THQ Champaign, Illinois Quality Assurance Facility. THQ has decided to lay off 86 employees, and will "result in the eventual closure of the facility."
THQ went on to say there will be a transfer of sixteen employees to Volition. Volition employs (and said it will continue to employ) 236 people. Volition is best known for their work in Saints Row, and have also did The Punisher game.
Eidos and Square Enix Agree on Buyout Terms
Today, Eidos has agreed to buyout terms with Square Enix. There are still some things to be done though before the buyout is official. Eidos shareholders will have to meet and approve the offer of about $119.4 million that Square Enix offered them last month. Eidos shareholders are expected to meet this month, and make a decision.
And by the way, I still want an appearance of Lara Croft in Final Fantasy.
Midway doesn't want to sell Mortal Kombat
With the recent news of Midway's financial troubles, news of selling Mortal Kombat has made its way to gaming news.
Midway said it isn't a route that they really want to go, but they weren't going to lie about being in talks for possible sale of the franchise. "It is something that, in the world of scenarios, it is something that could happen here," Geoff Mogilner, Midway Spokesperson, said. He also went on to say that really wasn't what the company was going for.
Mogilner also confirmed there had been conversations and interest in Mortal Kombat, and that he wasn't going to lie about that. Mortal Kombat has been a fighting force since back in the day, and now that Midway is struggling, we can only speculate the future of Mortal Kombat.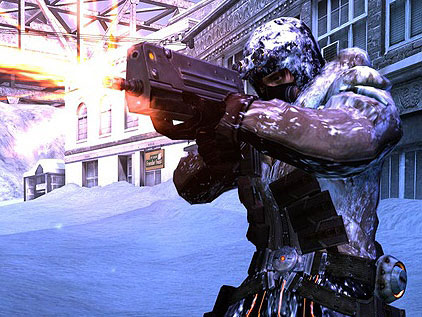 PSP to get more Retro Titles
It seems Sony is trying to revive the PSP as they are looking now to have games from other systems to show up as downloadable content for the PSP. Sony has confirmed that there have been discussions with publishers about re-releasing retro games for the PlayStation Portable.
The issue of lack of PSX games on PSN in America was also addressed, and Sony said that would change. So, it seems like more retro and PSX games are coming to PSP. Will it revive PSP's lost glory?

Capcom Sees Into the Future
Capcom's Christian Svensson has looked into the future, and has seen digital distribution. Although it seems Capcom sometimes struggles with PC business, it looks like they have a plan. Svensson said digital distribution is right down their alley. Capcom is even leading in trying to get digital distribution mainstream.
They have a plan, they see the future, and it seems Capcom may have a good future ahead of them.