Splinter Cell: Conviction on PS3?
Splinter Cell: Conviction has only just arrived for the Xbox 360 supposedly as a console exclusive yet already rumors are abound that Sam Fisher's latest adventure is coming to the PS3 in the near future.
In an interview for VG247 Ubisoft's Maxime Beland declared that the company is taking a "wait and see" approach as to the possibility of a PS3 conversion. This would tie in neatly with the LinkedIn profile of Ubisoft Montreal's Marc Demers which stated that he was working on Splinter Cell: Conviction for the Xbox 360, PC and PS3. This happened a second time with Ubisoft Montreal's Michael Donnell also suggesting in his LinkedIn profile that a PS3 title was being developed. Oh, and if you want some more questionable proof, Ubisoft's Solution Center rather gives the game away with Splinter Cell: Conviction listed under Playstation 3 titles. So is it coming? Well it does look very likely on that evidence alone.
The LinkedIn profiles have since had the information removed, presumably due to the aforementioned employees getting their wrists slapped for such an obvious error, but there's no denying that the information was there. LinkedIn profiles have previously been great sources for confirming rumors, after all. It's worth noting that Splinter Cell: Conviction has done phenomenally well on the Xbox 360 in its short existence, reaching the top of the charts in both North America and the UK, with the PC version hitting stores on the April 30, likely to similar success. A PS3 version would only bring more money in. Ubisoft has just announced that the 360 version of Splinter Cell: Conviction will have weekly free DLC available for it, so perhaps the plan is that the PS3 version will come with the DLC already included.
It's very unlike Ubisoft to develop a game exclusively for one console. In the past its big hits such as the Assassin's Creed series, Prince of Persia and Tom Clancy games have all been successful multiplatform games so it's a strange move that Conviction is exclusive to the 360 and PC.
It seems pretty likely to me that Splinter Cell: Conviction will appear for the PS3 sooner or later. Although no official announcement has been made, no denial has been declared either. Various supposed 360 exclusives have later been released on the PS3 such as the Grand Theft Auto IV episodic content and the original BioShock (despite an initial announcement that it wasn't coming to the PS3) so the history certainly weighs in favor of an eventual PS3 version of Splinter Cell: Conviction. If the information on the LinkedIn profiles is anything to go by, I'd suspect a release sometime in the latter part of the year, suggesting that an announcement may well be made in time for E3.
Jen's Verdict: True
Dreamcast games coming to Xbox Live?
It's a rumor that's been floating around for much of this year, but finally it's looking extremely likely that Dreamcast games will soon be coming to the XBLA, most notably Sonic Adventure and Crazy Taxi (Woohoo! – Ed).
Digiex has leaked screenshots of Sonic Adventure, Crazy Taxi and Quake Arena Arcade amongst other XBLA titles such as Doom 2. The images look to be from an Xbox 360 Test Kit and certainly seem quite accurate. We already know that Sonic 4 is on the way which makes it seem much more plausible that the Dreamcast games dotted around the menu listing will be seen. Throw in the fact that previous rumors have all but confirmed it and Sonic Adventure seems a certainty, but what else could be on the way?
Quake Arena and Crazy Taxi seem to be certainties as well considering the screenshots demonstrated but could this be the sign of a wave of Dreamcast titles arriving on the Xbox 360? There's still a lot of love for the Dreamcast, arguably more so than during its brief lifespan, and there are a lot of quality games to choose from. ChuChu Rocket was before its time with its online capabilities so that would surely be a fantastic choice for XBLA. Could we see a spiritual predecessor of Project Gotham Racing in the form of Metropolis Street Racer? And how about Jet Set Radio, Power Stone or even the almighty Shenmue? OK, so I have a feeling that Shenmue might just be a little too hefty to be seen on the Xbox Live Arcade but the others all seem very plausible if Dreamcast titles take off. There's already a precedence for Dreamcast games being converted to the 360 with the likes of Rez and Marvel vs. Capcom 2 being successful on the system so why not more?
The original Xbox and the 360 already feel like the Dreamcast's spiritual successors when you bear in mind that Metropolis Street Racer evolved into Project Gotham Racing, Phantasy Star Online became Phantasy Star Universe, and Shenmue 2 featured on the original Xbox as well as the Dreamcast. That's not forgetting that the upcoming Marvel vs. Capcom 3 game is set to be released on the Xbox 360 next Spring. There are an awful lot of parallels to be seen between the two systems.
Considering the very strong evidence in the form of screenshots and more rumors around Sonic Adventure than you can shake two tails at, it seems a near certainty that we'll see at least Sonic Adventure, Crazy Taxi and Quake Arena Arcade in the near future. 'When?' is the next question, although I suspect this might be yet another rumor to be confirmed at E3 as it'd certainly make for a huge announcement by Sega if some sort of deal was arranged between it and Microsoft for these titles. More exciting are the possibilities this opens up with the chances of more Dreamcast hits appearing soon.
Jen's Verdict: True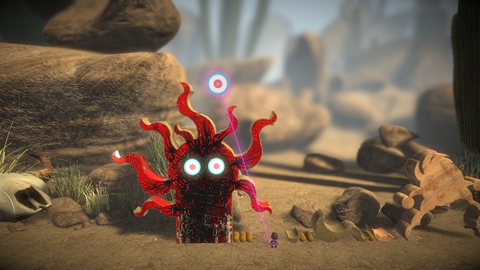 LittleBigPlanet 2 all but confirmed?
Much like the chances of Sonic Adventure coming to the Xbox 360, it seems pretty likely that LittleBigPlanet 2 will be winging its way to our PS3s at some point this year. Rumor Killers has looked at it before, prophesising an E3 announcement. It might not be E3 just yet but thanks to a slightly silly musician by the name of Ochre, we practically have our announcement. You see, Ochre tweeted about how he's licensed a song for LittleBigPlanet 2. Presumably he briefly forgot that Twitter is really rather public. The tweet is gone now but the damage is already done and now websites are ablaze with the news, and rightly so as it's quite obvious that LittleBigPlanet 2 is on the way, presumably with an announcement due on June 15 when the Sony press conference takes place at E3.
It is a bit of a shame that no one seems to be very tight-lipped about LittleBigPlanet. At GDC earlier in the year it was revealed by an anonymous source that the game was in development, and then a Sony Benelux confirmed it two weeks later. A cynic would question whether this is more a hype building method than a complete accident. I can't blame Sony though, despite a slow opening performance LittleBigPlanet went on to sell over 3.5 million copies worldwide which is not too shabby at all. It has also achieved critical acclaim having won a number of awards for its innovative approach to gaming.
Sony has refused to comment on any speculation and the aforementioned tweet but it seems an incredibly safe bet that we're going to see plenty more of little Sackboy very soon. Fortunately the track from Ochre sounds perfect for the game which is excellent news as it'll be interesting to see what can be done with the concept to make it seem fresh and new rather than something that could have been done as an expansion pack rather than full new game. For now. though, I and no doubt many others had better get on with catching up with the wealth of DLC and user created levels that the original currently has to offer.
Jen's Verdict: True