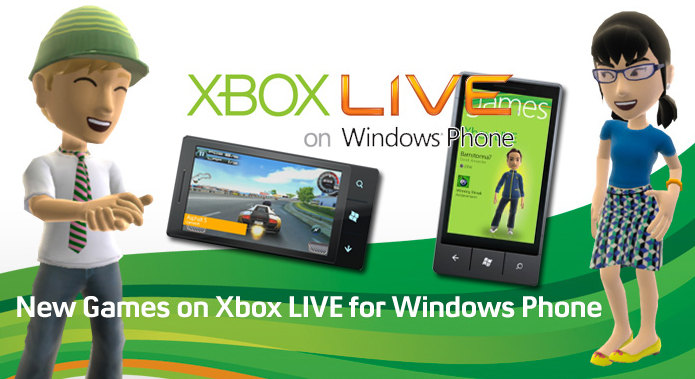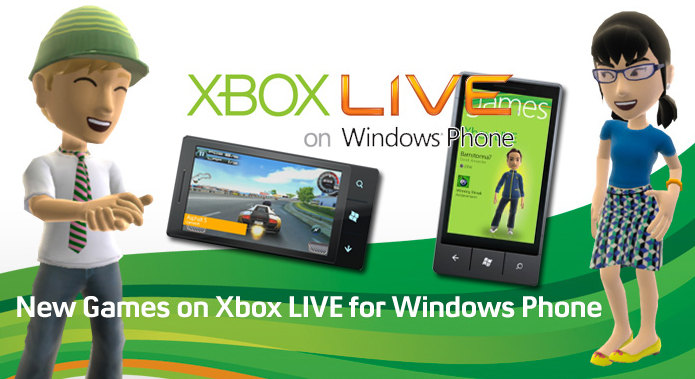 The mobile gaming industry is now a fast and growing segment of the whole gaming industry these days. With the variety of Smartphones out on the market and just about everyone owning one form or the other these days, game developers are seeing the high demands from users for quick and casual games that you can play to pass the time. Microsoft has also noticed this aspect of gaming and is now about to take the mobile gaming industry to the next level in a couple of months this Holiday season.
Coming this Holiday season and only on the very soon to be released Windows Phone 7 platform, will be Xbox Live gaming from the palm of your hand. They taken the things that you've grown to love about Xbox Live gaming and placed them in a new windows phone that you can now take with you to enjoy. The Games Hub on WP7 will give you that instant access to your Xbox Live Account in order to check out your gamerscore, message your Live friends, and even play games to earn even more achievements.
Soon you'll be able to see your Live friends from the palm of your hand and send & receive messages with them in real time. No longer will you have to wait until you've returned home to go see what Xbox Live messages have come in. You can now message those friends from the Windows Phone 7 and set up those gaming session for later or receive messages from them about upcoming gaming sessions. You'll even be able to send and receive game invites for those WP7 games that support turn based gaming or multiplayer games.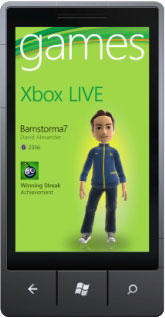 Cutomize your Avatar while on the go from your phone as often as you like. Most of  the features of the Avatars on Xbox Live are now available from your WP7 device. You can change out all the Avatar items you have available from the phone and can even rotate and view your 3d Avatar from the phone. See your friends 3D Avatars when you browse them or compare games played. I like the added feature of the sad face my Avatar shows when I'm missing an achievement that one of my friends has earned, its enough to push me to try and earn that one and mak him smile or even earn ones my friends don't have to push them along.
Microsoft is pulling together a huge list of Xbox Live enable game titles for the upcoming launch, with over 50 titles announced so far and even more surprises to come before the phones official launch. Some of these games will be turn based between your friends at the start and later on we should see more realtime Live enabled games between the Games For Windows and the Xbox 360 platforms. A number of the games will even have ties to their full Xbox 360 titles and allow you to unlock things between both platforms. We haven't even mentioned all of the Indie Games in development at this time as well for the WP7 gaming platform. 
Take a look at all of the upcoming games for WP7 and Xbox Live and watch the video below and keep your eyes here on The Game Reviews site as we continue to bring you more on the upcoming games,  phone features, and interviews from the Developers of Games coming out on the WP7 platform this Holiday season.
• "3D Brick Breaker Revolution"
(Digital Chocolate)
• "Age of Zombies" (Halfbrick)
• "Armor Valley" (Protégé Games)
• "Asphalt 5" (Gameloft)
• "Assassins Creed" (Gameloft)
• "Bejeweled™ LIVE" (PopCap)
• "Bloons TD" (Digital Goldfish)
• "Brain Challenge" (Gameloft)
• "Bubble Town 2" (i-Play)
• "Butterfly" (Press Start Studio)
• "CarneyVale Showtime" (MGS)
• "Castlevania" (Konami Digital Entertainment)
• "Crackdown 2: Project Sunburst" (MGS)
• "De Blob Revolution" (THQ)
• "Deal or No Deal 2010" (i-Play)
• "Earthworm Jim" (Gameloft)
• "Fast & Furious 7" (i-Play)
• "Fight Game Rivals" (Rough Cookie)
• "Finger Physics" (Mobliss Inc.)
• "Flight Control" (Namco Bandai)
• "Flowerz" (Carbonated Games)
• "Frogger" (Konami Digital Entertainment)
• "Fruit Ninja" (Halfbrick)
• "Game Chest-Board" (MGS)
• "Game Chest-Card" (MGS)
• "Game Chest-Logic" (MGS)
• "Game Chest-Solitaire" (MGS)
• "GeoDefense" (Critical Thought)
• "Ghostscape" (Psionic)
• "Glow Artisan" (Powerhead Games)
• "Glyder 2" (Glu Mobile)
• "Guitar Hero 5" (Glu Mobile)
• "Halo Waypoint" (MGS)
• "Hexic Rush" (Carbonated Games)
• "I Dig It" (InMotion)
• "iBlast Moki" (Godzilab)
• "ilomilo" (MGS)
• "Implode XL" (IUGO)
• "Iquarium" (Infinite Dreams)
• "Jet Car Stunts" (True Axis)
• "Let's Golf 2" (Gameloft)
• "Little Wheel" (One click dog)
• "Loondon" (Flip N Tale)
• "Max and the Magic Marker" (PressPlay)
• "Mini Squadron" (Supermono Limited)
• "More Brain Exercise" (Namco Bandai)
• "O.M.G." (Arkedo)
• "Puzzle Quest 2" (Namco Bandai)
• "Real Soccer 2" (Gameloft)
• "The Revenants" (Chaotic Moon)
• "Rise of Glory" (Revo Solutions)
• "Rocket Riot" (Codeglue)
• "Splinter Cell Conviction" (Gameloft)
• "Star Wars: Battle for Hoth" (THQ)
• "Star Wars: Cantina" (THQ)
• "The Harvest" (MGS)
• "The Oregon Trail" (Gameloft)
• "Tower Bloxx NY" (Digital Chocolate)
• "Twin Blades" (Press Start Studio)
• "UNO" (Gameloft)
• "Women's Murder Club: Death in Scarlet" (i-Play)
• "Zombie Attack!" (IUGO)
• "Zombies!!!!" (Babaroga)
Read the Full release here.