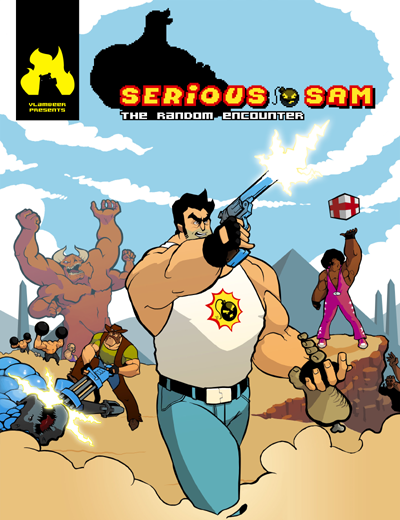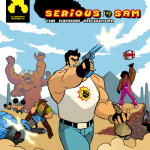 Serious Sam: The Random Encounter is a JRPG–style game is a clever novelty developed by indie studio Vlambeer, and a part of the Serious Sam Indie Series. It it plays like a classic arcade style dungeon crawler with weapon drops and increasing numbers of MOBs rather than leveling for the characters. There are some puzzles to resolve, but for the most part you simply run from point to point in the to be overhead maps picking up loot, upgrades and fighting various monsters. Each monster encounter consists of three stages, basically determine by distance between the heroes and the monsters. At each stage are allowed to heal up, gear up and swap out weapons. You may also adjust each weapons field of fire. There are many lesser monsters on the way to the maps boss monster and exit.
In the Serious Sam tradition, the monsters are some of the most fantastical creations ever put into a game. The wisecracking from the heroes between cut scenes is posted in comic book style dialog boxes. The "plot line", such as it is, shares some commonality with the previous serious Sam games. Timelocks and Mental are both part of the standard fare. There will be 9 level maps, spread over 3 different worlds The game mechanics are easy to follow, and the game itself will provide a few hours of fun.
The game is now available on Steam  for $4.99.  Pre-orders for Serious Sam 3: BFE are also available.
About Serious Sam 3: BFE:
Croteam's Serious Sam 3: BFE is a glorious throwback to the golden age of first-person shooters where men were men, cover was for amateurs and pulling the trigger made things go boom. Serving as a prequel to the original indie sensation, Serious Sam: The First Encounter, Serious Sam 3: BFE takes place during the Earth's final struggle against Mental's invading legions of beasts and mercenaries. Set against the collapsing temples of an ancient civilization and the crumbling cities of 22nd century Egypt, Serious Sam 3: BFE is an exhilarating fusion of classic twitch shooters and modern gameplay features.
Serious Sam 3: BFE Pre-Order Links
Steam:            http://store.steampowered.com/app/41070/
Get Games:     http://getgamesgo.com/product/serious-sam-3-bfe