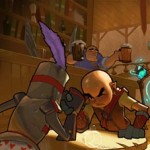 The new Dungeon Defenders game from Trend Entertainment and Reverb Publishing launched last Monday, October 17 attempts to set a new standard for tower defense game play. Our review is based on the XBLA version only. With its brightly colored interface, and World of Warcraft like graphics, it provides a very challenging, entertaining, and possibly addicting, experience. The mix of RPG elements along with solid tower defense game play on 15 different maps in four levels of difficulty offers hours of entertainment.
The user interface is fairly straightforward. Menus are clearly marked, although some in a team I played with had some trouble figuring out how to upgrade their equipment. No help menus are in evidence, but there is a tutorial which I highly recommend using first time out. I used the full tutorial, which did help with understanding the game mechanics and map layouts, as well as give some  XP.
Some of the RPG elements are evident when you are presented with the character select screen. There are four basic types; a tank, a mage, a monk, and a rogue. Mage is listed as easy, with the tank, monk, then rogue being listed as more difficult, in that order. There are two choices for customization of the colors you wear, other than that they all look pretty much the same within a type. You also get to choose or create a name.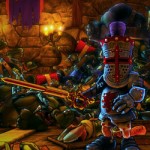 When you are done with the character selection part, you're ready to make your selection for game type, either local or Xbox live and the difficulty level. They're not messing around with the difficulty levels, trust me.  A quick look at the achievements to unlock can give you some indication of how difficult. Although one can probably solo some of the early campaigns, the game is really tuned for cooperative team play of up to 4 players.
The game is structured into two phases over up to 6 waves. The first phase is for gathering mana building and upgrading your towers, upgrading weapons and armor. This can be a timed event or, depending on how it's been set up and what level of difficulty level is set, unlimited time for your planning. When done correctly, most of your time will likely be spent in the build phase.
Good mana management, using only what's needed, is a skill best learned quickly. It is used for everything; building, upgrades, repairs and even pets.  The towers themselves are restricted by player level, mana available, and a quota per map. You'll often find yourself wanting just one or two more bits of mana during the build phase. If you have a good team that's communicating properly, a team member with extra mana can drop it for another member. There are plenty of strategies for how to build a good defense and plenty of options to explore. The trick is to get team members on board with working together. A working microphone can make the difference between success and failure.
Once the build phase is over the combat phase begins. The goal here is to keep the Eternium Crystal(s) from being destroyed. If  aplayer is killed, they are respawned near the crystal after a short delay, with no apparent death penalty.  Other than death by mob, there are hazards on some maps that can kill. Early waves of mob are typically easy to dispatch by well-organized, well geared  team.  On the medium difficulty setting, it becomes challenging on the last two waves. I've yet to try the hard and insane settings on any map yet, but I anticipate some real heart pounding, boot stomping action.   In addition to the typical tower defense, there are challenge missions which setup different goals to accomplish, some of which can be very hard, but highly rewarding.  There's also a Survivability mode, in which the waves keep getting larger and stronger until the crystal(s) you are protect are destroyed.
In between the action, you can chill out at the Tavern where you can bank, shop for equipment, buy a pet, or test out your DPS on the local test dummies (not your teammates however). If in your own local tavern, you might see some trophies for some minor achievements your character has reached.
While there are a few minor issues with the game interface, the overall gameplay is relatively smooth and intuitive. The music is a bit corny IMO, but that can be turned off in the options menu.  There isn't much choice on the control setup, and I found the default to be best as the strafe set has no way to access the map. One thing missing that I'd really like to see is some PVP or Quake style team play. Reportedly, the PS3 version has 3D motion control with Move. There is no Microsoft Kinect implementation however.  But even without any of that, Dungeon Defenders is challenging, entertaining and most of all addictive. And with all of the different options and settings for customizing the gameplay and equipment, its allows for a variety of playstyles. For those of us who enjoy strategy type games like this, I can see it being one of the titles we'll boot up our Xbox 360 to play on a regular basis.
Dungeon Defenders is rated E10+ by the Entertainment Software Review Board and is available for download now on Xbox LIVE Arcade for 1200 Microsoft Points, on PlayStation Network and Steam for $14.99. For more information on the game, visit www.dungeondefenders.com, follow the game on Facebook facebook.com/dungeondefenders or follow the Trendy team @TrendyEnt.
ABOUT D3PUBLISHER:
D3Publisher is a leading video game publisher for the Wii™system, Nintendo DS™ and Nintendo 3DS™ handheld systems, the PSP® (PlayStation®Portable) system, PlayStation®2 computer entertainment system, PlayStation®3 computer entertainment system, and the Xbox 360® video game and entertainment system from Microsoft.  D3Publisher has operations in the U.S., and Japan. The company also owns development studio Vicious Cycle Software, Inc., and its technology platform, Vicious Engine 2™.  For more information about D3Publisher and its products, please visit: www.d3publisher.us.
ABOUT REVERB PUBLISHING:
Founded in 2010, Reverb Publishing offers digital publishing to independent game developers on PlayStation Network, Xbox LIVE Arcade, Wiiware, Steam, iOS and Droid, by combining production and business development support paired with the proven public relations and marketing agency expertise from its parent company, Reverb Communications. Reverb Publishing's unique business model is form fitted for studios, ensuring that they receive the majority of the game's revenue and maintain ownership of their titles while Reverb handles all the non-developmental tasks including production support, navigating QA, and preparing for product submission.
The PR veterans at Reverb Communications have worked on recognizable brands like Guitar Hero, Rock Band, The Beatles: Rock Band, Dance Central, Star Trek Online, as well as stellar digital titles like ZEN Pinball, Battle Slots, Army of Darkness, BloodRayne Betrayal, Kung Fu LIVE and many more. For more information about Reverb Publishing, please visit www.reverbpublishing.com
ABOUT TRENDY ENTERTAINMENT:
Trendy Entertainment is an independent Florida studio focused on rapid, low-cost development of broad-demographic games for digital distribution. It is composed of the co-founders of Artificial Studios Inc. and former directors of Ignition Entertainment, who have together released numerous titles for PC, Xbox 360, and PlayStation 3 system, including Monster Madness and Cell Factor. For more information, please visit http://trendyent.com/
Xbox, Xbox 360, and Xbox LIVE are either registered trademarks or trademarks of the Microsoft group of companies.