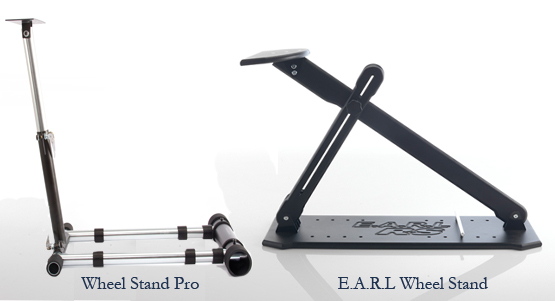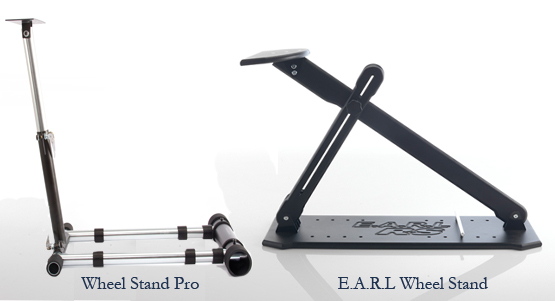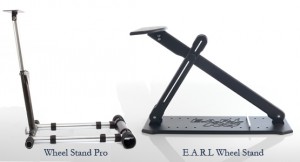 Right then, you have your latest copy of DIRT 3 or FORZA 4, you have splashed out on a steering wheel, and you're all set for a realistic virtual driving experience. Or are you? The one thing that I find off putting about using a wheel is where do you mount it? Now there is a wide variety of different ways to go on this, you could attach it to a table and pretend the table is the cars bonnet, or you can have it on your lap (not brilliant). For the average gamer what is the best option? Let's face it, a driving cockpit that looks like a stripped down car is not the best idea if you have a partner is it? For the price, the average Joe gamer, isn't going to pay that kind of money for a casual gaming experience.
The best option of course is a gaming wheel stand, yes the perfect inexpensive (almost) alternative. I have found two different wheel stands on the market that are both under £100 ( $160 USD) and original in design, and are perfect for the job.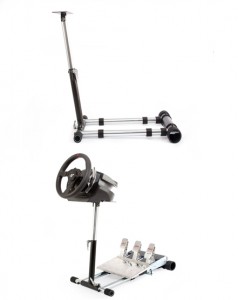 First off we have THE WHEEL STAND PRO from WHEEL STAND PRO, a company based in Poland. This is a company that makes hydraulic parts for bulldozers, excavators etc and looking at the quality of the product, it shows. The stand comes in a variety of different set ups for the wheel of your choice, and the construction is really solid and well made. Assembly is straight forward and takes next to no time at all. Most of the tools required for assembly are supplied, but you will need some smaller spanners for fitting some of the wheel attachment bolts. The rubber feet prevent slipping and the quick release mechanism works beautifully.
What impressed me the most about this stand is the quality. The powder coated metal and chrome give the whole thing a nice sleek and aesthetic look, and there are no plastic clips or easily breakable parts. The bar that holds down the pedals is a nice touch giving the whole thing a feeling of invincibility. I tried it out using the new THRUSTMASTER FERRARI 458 steering wheel. The wheel bolted on (using the enclosed adaptor) and feels solid. The pedals are attached using a sturdy, unobtrusive bar that fits across the footplate.
To test this wheel stand, I fired up the old XBOX slipped in DIRT 3, sank into my SKYLOUNGER BOOMCHAIR and I noticed the difference right from the outset. THE WHEEL STAND PRO was solid and didn't move an inch as I wrestled with the steering wheel. The whole thing just looks and feels indestructible, to be honest you don't see this kind of build quality on products of this price. The other advantage to this is it folds up and can be put away. For the price £93.00 (~$150 USD as of 28th Janusry 2012) you get a solid, well-built wheel stand that will probably outlast the steering wheel.
(Ed. Note – this review is for the Thrustmaster version, Wheel Stand Pro also makes stands for Logitech, Microsoft and others.)
WHEEL STAND PRO
www.wheelstandpro.com (For USA, http://www.wheelstandpro.us)
Ready to work out of the box
Handcrafted full metal construction
Rubber feet to prevent sliding
Quick release mechanism for rapid adjustment
Precision build for maximum rigidity and stability
Compatible with most major steering wheels
Price: From £93.00 (~$150 USD 28th January 2012)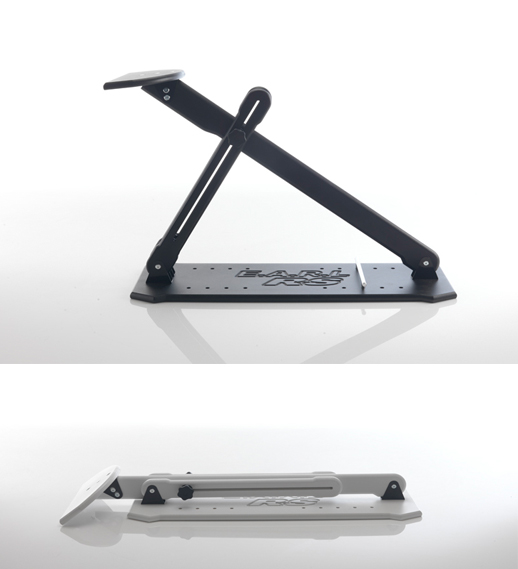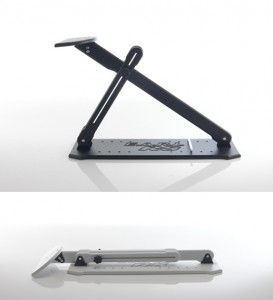 Next on my list is something that is slightly different and cheaper (not much mind), the E.A.R.L RS2 steering wheel stand from E.A.R.L, a small company based in the U.K. www.steeringwheelstand.co.uk
The first thing I noticed about this accessory was that it is made of wood, something they don't mention on their site, and which I am sure is an oversight on their part. The E.A.R.L is easy to assemble, and once it is up, the design is very simple and very sleek. Because it is made of wood, I found it chipped easily. For instance, when you are taking it in and out of a cupboard, it won't be long before it starts to look shabby. Perhaps a protective cover would be a good idea. At least being wooden, it is made of a sustainable environmentally friendly material, which is also appealing. I do like the look of this stand (especially the black ones). I think the simplicity of the design is excellent and the A shape set up is clever in its construction, again a testament to forward thinking design and ingenuity.
Now don't be put off by the fact that it is made of wood, because when the E.A.R.L RS2 is assembled, it is a solid construction, and because it is wooden it is lighter. Adjustability is easy and quick and it feels good and solid. The stand is compatible with most of the popular brands of wheel on the market and they have plans to extend the range. Because it is just a flat plate, any wheel can simply clamp to it without having to fiddle about with bolts and adaptors. You do get some little rubber feet to stop it slipping about on wooden floors, and they do work well. All the tools required for assembly are supplied and the instructions are straight forward. The E.A.R.L folds down flat and can be stored away nicely.
So now for the test drive. Again I attached the THRUSTMASTER FERRARI 458 wheel and it looks nice and sleek. Adjustment was easy and straight forward, the construction is solid and performs well for the price £84.99 (~$140 USD 28th January 2012). I had no problems with slipping or rocking even on those tight corners, and the wheel felt solid and supported whilst in use.
E.A.R.L RS2 Wheel Stand
www.steeringwheelstand.co.uk
Wooden construction
Easy assembly
Fully adjustable
Has variety of colors
Flat storage
Price: from £84.99 (~$140 USD 28th January 2012)
Summary
I thought both these stands stood out from the rest, because of their originality and build quality. In my opinion, there are no stands out there under £100 that are as well made and unique as these two. Of course it would be nice to see the price a bit lower to entice more casual gamers, and I think the E.A.R.L site should make customers aware that the product is wood and not metal, but once it's up it doesn't matter.
Of the two, I think the WHEEL STAND PRO is the better item for the price. But the E.A.R.L is a nicer looking item, environmentally friendly, and I found both products stood up well when used.
The E.A.R.L is a good original idea and I am sure it will improve as time goes on, the only thing that lets it down for me is the material it is made from. I know it's a different move on the part of E.A.R.L, and I can see the environmental advantages. But its long term durability, for the price, doesn't come up to the standard of the WHEEL STAND PRO, which is a tough well-made product, and should last for many years.