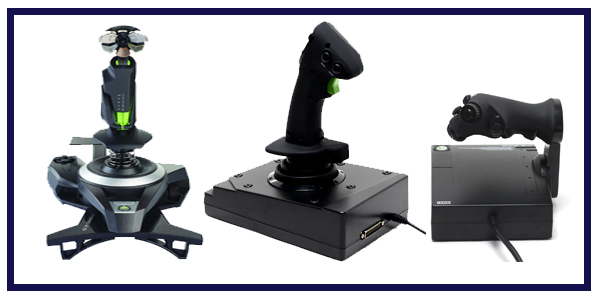 Some of us have sat in front of our monitors late at night, playing the latest flight simulators or space fighter games and wondered, "How can I make this a more realistic experience?" Of course, I am talking about JOYSTICKS or FLIGHTSTICKS, the ultimate cyber pilot's tool. There is nothing better than sitting in front of your hot console with something stiff between your legs, yanking it backwards and forwards in the pursuit of gaming nirvana.
Controllers are great, but they just don't blow my skirt up when it comes to simulation games. The other problem is, if you are an XBOX 360® user, your choices are also limited, not only with the choice of games available, but the amount of JOYSTICKS that are actually on the market. Well folks, thanks to the beauty of the internet, I have come across two JOYSTICKS that stand out amongst the rest, both for originality and build quality.
First off we have the EX2 FLIGHTSTICK from HORI. This is more of a flight simulator than a joystick, it is built to last that's for sure. There are two pieces to the EX2. One is the actual joystick itself, which feels and looks like the real thing. The other part is a throttle, again it just feels like it would be at home in the cockpit of any modern fighter. This is what is known as a HOTAS specification (Hands On Throttle And Stick) enabling full hands on control. The rumble feedback element is excellent; you actually feel the guns firing and the shells hitting you. Most of the buttons are programmable, there are a number of dummy ones, but that just adds to the realism. This is an officially licensed XBOX 360® product, so you know it will be compatible with your console.
It would have been nice to have it a wireless device, as it is quite expensive £139.00 (~$220.95 USD), but the cable is long enough. The two units connect to each other via a removable cable, which is great if you only want to use the joystick. The only problem I have found (apart from the lack of decent XBOX 360® flight simulation games) is where to mount the thing. OK if you have a low enough coffee table or you are using your console linked to a monitor with a desk, finding a comfortable position to use this item was a real pain. Again after some research, I found no one actually makes flight stick stands, so that is something to think about before you go ahead and buy one.
As for playability the EX2 feels good and solid in your hand, and with the suction cups added on the base, it doesn't move around when you are trying to avoid that tail end Charlie. There is also an expansion port for XBOX LIVE® connectivity (new version connector only).
To be honest I can't really fault the EX2 FLIGHTSTICK. It's tough, comes in a matt black colour that gives it a sexy look, and all the controls are easy to reach. It really brings any flight simulation game to life and for the price it isn't bad. If you are considering getting into flight simulation games, but want something more than just a joystick, then the EX2 FLIGHTSTICK is indeed the one for you.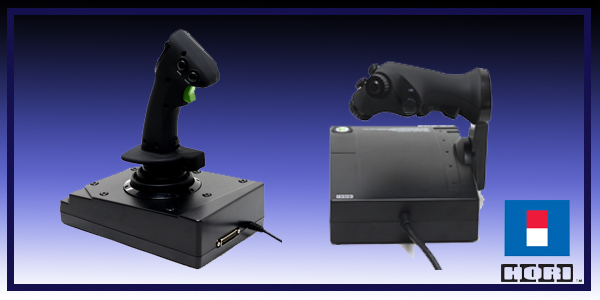 Hori Flightstick EX2
HOTAS (Hands On Throttle And Stick)
Buttons can be remapped
Xbox 360® licensed
Price: £139.00 (~$220.95 USD)
Release date: February 2012
The CYBORG F.L.Y. 9 WIRELESS FLIGHTSTICK from MADCATZ is next on my list. This is of course a very different item than the EX2, as it is much lighter, more portable and cheaper. The F.L.Y. 9 is really more of a joystick rather than a flightstick. The styling is very robot like and feels good to hold. Durability wise I am not too sure as there are many parts to this item and it does feel a little delicate. Mind you if you treat it with respect, then it should be OK.
This flightstick offers an astounding amount of control and flexibility. I am impressed with the amount of controls. For exaqmple, you can twist and turn the stick itself, and the throttle control is mounted on the front (a side mounting probably would have been nicer). The wireless connection links up to the XBOX 360® no problem, and there was no connection breaks at all. The base is nice & solid and doesn't need suction cups to hold it down. There is also mountings for placing it on your lap, which work really well. The buttons are easily accessible during game play plus are light and sensitive, which is great whilst avoiding enemy MIG's during a dog fight.
The CYBORG F.L.Y. 9 WIRELESS FLIGHTSTICK breaks down into two pieces for easy storage and transportation. The price is also right, for £79.99 (~$130 USD) you do get a lot of kit for the money. Fair enough it isn't flight simulator material and it doesn't set out to be one , the CYBORG F.L.Y. 9 WIRELESS FLIGHTSTICK looks cool and fun and it does exactly that.
The other great thing about this joystick is the customising options; you can adjust the handle length, the rake and even the head angle, to perfectly fit your hand. I do like the look of this item, MADCATZ certainly know how to create stylish and innovative looking accessories and this is no exception.
CYBORG F.L.Y. 9 WIRELESS FLIGHTSTICK
Fully adjustable handle
Compatible with XBOX 360® flight games
Price: £79.99 (~$130 USD)
Summary
Both of these products are excellent in their own way. If you want to feel like a real pilot, then go for the EX2 because it is the cheapest HOTAS unit out there for the XBOX 360 and the build quality is excellent. Mind you if it's a good old no holds barred Joystick/flightstick your after, then go for the CYBORG F.L.Y. 9 WIRELESS FLIGHTSTICK. It's nice to look at, well-built, great to use and because of the wireless technology, it's portable.
The only fault I could find was in fact, the EX2 was a bulky item and you need a fair amount of table space to use it. Plus all the cables could be a pain. The CYBORG F.L.Y. 9 WIRELESS FLIGHTSTICK could have done with a side mounted throttle, as I did find it slightly awkward having it mounted at the front.