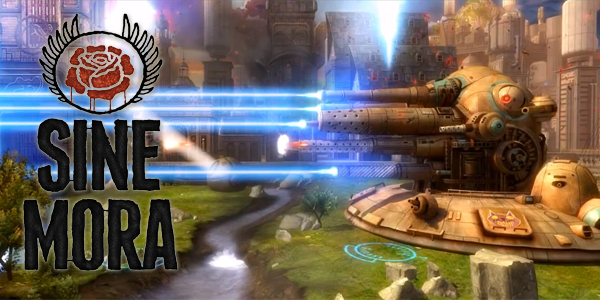 Ok folks let's get old school once again, or a new twist on the concept at least, with the release of SINE MORA published by DIGITAL REALITY (Budapest) and GRASSHOPPER MANUFACTURE (Tokyo). SINE MORA is a visually stunning game, a sort of 2D/3D look to it with incredible vista's and set pieces which I have never come across in a game like this before.
The game itself is a pretty straight forward shooter/side scroller with the usual power ups, and boss battles you would expect in this kind of game. Then of course, there is the unique angle which sets this game apart from the others. Normally you would have a health bar or something along those lines. Not in SINE MORA! Oh no, this has a whole new idea which adds to the excitement and tension during game play. In this DIESELPUNK shooter you have to collect seconds on the clock; the more enemies you destroy the more time you have, take any hits and you lose time. The time element really changes the feel of gameplay, as you always have one eye on the clock as you try to avoid being shot down.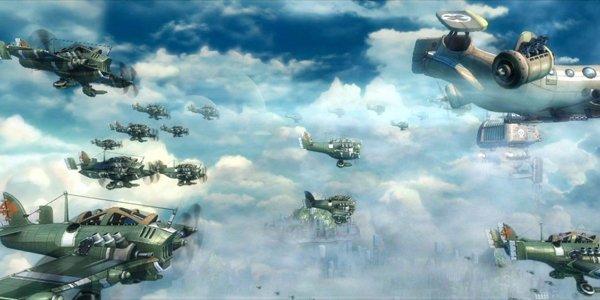 SINE MORA is a pretty full on game and should not be taken lightly. There are plenty of power ups, in fact there are over 50 different types of weapon combinations, some of which you have for a limited time. If you do take a hit, then the power ups are lost, giving you a limited time to recapture them. With seven levels to get through, and great music composed by AKIRA YAMAOKA, it certainly is worth a look.
Boss battles are big, demanding all your gaming skills and attention. This is a tough game to play and most gamers should finish the STORY MODE in reasonable time. Then have a crack at the ARCADE MODE and you will soon realise that there is another even greater challeng. You will have to really step up if you want those leader board kudos that we all secretly crave. With SCORE ATTACK mode and BOSS TRAINING mode making up an interesting varied set up, SINE MORA will entertain the more serious gamers for weeks to come.
The story is a different matter. I really didn't get what was going on to be honest. It's basically a story of honour, bonds and morality, and I soon started using the fast forward button to avoid it (a nice addition). It is littered with bad language (what is it these days with games, we don't need swearing to make a game interesting) which spoiled it for me as the game doesn't need it. And it does go on a bit after a while, again rather irritating.
SINE MORA does in fact set a new standard for 2D shooters which does make up for all the bad language and boring story line. You cannot take away the excellent gameplay both in STORY and ARCADE modes. So if you like a challenge, then this is the game for you.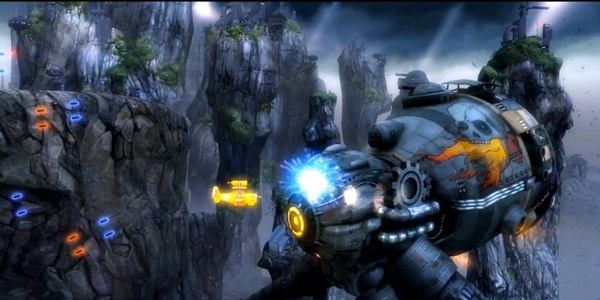 Summary
SINE MORA is indeed a visual feast, and yet the developers have not used that to cover up mediocre game play. Iinstead it's a challenging, well thought out game. As quoted on their site "the shoot 'em up of yesterday with tomorrows production values" says it all really.
Like I said earlier, the one thing that lets this game down is the bad language. There is no need for it in a game like this and it takes it away from younger gamers who I am sure would love this. As with many games these days, bad language appears to be the norm, as if it gives the genre some kind of credibility.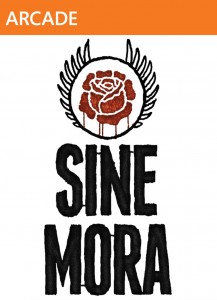 I give SINE MORA 8.5 out of 10 because of the unnecessary use of offensive language. SINE MORA is available on XBLA
Sine Mora
Publisher: Digital Reality
Developer: Grasshopper Manufacture
Release date: 21st March 2012
Age rating: 16+
Xbox 360®
Xbox Live Arcade
www.digitalreality.eu
www.sinemoragame.com