The best looking FPS game is back! What is it about an uncertain and tumultuous future that fascinates us so much? There are various films, books and video games that depict an uncertain future riddled with all sorts of calamities like nuclear apocalypse and alien invasion, but only a few manage to really capture the true essence of this impending doom. The Crysis series is one such video gaming franchise which aptly displays the future of warfare and does it in style! The latest installment of the series, Crysis 3, puts the players in the shoes of legendary solider "Prophet" as he battles an alien invasion and a nefarious organization called C.E.L.L, which has designs for world domination.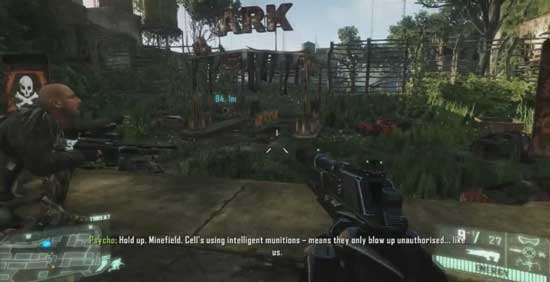 Graphics
It seems like Crytek was hell-bent on exploring the fullest potential of the Nano technology driven exoskeleton and render it on screen. Luckily for us gamers, the result is nothing short of simply breath-taking gameplay and stunning visuals that will definitely leave a lasting imprint on the memory. The only complaint I had with the game was its insatiable appetite for rendering the graphics in all their glory, which took a heavy toll on my PC, so I had to turn down the settings. In Crysis 3, the players would be battling it out in what's left of New York City and here again Crytek deserves kudos and accolades for drawing a city devastated by warfare and fitted with an iron dome by the notorious C.E.L.L to perfection. The graphics are so crisp and realistic that it looks more like a live action movie than a game! Everything, from the swaying of the grass to the lighting effects as Prophet dodges searchlights, are marvelously done.
Plot
This time around Prophet is accompanied by two NPC's, namely his buddy Psycho and Psycho's girlfriend named Claire, who is also a communications expert. The story takes a more personal approach this time and explores the chemistry between the three characters. Psycho who has been deprived of his Nano suit by C.E.L.L which has left him deeply scared and traumatized harboring an intense hatred for the aforementioned organization. Then there's Claire who doesn't trust our protagonist because she thinks he's more machine than man. It's quite a jumble of emotions, which all come gushing forth as Prophet's connection through the Nano Suit to the Ceph, and Psycho's apparent dismay at being a mere human, is expertly narrated.
Verdict
Crysis 3 is a visual feat and extravaganza! I bet gamers will spent hours upon hours immersed in the single player campaign and playing the multiplayer online version, which itself has undergone considerable tweaks. The game has a few drawbacks though, if you can even call them that. Firstly, the difficulty level, which really used to challenge the gamers in the previous installments, has been toned too much. Secondly, the magnitude of battles, which was of epic proportions, is somewhat lacking and is sorely missed. The AI of the game, though smart, can be easily bamboozled and exploited which mars the overall feel of the game slightly. Apart from these minor factors, the game is a thorough joy ride and is highly recommended for all adrenaline junkies out there.
Author bio:
This Crysis 3 Review is written by Frankie, who works as a full time internet marketer in UK. He specializes in SEO and Social Media Marketing. Aside from doing SEO for his clients, he enjoys blogging very much, especially when he blogs about his favorite hobby, video games.