Ewinracing gaming office chair review
We recently were given the opportunity to assemble and review a gaming / office chair from Ewinracing.
The specific model reviewed here is the EWin Knight Series Ergonomic Computer Gaming Office Chair with Pillows – KTC
The following is a review of the chair, what we found we liked and did not like about it.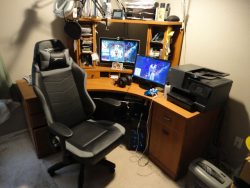 The chair we reviewed was easy to assemble, with the clear photos and directions provided showing each step.  The chair itself is made from good quality materials and a full frame, welded & powder-coated steel skeleton for support. High density cold-cured foam is used for cushioning, giving the chair a firm, yet comfortable feel when sat in.  There is a single lever to make adjustments for the seat height, with a chairback tilt lever and under seat tensioner for seat tilt. That lever also includes a locking function for the seat tilt by simply pushing it in or pulling it out slightly. There is no footrest, nor is there any option for one. All controls worked smoothly. For a look at how to assemble one of these chairs, check out our YouTube instructions at https://youtu.be/O-ZJMXBh_qM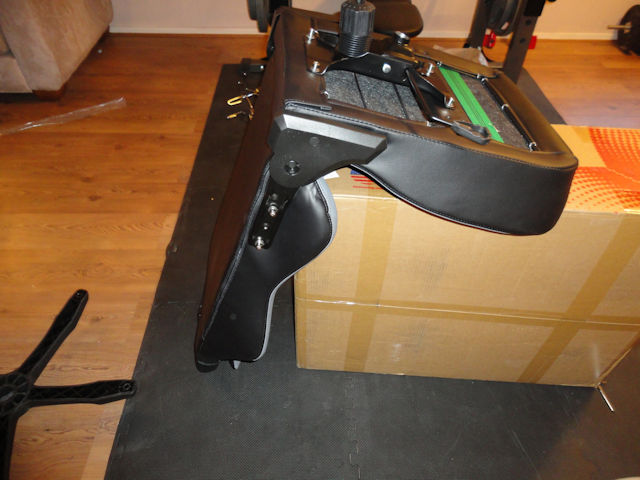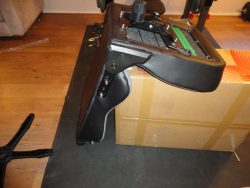 The seat is slightly dished so it sits somewhere between a bucket and flat seat, keeping you in an optimal space without restricting your position in it. The seat is wide enough seating area to be comfortable.  With this configuration and the supplied adjustable lumbar & neck pillows, an individually tailored, comfortable seating position can be maintained.
The chair  sits upon a 5-star molded nylon base that provides a stable platform for movement and chair tilt.  The seat and base are joined by a heavy-duty adjustable height gas-filled piston that's reportedly rated to support up to 400 lbs. The base rolls on 5 included casters, which in testing, rolled smoothly on hard surfaces and heavy-duty carpet protectors, but struggled on any type of pile carpet.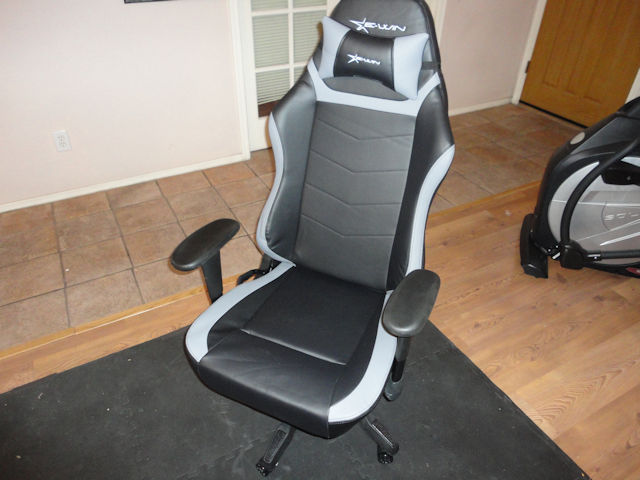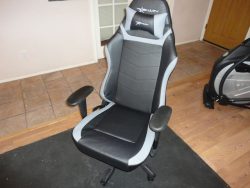 The seat height is adjustable from 16.3 to 20.2 inches (41 to 51 cm) giving it a good range. The set width is ample at 21.7 inches (55 cm). The seatback is approximately 34 inches tall (approx. 86 cm) which fits the long back of this reviewer very well. The neck/shoulder cushion is secured with an elastic band and snap fitting around the back of the chair, allowing for some adjustment to fit.  The lumbar cushion is unattached and oddly has a zipper for the cover, perhaps to allow adjustment of the foam insert (?) or simply for the ability to replace the covering. The overall covering appears to be a high durability simulated leather, which should make it easy to clean and maintain.
Current chair specifications can be found here: https://www.ewinracing.com/shopping-guide
Warranty Period & Coverage:
Ewinracing has a decent warranty for repairs and replacement for up to ten years, depending on the part, and available only to the original
owner. See https://www.ewinracing.com/content/18-our-warranty for details.
————-
Ewinracing chair pro & con
PRO:
Easy to follow assembly instructions
Relatively easy to assemble
Steel supported frame
Heavy Duty piston – 400# capacity
Large tension control knob for seat tilt adjustment
Seat tilt angle lock
Plenty of color and style options
Comfortable seat – high density foam
5 star molded base with casters
Adjustable seat height
Adjustable armrests
Easy upkeep material – PU coated surface
Easy to use height and seatback angle controls
155 degrees full recline angle
Responsive Customer Service
Reasonable price point
2 year / 10 year warranty with ability to extend full repair / replacement up to 5 years – See https://www.ewinracing.com/content/18-our-warranty
for details
CON:
Missing part (small screws) – replacements were promptly
shipped with tracking and received
Odd flex noise in seat when first sitting in the chair
(sounds like a sheet of thin metal or plastic plate flexing from load)
Casters are small and hard to roll on some pile carpets
Lack of footrest option (subjective option, up to user preference)
———
There are currently 5 series of chairs to choose from, with a myriad of styles and colors for each. The chair reviewed is from the Knight series which are typically priced in the $200 – $300 range.  The current series are Knight, Champion, Calling, Hero and Flash, the latter which appears to be made for XL sizes. All appear to be sub $500 before special discounts are applied. Use discount code TGR for another 20% off.
Conclusion
Overall, we find this EwinRacing Knight series gaming chair to be a good bargain at a reasonable price range. This is a heavy-duty gaming chair able to support up to 400lbs, which sets it apart from many competitors. While there are some cons, they were all relatively minor, and there are plenty of pros to balance against.
If you find yourself interested in and ready to purchase any of the Ewinracing.com lineup, be sure to use the discount code TGR for additional 20% off  the price.