Okay, so my knowledge of the Ben 10 cartoon can be summed up by the following: I know that it exists, and that the main character is probably named Ben. Aside from that, the sordid details of this intergalactic warrior remain a mystery to me, which is why I was fairly delighted when checking out his latest video game adventure at E3. Ben 10 Alien Force: Vilgax Attacks is the third Ben 10 game to hit consoles, and has a very long-winded title. It also looks to be the most feature-packed adaptation of the animated series yet.
Alien Force has Ben facing his toughest challenge ever, as the evil Vilgax is threatening to decimate Earth unless Ben can stop him. The game fits into the 3D action-platformer mold perfectly, with Ben wandering around claustrophobic alien environments, knocking down bad guys, and jumping over hazards. The catch here is that Ben is able to transform into ten unlockable alien forms, each with special abilities and powers. These creatures—often screen-filling monstrocities that range from a dinosaur-like brute to a flame-shooting superhero—are all pulled from the animated series and are used for both combat and puzzle solving. Controlling these beasts ends up being a lot of fun, as all of them have unique combos and special attacks that can be used to clear a path. The developer mentioned that many of these creatures would be making their first video game appearance in Vilgax Attacks, so fans of the cartoon can commence their gleeful squealing now.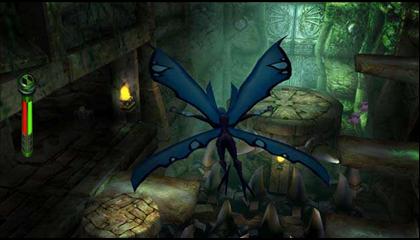 The fighting system is very combo-focused, with Ben pulling off some nicely animated moves as he traveled through the vibrant alien landscape. Each enemy that you flatten nets you some experience points, which can be used to gain new attacks and abilities. All of the action looks great in motion, with the bright, colorful visuals recreating the clean look of the animated series nicely. The voice talent from the cartoon has also been utilized here, offering a definitive Ben 10 experience that is sure to please.
While I may not know a lot about the Ben 10 franchise, this latest video game adventure does look like a solid action-platformer that both fans and newcomers would be able to enjoy. Ben 10 Alien Force: Vilgax Attacks ships this October on the Nintendo Wii, Nintendo DS, PlayStation 2, PlayStation Portable, and Xbox 360.