RAYMAN ORIGINS by UBISOFT is it the best platform game of the year? (2011) Well in my opinion, it certainly should be! Yes folks, the little limbless, big nosed hero has returned with a brilliant new platformer and I can`t get enough of it!
Has it been 15 years since the first RAYMAN appeared on our screens? Wow… how time flies! RAYMAN ORIGINS brings back some of those classic characters in the original 2D form plus a host of new ones. What can I say, in a world of post-apocalyptic ,destruction and downright depression (that's the gaming world I am referring too) there comes a shining light of happiness, fun and pure entertainment. RAYMAN and his friends have brought all this back into our lives, and just in the nick of time I reckon.
Ok SONIC GENERATIONS was in my opinion one of the best platform games to come out in a while and I rate it highly. But this game has its own quirky uniqueness that is lacking in the SONIC game. The music for starters is well crafted for each level and helps with the mood as you leap, swim or fly around. Plus it is annoyingly catchy (found myself humming it quite often). Unlike other games, the music doesn't have that grating arcade feel to it which can drive you mad (if you are over the age of ten). I found it to be pleasant and almost relaxing (especially the underwater music).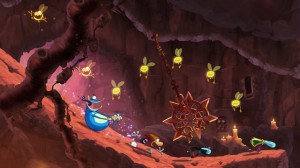 The story is that RAYMAN and his friends are hanging out at the BUBBLE DREAMERS place, the SNORING TREE. Unfortunately their snoring wakes up a granny from the LAND OF THE LIVID DEAD who gets her own back by sending an evil army of nasty little creatures and some guys called the DARKTOONS across the world, capturing and imprisoning all the ELECTOONS plus BETILLA the NYMPH resulting in utter chaos throughout the glade. This then causes the BUBBLE DREAMER to have nightmares (are you still with me on this?), which allows Mr DARK (RAYMAN'S nemesis) to escape the LAND OF THE LIVID.
So RAYMAN and his friends manage to escape the DARKTOONS and are given the task by a CASTER TEENSY called the MAGICIAN to cure the BUBBLE DREAMER and restore the GLADE OF DREAMS. That is where you come in. As you have probably guessed, it's your job to free all the ELECTOONS by completing the various levels and tasks.
You can play as RAYMAN, GLOBOX or two TEENSIES, all of which come in different variations as the game progresses. The object of the game is to fight your way through the levels collecting things called LUMS, and eventually freeing the captured ELECTOONS at the end of each level. There are of course other ways of collecting things, like hidden areas where you can complete mini type games and free more ELECTOONS. The higher score you get, the more medals and trophies you can obtain.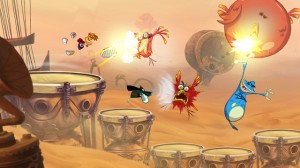 The graphics are bright and colourful and a joy to behold. The game uses UBIART Framework a graphics engine developed by UBISOFT, which allows for easier creation of content, and it shows as the graphics are pretty outstanding. Each level is unique in its own way and it just goes on forever or seems too. There are over 60 levels to get through with character upgrades as you progress and you can return to previous levels to unlock secret paths and treasures. Don`t get me wrong folks this is no cake walk of a game, it does have its moments of frustration, but that makes it all the more enjoyable.
There is the multi-play element of the game which is loads of fun. Play with up to 4 players via a jump in/jump out, co-op gameplay option, which is really interesting as you can join and leave whenever you want to. I actually had more fun playing the multi-play than the single game.
Summary
This is by far the best platform game to be released in a very long time! It can be a border line "throw the controller at TV/rage inducing/throw toys out of pram" type of game at times, but it's such a cute game you can`t stay mad at it for long. There are hours and hours of enjoyment to be had in this very entertaining and somewhat challenging game. Is it worth the money? Absolutely, for me this is pure entertainment and a reminder what good game development is all about I give it 9.5 out of 10.
Rayman Origins
Genre: Platformer
Publisher: Ubisoft
Developer: Ubisoft Montpellier
Release date: November 25, 2011
Age rating: 7
Xbox 360
PlayStation 3
Wii
Nintendo 3DS
PlayStation Vita
http://raymanorigins.uk.ubi.com